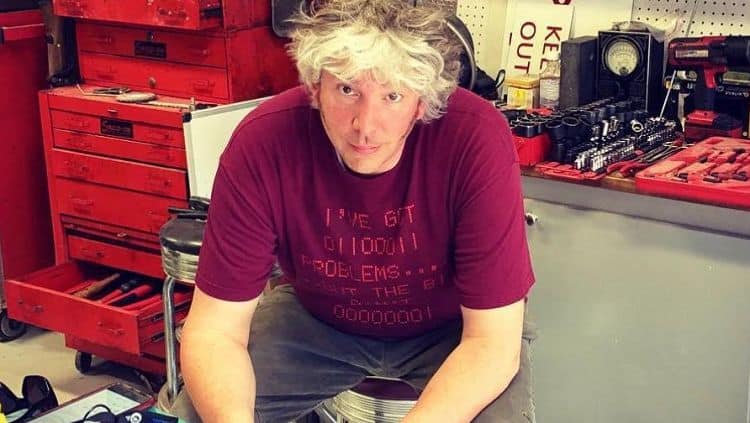 Edd China is a man who knows a thing or two about television. He's been a presenter for a long time, but it's mechanics that really gets him going (see what we did there?). His knowledge of mechanics is second to none, and it shows. He's been on the Discovery Channel for many years hosting the hit show "Wheeler Dealers," and fans love him. However, few fans know much about him other than the fact that he hosts the show and he's famous. What are you missing? We can tell you right here.
1. He's Almost 50
It's hard to believe that this man we've been watching on television for so long is almost 50, but here we are. He will turn 50 on May 9, 2021. That makes his birth year 1971. He's accomplished a lot for someone who is only in his 40s, and that's quite the feat.
2. He's From London
Born and raised, he's a Londoner through and through. London is listed as his place of birth online, but we found that he went to school in Surrey. He grew up going to the Kind Edward's School, Witley, which is located in Surrey. This tells us he spent a lot of time in that area, which is a lovely place to spend time.
3. He's Got a Degree
Following his primary academic career, he knew that he was going to college. He wanted a degree in engineering product design to use to create some of his amazing concepts, and that's what he got. He graduated from the London South Bank University. He did a few things there to create some of those concepts he had, and while at college he came up with the Casual Lofa (it's a driving sofa, and no, we don't know what that means).
4. He's a Married Man
If you don't know that he's not on the market, we hate to break that one to you. However, the truth of the matter is that Edd China is a married man. His wife is from Norway. Her name is Imogen. While they haven't any kids, they do spend much of their time together, and they don't discuss their marriage often. It probably keeps it fresh and happy that way.
5. He Stands Up For Himself
When he made the decision to leave "Wheelers and Dealers," it was because he did not like the direction in which the show was going. Call it creative differences, if you will. He wasn't happy, and he decided to part ways with the show and his co-host, Mike Brewer. The two then went on a rampage talking about one another and how much they didn't get along, and it wasn't very flattering.
6. He's Got a Book
If you thought that his departure from television was the worst thing that ever happened to television, you are not wrong in the eyes of many fans. However, he did go on to write a book, an autobiography titled "Grease Monkey," and it's something fans love even more. A rare glimpse into the personal life of Edd China is a real treat.
7. He's Father-in-Law is Awesome
We don't know him personally – we don't even know his name – but we know that he was the stunt director for one of my husband and I's all time favorite movies, "The Italian Job," and that makes him cool. We just love that.
8. He Works Closely With His Wife
They might like to keep their marriage as private as possible, but they like to spend a lot of time together. He and his wife, Imogen, spend a lot of time together working on China's projects and his ideas. It's good that they see themselves as a team in every aspect of their marriage. Many don't, and we think that's such a problem.
9. He's Private
Edd China is not a man who wants the world up in his personal business all the time. He likes what he does, but he always makes us feel as if the fame is not something he would be sad to see go. He obviously loves what he's accomplished, but we imagine a quiet life doing what he loves alongside his wife would be just fine with him, too.
10. Learning is Important
He knows that learning is important, and he thinks most people realize it, too. He feels this is one of the biggest reasons why he was so popular on his hit show. He was calm, good-natured, and he helped people learn. Since that is what most people want to do, he feels it worked well.