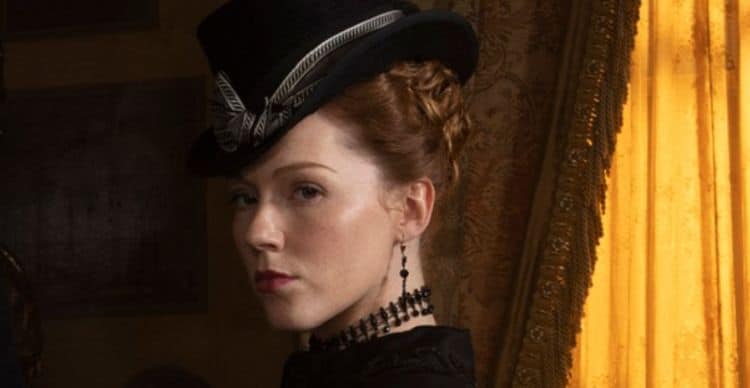 Charlotte Spencer has been lighting up the screen for nearly 15 years, and she has built a strong fan base along the way. Her talent combined with her level of dedication has proven to be the perfect combination for success. At this point in her career, she is best known for her role in shows like Sanditon and Baghdad Central. Although she has yet to make an on-screen appearance in 2021, her fans can rest assured that they'll be seeing her soon. She will Drizella, Cinderella's evil stepsister, in an upcoming film production of Cinderella. The role will be a bit of a departure from what Charlotte has done in the past, but it will be a great way for her to show her range. Keep reading to learn 10 things you didn't know about Charlotte Spencer.
1. She's Always Wanted To Act
Charlotte was born to be a performer, and that's something she discovered from a very early age. During an interview with Far Out Magazine, Charlotte said, "I've wanted to act ever since I was very young, like three!" She was just 12 years old when she got her first big opportunity when she was cast in a theater production of Mary Poppins.
2. She Used To Dance
Before Charlotte's acting career took off, she was learning to dance. She started taking ballet lessons when she was about three years old. Although ballet and acting are technically two different areas, they have a lot of overlap and they both provided the perfect outlet for Charlotte's love of performing.
3. Her Parents Have Always Supported Her Dreams
Lots of people in creative fields have expressed how they were often discouraged from pursuing a career in the arts. Charlotte, however, is thankful that that wasn't her experience. Even though Charlotte doesn't come from a creative family, her parents have always been supportive of her desire to be an actress.
4. She Has Over 40 Acting Credits
Finding consistent work in the entertainment industry isn't an easy thing to do, so it's always impressive when an actor manages to keep earning roles. So far, Charlotte has been one of the fortunate few to find a good level of consistency. Charlotte currently has a total of 44 on-screen credits including her upcoming role in Cinderella.
5. She Likes To Hula Hoop
Even Charlotte's most dedicated fans may not know that she has some serious hula hoop skills. During an interview with BAFTA Guru, Charlotte shared that she keeps her hula hoop with her on set and she likes to hula hoop whenever she gets a break. Not only is it fun, but it's also a creative way for her to stay in shape.
6. She Would Love To Play A Cowgirl
Charlotte has gotten to play lots of different characters during her career and she's grateful for every opportunity she's had. Still, there's one type of role she hopes to get the chance to play in the future. While talking to BAFTA Guru, she shared that she would love to star as a cowgirl in a Western.
7. She Loves Period Pieces
Period pieces have become increasingly popular over the last several years, and Charlotte is pretty happy about that as both an actress and a fan. Charlotte told Far Out Magazine, "I love period dramas, and when I looked into Sanditon I knew I had to do it, I had to fight for it!"
8. She's A Private Person
There are lots of celebrities who don't mind their entire lives being open books. Charlotte, however, doesn't seem to have an interest in doing that. She has maintained a pretty high level of privacy over the years. On top of that, she isn't really into the internet. As far as we can tell, Charlotte does not have any verified social media accounts.
9. She Creates Playlists For All Of Her Characters
Lots of actors have little rituals they like to follow before they step out on set to film; Charlotte is no exception. She always likes to listen to music before going on set and she creates playlists for all of her characters. All of the other music lovers out there know that there's nothing like a good playlist to help you get in the zone.
10. She's A Dog Person
Anyone who has ever had a dog understands the bond between a dog and their human is something that nothing else can quite compare to. Charlotte is thankful that she's gotten to experience this bond firsthand. Charlotte loves dogs and she's the proud pet parent to an adorable Yorkshire terrier named Chips.