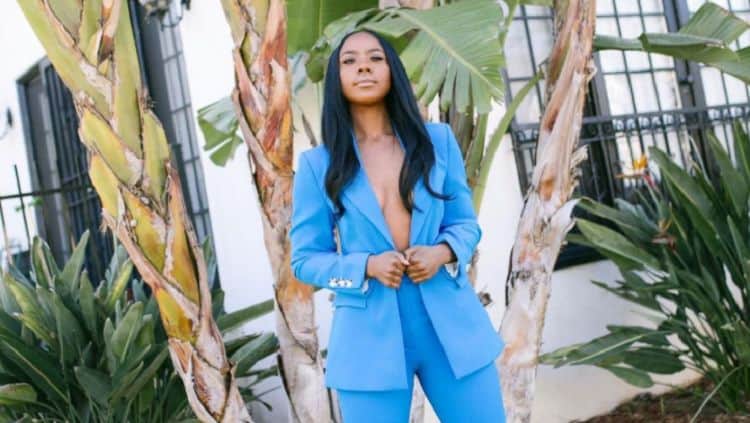 If you've ever seen Nia act, you know that she is the true definition of her star. Her ability to bring characters to life in ways that are both authentic and entertaining isn't something that all actors can pull off. While she may not have the longest on-screen resume, the work she's done so far is helping her build a solid foundation to attract more opportunities in the future. Nia is best-known for her role in the Netflix series Dear White People in which she plays Kelsey Phillips. As the show gets ready to enter into its fourth and final season, Nia's fans are looking forward to seeing how things wrap up for her character. Keep reading to learn 10 things you didn't know about Nia Jervier.
1. She's A Brooklyn Native
Nia is a first-generation American who was born and raised in Brooklyn, NY. Her mother is from Trinidad, but it's unclear if her father is from there as well. Nia doesn't have any siblings. When she was just eight years old, her mother enrolled her in a local theater group.
2. She Wishes She Could've Worked With Eartha Kitt
Collaboration is one of the most important parts of the creative process. That being said, every actor has at least one person they would love to get the chance to work with. When asked if there was anyone — dead or alive — that she wishes she could work with, Nia told A Book Of that Eartha Kitt is at the top of the list. When explaining why, Nia said, "She [Kitt] was a triple threat with feminist and political savvy and wasn't afraid to use it."
3. She Has Theater Experience
If you look at Nia's on-screen resume, you may get the impression that she doesn't have much acting experience. That isn't the case at all, though. She has also had a very successful theater career that includes roles in plays like A Mid Summer Nights Dream and Once on this Island.
4. She Loves Connecting With Fans
Nia is extremely grateful for all of the people who have supported her over the course of her career, and she looks forward to getting the chance to interact with them. She loves getting the opportunity to engage with her fans using social media – especially Twitter where she often responds to tweets from fans.
5. She's A Dog Mom
Nia may not have any children, but that doesn't mean that her mommy muscle isn't getting its fair share of exercise. She is a proud poodle lover and she has a fur baby of her own named Bijou. Unfortunately, Nia hasn't made a Bijou his own Instagram account.
6. She Loves To Exercise
Staying in tip-top shape is something that Nia is serious about. She enjoys doing a variety of workouts including yoga. Staying active isn't just about looking good in front of the cameras. It's also a great way for Nia to make sure her mental health is in a good place.
7. She Regularly Practices Gratitude
Nia doesn't take any of the things she's accomplished for granted. She appreciates every opportunity that has come her way and she always makes a conscious effort to practice gratitude. In an interview with Sheen Magazine, Nia shared that she keeps a gratitude jar. When she feels grateful for something, she writes it down and places it in the jar.
8. She Is Passionate About Interior Design
It's hard for Nia to imagine herself doing anything other than acting, but if she had to pick something it would be a career in interior design. Nia told A Book Of, "I am quite passionate about interior design, particularly vintage and antiques. I have a boutique design company called House of Jervier. Its my baby. Introducing people to the luxury of a creative and unique living space sparks my bliss. When your home is layered, curated and clean you have a foundation to living your best life."
9. She Likes Spicy Food
There are some people who would prefer not to feel their taste buds burning when they're eating, but Nia isn't one of them. She actually really enjoys food with a little bit of a kick. However, she didn't go into detail about which kinds of foods she enjoys the most.
10. Diahann Carroll Is Her Biggest Inspiration
Every creative person has to draw inspiration from somewhere. For Nia, that somewhere is the legendary actress Diahann Carroll. While talking to Regard Mag, Nia said that she is "obsessed" with Diahann Carroll and really admires the trail-blazing career she had.