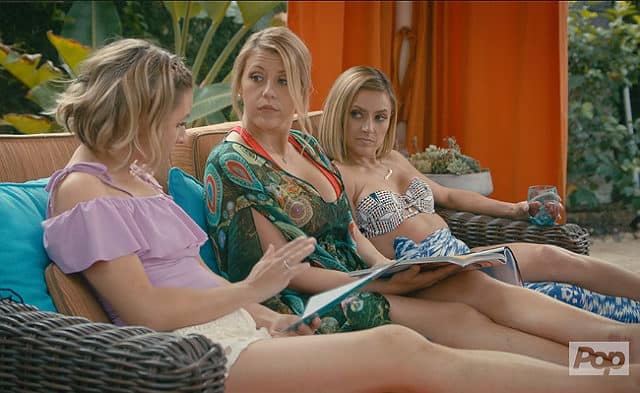 It's Wednesday, so that means there's a new episode of the Pop Network's Hollywood Darlings tonight! Thank goodness! Things in the news right now are…disquieting, to say the least. At times it feels overwhelming. The Pop Network's Hollywood Darlings is just the thing to remind us that day-to-day trials and tribulations go on regardless of what's going on in Washington.
Last Time on the Pop Network's Hollywood Darlings
Last week Beverley Mitchell dragged Jodie Sweetin and Christine Lakin on a staycation girls night. It sounded great – kind of. Aside from the "Vegan Virgin Mixology" class, Beverley and her husband are trying for a second child – and it's her last day of ovulation.
Beverley's solution is to have her guy sneak over to the hotel for a quicky. The only problem? The super-organized cheerleader on speed Beverley has them scheduled down to "15 minutes of free time.
Meanwhile, Jodie is ducking a guy she "ghosted" – because he was too nice. When he inevitably sees her, Jodi tells him she's gay – and involved with Beverley! Poor Beverley doesn't know why Jodie's suddenly being so nice!
After a while though, Beverley doesn't care why Jodie's gone touchy-feely – because she accidentally had a pot brownie!
The results of all of this were hilarious!
Tonight on Hollywood Darlings
Tip or no tip, that is the question!
https://twitter.com/HWoodDarlings/status/999001951370072064
Okay, now this is a serious issue! I'm with Jodie! Like, with normal tipping you give 20 percent. So, what's with baristas expecting a dollar for a 3 dollar cup of coffee?
As for Christine, couples night is taking on a whole new meaning!
So who's on YOUR list?

Catch an all-new episode of #HollywoodDarlings Tonight at 8/7c, only on @PopTV. pic.twitter.com/AqylFyNu6q

— Hollywood Darlings (@HWoodDarlings) May 23, 2018
Yikes! Good grief! Like, okay, we all have a list, but would you actually tell the celebrity if you met them? Especially when the person's spouse is right there! Talk about awkward! This should be fun!
It looks like tonight's episode of Hollywood Darlings is going to be another good one! Check it out on the Pop Network at 8pm ET, or catch up on the PopNetwork's website!