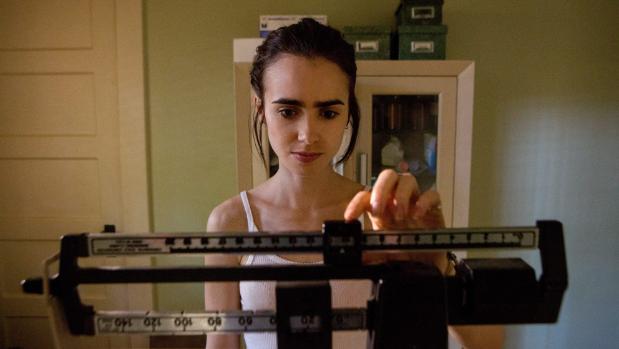 To The Bone is a movie to start with. It's not a rallying cry for those with anorexia nervosa to start believing that losing weight in such fashion is in any way healthy. It is a film created to showcase the harm and the mental stress that goes along with this type of disorder. There are many upon many individuals throughout the world, particularly in the USA, that are affected with this disorder and the understanding is that even watching the film could possibly trigger the need to continue to lose weight. Those in charge of making the film and the actors are in no way endorsing this type of behavior. Just keep in mind, To the Bone is a fiction made to increase awareness, not promote a type of copycat behavior in anyone.
Here are another few things you might want to know about the film before watching it. Just to ease your mind perhaps.
Actress Lily Collins has dealt with eating disorders in the past.
It might seem like a poor decision for someone that's deal with an eating disorder to portray the character of someone that has struggled with anorexia. However Lily Collins has been up front and quite honest about her own personal struggle and has done everything that has been asked of her for the sake of keeping the role honest and without any personal bias. While bias might exist, it will not be shown on screen.
Lily was required to consult with a nutritionist throughout the filming of To the Bone.
In order to keep her healthy and not succumb to the pressures of her own struggle with anorexia and bulimia, Lily had to work with a nutritionist in order to maintain her health and an adequate weight. The responsibility of the actress and her film crew was taken into careful consideration and she was helped throughout the entire way by her nutritionist to insure that she did not make herself suffer unduly for the role.
Losing the weight was Lily's idea.
More and more actors are seeing the benefit of actually stepping into their roles full bore when possible. Unfortunately roles such as this can be an increasing danger to their health. Lily was never once asked to lose a certain amount of weight. She made such a decision on her own and has been quite honest about it. Like many actors she wanted to play the role honestly and without any deception that might have caused mixed messages and reviews. The actress took it upon herself to lose the necessary weight to look the part, but was kept under close watch the entire time.
This film is not meant to convey any upsides of anorexia.
Many parents of young teenage girls, who are typically the greatest number of individuals affected by the disorder, are asked to remind themselves and their children that this film is not a glamorized view of anorexia. Despite the moments of levity and attempt at humor, it is a very real look at the stark and very damaging effects that anorexia can have. That being said it is important for any parent to teach their child the difference between fact and fiction, and to keep them from thinking that such films are in any way promoting such behavior.
To the Bone is a slightly different look at a very well-known disorder that has affected many young women and others throughout the world. As a piece of fiction it is meant to entertain and possibly educate, but little more.
Save