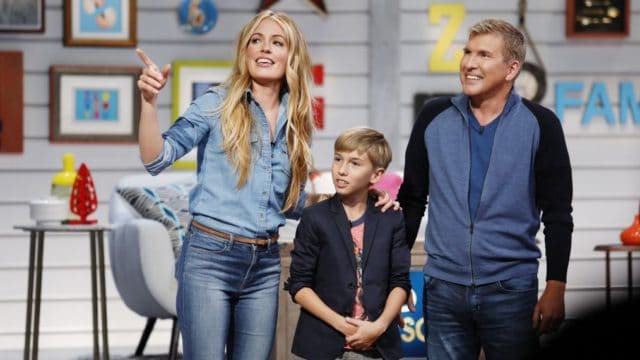 USA Network has a new show on tap this season. Big Star Little Star is a celebrity family game show that gives us a peek into the private lives of our favorite celebs. Cat Deeley is the host of this fun filled new game show. Big stars and their children appear as contestants who are battling to win money for their favorite charities. If you haven't heard about it yet, here is what you need to know about Big Star Little Star.
We get to know the stars more intimately
By design, the show pairs famous parents with their kids and tests how well they really know one another. This is a two-for for adoring fans. We all know that kids are famous for telling things that we'd rather not have others know. What will we learn about the celebs personal lives? In addition, we get to know a little more about their kids, some of whom may be the next generation of celebrities.
Kids can get personal
In addition to sharing some embarrassing moments in our lives, our kids generally have an insight into who we really are as people. It's tough to hide anything from their always watching and sometimes prying eyes. We're expecting to find out what goes on in the private lives of celebs and we're going to get it from a primary source. We're apt to hear everything from their favorite colors, flowers and cars to some touching moments they've shared with their kids in the process of raising them. We'll also find out how the kids see their parents.
The Premiere was May 31, 2017
This show is brand new so there is some excitement about the unknown here. This only builds the anticipation of new viewers. We'll get an idea of what we can expect for the rest of the season so if you enjoy watching celebrities interact with their children for a good cause, tune in and give the ratings a solid start.
Multiple stars showcased each episode
Each episode of the new television game show will feature three different celebrity families. This increases the chances of your absolute favorites appearing on the show. We don't yet know who we're going to see, but that makes it even more important to tune in. You wouldn't want to miss out on even one of these highly anticipated episodes.
Cat Deeley is the ideal choice for host
Cat has earned the distinction of being nominated four times for the Emmy award. She is the winner of the Critic's Choice. She's gorgeous, but her fun loving personality makes her an excellent pick for working with celeb parents and their kids in this fun and potentially hilarious setting.
The show supports good causes
This is no regular game show. The participants are not competing to earn money, vacations or material goods. Instead, they are all going for cold hard cash to support their chosen charities. The proceeds will benefit those who are less fortunate, the environment and any other cause that the stars feel are worthy of some help.
Tell us what's wrong with this post? How could we improve it? :)
Let us improve this post!