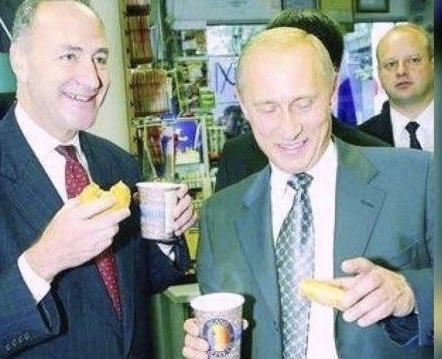 Earlier in the day today Donald Trump posted this picture of Charles Schumer and Vladimir having donuts together. The caption reads "We should start an immediate investigation into Senator Schumer and his ties to Russia and Putin. A total hypocrite!" I'm sorry but I had to bring this up because as usual we have to explain things to Donald Trump as a five year old. First off it's not nearly as hypocritical as the hilarious string of contradictory videos you have out there about your relationship with Putin (Seth Meyers did a great job with that last night).
Second of all. Here it is in plain English so you can understand. Donald Trump just tweeted a picture of Schumer having donuts with Putin. This is goalpost moving. The issue is not that nobody can meet with Russians, it's that your administration held secret meetings and lied about them, Russia hacked our election, and the GOP platform became pro Putin.
Any questions Donald? Oh, and you have bad hair.
We should start an immediate investigation into @SenSchumer and his ties to Russia and Putin. A total hypocrite! pic.twitter.com/Ik3yqjHzsA

– Donald J. Trump (@realDonaldTrump) March 3, 2017