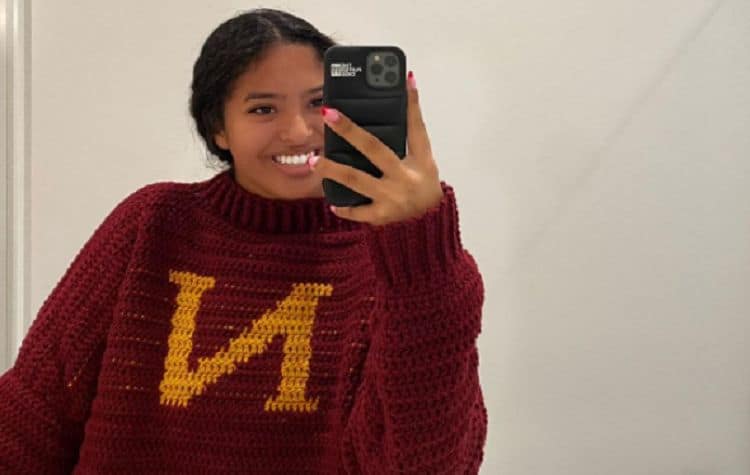 Natalia Bryant is a young woman who has grown up with the world watching. She's the oldest daughter of the famed late basketball great Kobe Bryant and his wife Vanessa. From the tragic loss of her father and her younger sister in a helicopter crash in January of 2020 to the almost immediate shut down of the entire world because of the coronavirus pandemic only a few weeks later, she's had a tough year. It's a lot to take in as a teenager, and it's a situation that she never saw coming. However, she's not giving up her dreams of being a raging success and living her best life the best way she knows how, and she's currently on cloud nine after being accepted into numerous colleges, and the world is celebrating right alongside her.
1. She's Young
Natalia Bryant is only 18. She was born on January 19, 2003 in Los Angeles. She's the oldest daughter of her parents two years after they were married in 2001, and her father was born to be a girl dad. He was so proud of his little girl, and has always been proud of all that she's accomplished.
2. She's Going to Her Dream School
Natalia Bryant wanted to go to the University of Southern California as her father did. She applied for acceptance, and she was accepted. Her mother celebrated her with a sweet note, a pair of custom Kobe sneakers, and a lot of school color balloons that she would have unceremoniously popped in secret in the guest room had the school not accepted her daughter. She applied to – and was accepted into – many schools, but it seems she's committed to USC.
3. She's Also Accepted into Other Schools
Bryant is a smart cookie, and USC isn't the only school that wanted to see her in their program. She was accepted into the University of Oregon, Loyola Marymount University, and even the University of California, Irvine. However, while she shared all the news with excitement, it was USC that made her happiest.
4. Her Mom Wanted Her Close
Vanessa Bryant is not ready to see her daughter go. She was happy for her daughter's acceptance into both Loyola and the University of Oregon, but she was even more excited about UC Irvine because it's so close. She is beyond thrilled her daughter is going to USC because not only is it her dream, but because she gets to stick around home a few more years. Her mom is not ready to see her leave the nest and move out.
5. She Plays Volleyball
Natalia Bryant did not follow in her father's basketball footsteps the way her late younger sister did, but she is just as athletic as the rest of her family. Her sport is volleyball, and she's good at it. She's played for many years, and she's grown so much in the sport. She's exceptionally talented.
6. She Missed Time With Her Dad
Throughout most of her life, he was a professional basketball player with the Lakers, and that meant that he was constantly back and forth to the Staples Center and traveling the country to play. He did not get to spend nearly as much time with his two older daughters as he did with his two younger daughters after his retirement. He wanted to retire, and he wanted to be a professional dad while his kids were still young and at home.
7. She was Not Spoiled
While Natalia Bryant knew that she was growing up in a life of exceptional privilege, her parents made sure she was not spoiled. They wanted their kids to recognize their privilege and do good for those without as much as she had. She was taught to give back, to live humbly, and to appreciate all she had.
8. She's a Lot Like Her Mom
She might be an athlete like her father, but Natalia Byrant is very much a fashionista like her mother. She's very similar to her mother in her appreciation for fashion and feminine things, but she's also like her father in the way that she enjoys sports and having a good time.
9. She Was Not Raised by Nannies
While many Newport Beach families have plenty of nannies to help raise their kids, the Bryant family did not. Natalia was raised by her stay-at-home mom, and her dad was as hands-on as he could be when he was home from his job. All of the Bryant kids have a mom who is highly present in their lives, and that is something very special when you think about it. They are not your typical wealthy family with nannies and sitters and other people raising their kids. She's a fortunate young woman.
10. Her Life is Very Private
She might be the daughter of one of the most famous couples in the world, but that doesn't mean that her parents allowed her to live a public life. Vanessa Bryant was adamant her entire adult life that being in the public eye was not a choice she made for her family, but she also knew that she was never going to do reality television, she was never going to put her kids in the spotlight, and she was never going to subject her kids to all that she was dealing with in terms of the press and how ugly the world could be.