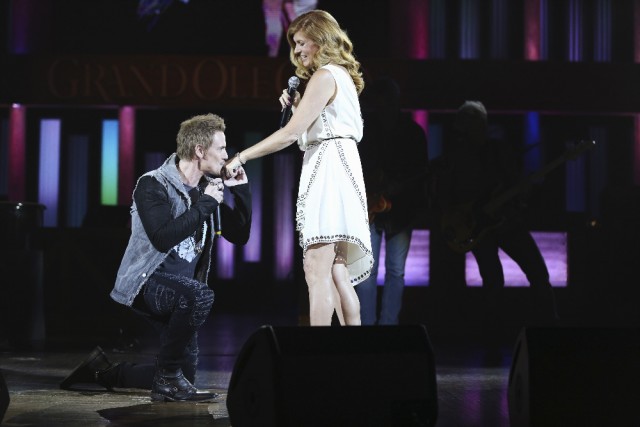 We're finally making some headway in the land of country music. Everyone is far from happy, but closure has a way of ushering in new life chapters, which is where this week's Nashville is heading.
First of all, I want to quickly address Nashville star Hayden Panetierre's decision to enter treatment for postpartum depression. Nashville has been showcasing Juliette Barnes's struggle with postpartum depression since the end of last season, and it is the main storyline for her character this season. While we don't know exactly where Juliette's struggle will leave her, it is commendable that her portrayer is taking the necessary steps to get herself healthy for her family. We can only hope her onscreen persona's journey goes in the same direction.
The show opens at Beverly's funeral, where Deacon blames Scarlett for his sister's death. Deacon loses it at the funeral, and so Rayna has to deliver the eulogy. Deacon can't stop pacing afterwards, so to prevent himself from spiraling, he makes the smart move and goes to a meeting. That still doesn't help, so he trashes his house in front of Maddie.
A grieving Deacon is going to have to grieve alone, because the music business waits for no power woman. Marcus Keen comes to Nashville excited to get started working with Rayna. Because of Rayna's obligations Marcus floats around a bit getting to know all of the Nashville players. Avery sees an opening to get his career rebooted and asks for an introduction, but has to leave when Emily calls saying Cadence has a fever.
So while Avery is dealing with his family, Marcus continues to acquaint himself with the Grand Ole Opry. The Opry is time honored and sacred ground, and Marcus becomes so enthused he steals Layla's spotlight to force his own introduction on the stage. Rayna makes it clear that what Marcus did wasn't in great taste, and he apologizes. Furthermore, his impression of Avery was so great he wants to work exclusively with him. I'm waiting for this guy's inflated rocker persona to come out, but so far nothing. Maybe he'll actually bring some balance back to Highway 65.
Beverly's funeral ushers Zoe's temporary return. Her reunion with Gunnar is awkward, to say the least, but she is here for her friend. Scarlett needs her friend because she really can't talk to Caleb, who "speaks doctor", which is not the language Scarlett communicates. Scarlett's boyfriend feels the pressure, and in a move that completely blew me away, he goes to Gunnar for help. He writes a beautiful song with Gunnar's help, and I am equal parts moved and confused.
Jeff returns to Nashville to spoil Layla before her introduction to the Opry. Truly the only time I find Jeff tolerable is when he's being sweet to his girlfriend. When Layla's moment goes awry, it's not Jeff who can calm her down, it's Will. He goes to his ex-wife to give her a pep talk, saying she should embrace what she already has. I highly doubt he meant embrace Jeff so publicly, especially in front of management.
Juliette's postpartum depression is getting further out of control, so much so that she's popping pills and drinking alcohol like it's the Prohibition Era. For this reason it is the worst possible time for a reporter to be shadowing her every move, but that is exactly what is happening. When a tabloid story about Avery possibly moving on with Emily surfaces, Juliette smiles for the camera, but completely goes off on Emily. The rest of the time Juliette wants to be completely numb, and it keeps her from being there when Cadence needs her mother. I'm not sure how much more Avery is supposed to endure before he gives up on his wife, or how much more Juliette can self-destruct before she seeks help.
Does it feel like change is finally in the air?
[Photo credit: Mark Levine/ABC]