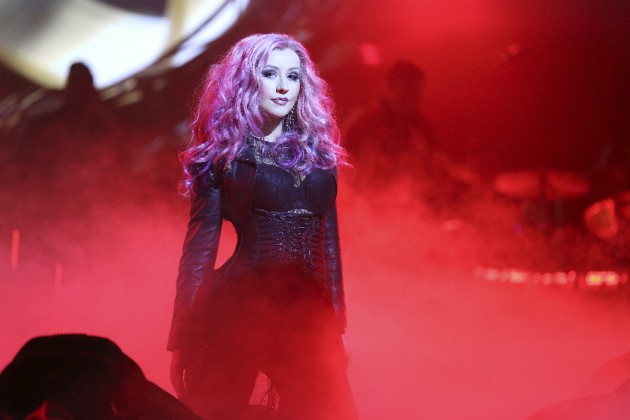 The diva of Pop has arrived!!!! Christina Aguilera takes her place in Nashville this week as Jade St. John. Let's see how she shakes up the country music scene.
Jade St. John, the Queen of Pop, is also Jeff's ex-fiancee. Jade comes to town on tour and Layla, having no idea of the history between Jade and Jeff, pushes her manager to get her in as an opening act. This is sure to be fun. Jade agrees, but only if Jeff makes an introduction between her and Luke Wheeler. Only problem is that Luke is not interested. Jade still allows Layla the opportunity, and fate brings Colt and Luke to the show. So an initially reluctant Luke by the end of the night is a big fan of Jade's. Perhaps he can be the one to tap into the country side of her that she was forced to shy away from years ago.
The Queen of Country has been having a rough couple of weeks with Maddie. Basically for the last few weeks Maddie has been distant from her parents, flat out refusing to discuss Deacon's illness, or much of anything else. Which is why Rayna is shocked when she accidentally spots her teenage daughter swapping spit with the boy who was almost her stepbrother, Colt. The news isn't exactly a secret to everyone, just Rayna, which stings worse. Maddie's lack of communication problem turns into a lack of respect problem with Rayna, and it's difficult to argue with Maddie's point that Rayna shouldn't throw stones about keeping secrets.
Rayna is also the last to find out that Jeff is Layla's manager. She's obviously upset, but the way she sees it Jeff is bound to mess up sooner or later. As big a jerk as Jeff can be, Layla is the one person who is actually able to see the deeper parts of him. Layla has come a long way herself, purely supporting Jeff as she recognizes, without him having to say a word, that Jade really broke Jeff's heart.
Peace prevails at the Jade St. John concert. After Maddie and Deacon have a heart-to-heart, she is allowed to go to the concert with Colt. Luke is supportive of his son's new relationship, and is even wholeheartedly supportive of Deacon in his cancer battle. Finally they can dial back the drama and focus on the music.
Teddy is still being an idiot illegally gathering half a million dollars in hush money for his prostitute friend, who secretly cut a deal with the feds for her own immunity. Honestly, let's be done with this storyline.
Avery and Juliette are desperately trying to adjust to parenthood (Welcome the World Cadence!), and it's the regular chaos that surrounds having a newborn in the house. Well, it would be regular chaos, if the mother wasn't Juliette Barnes. Desperate to get back to work and talk about something other than diapers, Juliette prematurely agrees to write a song for the end credits of the Patsy Cline movie she did, due the next day. Avery isn't able to help her, so she enlists Deacon's help (P.S. It's been way too long since Juliette and Deacon have had screen time together). Deacon just can't help Juliette when all he can think about is his illness, and he can't bring himself to tell Juliette the truth. A few hours later Juliette has finished a song, hired a live-in nanny (without her husband's knowledge), and by morning is on a plane out of town to present her new song. Motherhood, the Juliette Barnes way.
Gunnar and Scarlett have barely spoken since they've come back from the tour, despite the fact that both of them have been playing their duet on a loop. Scarlett's new boyfriend is slowly realizing that his girlfriend's chemistry with her ex is very much not just about the music. Scarlett refuses to buy into the hype that her performance with Gunnar is getting, and Avery is equally ticked after a reporter fails to even notice Avery is in the room for an interview. The next group performance is a success, but given everything going on with his family, Avery decides to quit the band in order to focus on what his daughter needs.
Also, hot off pouring his heart out to Scarlett, Gunnar advises Will to do the same with Kevin. Poor Will is so scared to take this next step, and you really have to feel for him as he takes this journey. If only he could actually get the word "date" out, then Kevin wouldn't have been so confused himself. Luckily they finally get on the same page by the end of the episode, and fans can breathe a sigh of relief that Will is finally becoming comfortable with who he is.
Now is it just me, or did the second half of Nashville's third season get a fantastic musical reboot?
[Photo via ABC]