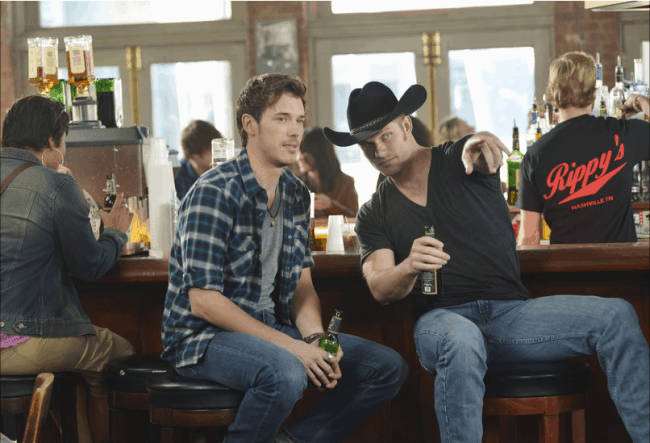 Kissing, betrayal and a bit more kissing… yep, Nashville is back and better than ever! This week's episode begins with everyone who was on tour landing back in Nashville for some down time and more practices before continuing on the road. Too bad the calm and quiet they all had in mind never happens.
Juliette is still playing house… I mean shopping for a house with Dante, who is still creepy and up to no good, as her mother is desperately trying to show her who he really is. Meanwhile, Teddy is avoiding Peggy due to the fact that she was the leak to the tabloids and he now knows.
The adorable Scarlett and Gunnar have dinner with Deacon and Stacy while Rayna is "making music" or more accurately, making out with Liam. When Rayna isn't with Liam she meets with Scarlett to start talking about her new record and where she sees her music going. Scarlett uses that moment to tell Rayna about Gunnar and the real reason he missed the audition with her (his brother's death). Because Rayna is amazing, she tells Scarlett that Gunnar can have another chance!
In another part of town, Will is getting Gunnar out of his performing shell while Gunnar is tapping into his brother's talents by reading his journal. Gunnar then performs at Tootsies for open mic night and is a huge hit. A record exec tells him he wants to cut the song's demo, which Gunnar says he wrote, too bad it isn't his song…it's his brothers!
Back at tour rehearsals, Juliette is only focusing on house hunting as Deacon is running the whole practice. After being told what to do by Dante, Deacon says he is quitting after this leg of the tour–yikes.
Rayna on the other hand is doing quiet well with her new boy toy, Liam. In fact, Liam asks her to go to St. Lucia with him before they go back on tour. Very interesting.
On the political side of things, Teddy confronts Peggy and tells her to leave–finally! Lamar is looking through old photos as Rayna comes to see him. The two decide to try and start over…so sweet. Tandy on the other hand is trying to take control of her father's business and he isn't happy about it. She even goes behind his back to Coleman and proposes a new alliance, one without Lamar and without Teddy.
Back in town, Gunnar talks to Scarlett after he plays at Tootsies and gets mad at her for talking to Rayna about him. He quickly changes his tone and tells her that he wants to figure out the kind of singer he is without her. A little harsh but they are still the cutest couple on the show.
Returning to Juliette and all her drama, her mother Jolene tries to tell her that she saw Dante kissing another woman but Juliette wont believe her. To make matters worse Dante, who is in charge of Juliette's money while they search for a house together (bad idea), begins to plant seeds of doubt into Juliette's mind about her mother's sobriety. Eventually the two confront Jolene about her drug and alcohol use and then Dante conveniently finds drugs in her things. Juliette loses it and sends her mother away.
Later that night Juliette takes a closer look at the pills that Dante "found" in Jolene's bag and realizes that he planted then because Jolene is allergic to them and would be dead if she had taken them! She calls Dante but he is already gone, with her down payment on the house and a lot of other money. She was played and is left looking like a fool. Poor, Juliette she has terrible luck with men.
Speaking of men, Rayna agrees to go with Liam to St. Lucia and then plays one of her old songs that she wrote with Deacon with Liam as the guitarist. A blow to the heart for poor Deacon. Stacy of coarse realizes that this hurts Deacon and asks him if he still has feelings for her, which he does. As she walks away to get some space, Rayna walks up.
She asks him what's wrong and he responds "you!" He tells her that he isn't over her and just when you think she will say the same Liam comes up and they leave–ah!! Later that night Deacon gets a knock at his door and obviously it is Rayna. She tells him she loves him and then they kiss and sleep together! Hands down, the best moment this season (in my opinion).
If that wasn't enough love and drama for one episode, Gunnar has a heart to heart with Will. He admits that the song he sang was in fact his brothers and then says things are complicated. Will then leans in and kisses him! Gunnar freaks out and leaves–crazy.
I can't even begin to describe what's going to happen when Scarlett finds out about this kiss and what will happen with Deacon and Rayna? Tune in next week to see who is hooking up and who is playing music.