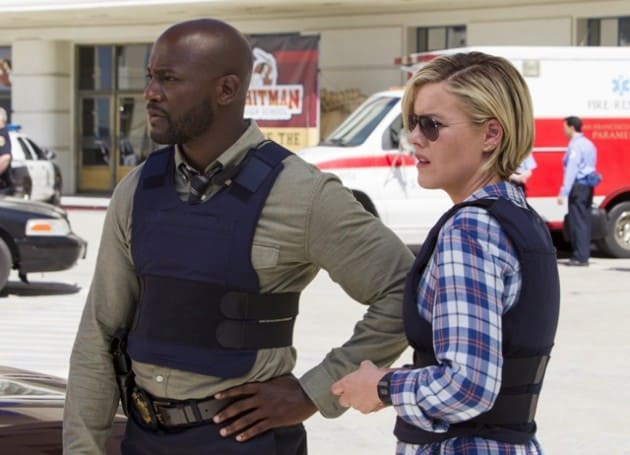 Another week, and Murder in the First continues to weave its threads in and out of its many sustained long mysteries. I'm not sure where they're going with it yet, but darned if I'm not interested. The acting is strong, and the plot is intriguing enough to keep viewers coming back. I mean, what more could you want, really?
This week on Murder in the First: Terry and Hildy work to clear all the cops in their division, with only Junior and Navarro remaining. One gang retaliates against another, claiming an innocent victim. Molk finds a romantic interest that turns into a complicated triangle. The mass shooting suspect pleads guilty to all counts of murder.
I was truly impressed by the acting in this episode. Perhaps it was because Terry and Hildy had much more screen time this week. Kathleen Robertson in particular, this week, displayed a powerful range of emotions that not many actresses have. She can be a hard, intense cop, a frustrated sister, and a devastated mother all in one fell swoop. I can't even imagine how that character holds things together, but Robertson brings such a strength to Hildy's character, making her arguably the most compelling individual on the show. Taye Diggs is a fantastic actor also, but he hasn't had to display the range that Robertson has so far this season. Not that he couldn't.
What is more impressive, however, is the strength of the other characters. Lombardo Boyar displayed great range as Navarro, and I have never been more interested in Navarro's story. In my mind, that's a huge credit to the actor, because it's ultimately a portrayal that makes a character interesting. All of a sudden there are so many things I want to know about Navarro, like his family's background, why he hated Caleb so much, etc. He's taken a fascinating turn. Though he hasn't seen a ton of screen time, I'm a big fan of Raphael Sbarge's work as well. I'm really looking forward to seeing this love triangle unfold, but hoping it doesn't end badly for my man Molk.
Perhaps the most interesting element of the entire second season has been the multiple stories involved. Last season, there was a lot of evidence gathering and mystery shrouding one particular case. This season, there have been several, seemingly unrelated mysteries. At this time, it's unclear whether they're simply saying "Cops deal with a lot all at once," or if there is some kind of weaving thread between the plots. Personally, I'm hoping for the latter. For instance, let's say that the killer who pled guilty in this episode goes to death row, and we don't hear from him again. Would you be disappointed? I sure would. I think the only way to satisfy fans who are paying attention ( you have to be, to catch the Molk/Junior love triangle thing) is to connect these threads some how. I'll be honest, I have NO idea how they would or could do that, but there is still plenty of time in the remaining seven episodes.
Ultimately, I'm pleased with this episode. It definitely piqued my interest, and I've been impressed by the performances given. Hopefully, it will continue on the trajectory it has laid out, because that will be a fun ride.
What did you guys think? Did you enjoy this week's episode? Let us know!!
Murder in the First airs Mondays at 10/9c on TNT.
[Photo via TNT]