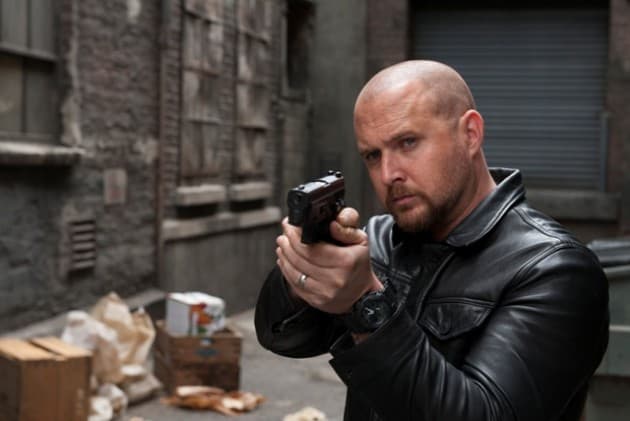 We're headed towards the end of the summer, which means we're in the back end of this season of Murder in the First. As things approach the end, the series has seriously begun to ramp up the intensity. As a serialized cop show, Murder in the First has really stepped up its game as a whole and (for the most part) become a fleshed-out drama series that has tools for success.
This week on Murder in the First: Junior provides Terry and Hildy some information on the Union, which gives them a strong lead on the Sarah Tran case and involves many of the major players. Suger gets some new information about his sister's arrest. Dustin's trial begins.
I have to say that I'm impressed. Several weeks ago (and in a row), I expressed my dislike for the seemingly unrelated stories. I hoped for the series to begin to weave and tie them together. For the most part, I've come into the acceptance stage. I tried to accept the unrelated stories as character fodder and move on with my life. This week, I was able to catch a glimpse of what I hoped for all along. You see, Suger's sister being set up ties into police corruption, which we learn also affected Raffi's character, as she reported to a "Union" member. Perhaps accepting these stories as unrelated simply made the connection that much more satisfying, but either way I was pleased. Now, Dustin's trial and case feel ever more like an outlier, but it does make you wonder how far the corruption goes, and whether it will affect the outcome of the trial. I certainly didn't expect a reveal of all the corruption and connections right away, so hopefully they will continue to reveal that information. I will be extremely disappointed if (now that the gang war IS related) the trial is an outlier.
I kept thinking to myself during this episode that this is high quality entertainment. This show is really well done. It's not particularly groundbreaking, other than it's uncommonly serialized for a cop drama. Rather than most procedural shows which have serial elements to keep people watching, Murder in the First is character focused. It's focused on the crime and the suspect, but also the deep characters and how they maneuver through this world of mass shootings and police corruption. This show has taken a very tired concept of homicide and gang divisions and made them deep, rich worlds to be explored. I would almost argue that there are too many characters this season, but it really builds off of the first season while expanding its world. So there are ALMOST too many characters, but not quite.
All in all, this was another strong installment. "Out of the Shadows" introduced a deep world of police corruption only hinted at by previous episodes, and fleshed out the current characters in a real way. The mystery has never been more compelling, and the actors are rising to the constantly mounting challenges presented to them. Though not perfect, this is a woefully underrated show with solid entertainment value. Seems like as good a time as any to hop on board.
What did you guys think? Did you enjoy the episode? Let us know in the comments!
Murder in the First airs Mondays at 10/9c on TNT.
[Photo via TNT]