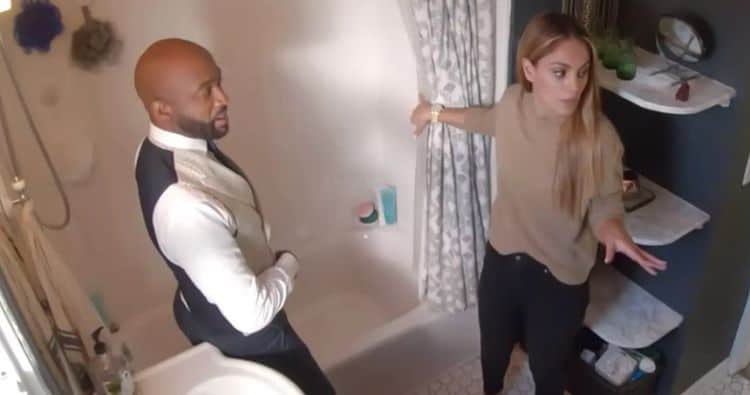 Are you a fan of true crime and home design? I've got some good news. There's finally a show that's just for you. Quibi's new series, Murder House Flip, is putting a very creepy twist on the typical home remodeling show. Murder House Flip will feature properties where horrendous crimes have taken place. Due to their horrid histories, the homes were sold for far less than their market value. Although the new owners got a good deal, they're ready to work with the cast of Murder House Flip to breathe some new life into the space. Designers Mikel Welch and Joelle Uzyel will work with the homes' new owners to complete redesign each house. Keep reading for 10 things you didn't know about Murder House Flip.
1. The Designers Will Try To Honor The Home's Tragedy
The goal of Murder House Flip is to transform the home into a place that is brighter and more beautiful. However, the designers also want to consider the tragedy that took place there and the victims who were impacted. One of the show's designers, Mikell Welch, told Refinery 29: "The trickiest thing about this show, unlike any other show that I've worked on, was the fact that actual murders happened. The biggest thing was the balance of being respectful of the home as well as using the design."
2. Body Parts And Murder Weapons May Be Discovered
Although the crimes that happened at each home are several years old, some of the homes still have remnants of tragedy including blood stained walls and floors. Since walls are being knocked down and floors dug up, there is a chance that bones, murder weapons, or other evidence may be discovered.
3. There May Be Some Supernatural Activity
If you believe in ghosts then you know that homes where crimes took place are said to be buzzing with supernatural activity. Joelle Uzyel who is a designer on the show said, "in one of our homes, when we walked into the room, it had a ton of static. Your shirt started moving, and your hair started puffing up – and the owners kept saying they felt a spirit there."
4. The Show Will Use Crime Scene Photos
While home design is a major aspect of the show's concept, the crime that took place in each home will be the focal point. Viewers will get to know a bit of the backstory for each home and will even get the chance to see crime scene photos and footage.
5. The Designers Hope To Being New Energy To Each Home
Aesthetics are a big part of every design project. Of course, the goal for each home on Murder House Flip is to make it look 'better'. However, these designs aren't just about looks. Mikel Welch and Joelle Uzyel both hope that the changes they make to each home help introduce positive energy into the space.
6. Some Home Owners Aren't Afraid Of Their Property's Past
Most people would probably be a little freaked out about living in a home where a violent crime took place. However, that isn't the case for all of the homeowners featured on Murder House Flip. Some of the owners are actually intrigued by the crime that took place in their home.
7. Some Of The Owners Didn't Know Their Home's History
On the flip side, though, not all of the home owners were even aware that a crime took place in their home before they bought it. According to real estate laws in California, where the show takes place, real estate agents are not required to disclose that a crime took place in the home unless the potential buyer asks. On top of that, some of the owners purchased their homes before Google was a thing, so they really wouldn't have had anyway of knowing.
8. Some Of The Homes Were The Scenes Of Famous Crimes
If you're a true crime junkie (which, let's be real, you probably are if you're watching this show), you may recognize some of the crimes mentioned on the show. In fact, the home featured in episode one was the scene of several murders committed by serial killer, Dorothea Puente. When Puente owned the home, she ran it as a boarding house. She murdered several of her disabled tenants and continued to collect and cash their social security checks. The Puente case has been featured in several true crime podcasts and is one of the most infamous cases in California.
9. The Police Helped With The House Selection Process
Murder House Flip producers says finding homes to feature on the show was actually a pretty easy process. Show runner and executive producer, Star Price, says the team used the following tactics to find the perfect homes: "We did door knocks, we did Facebook searching, we had some recommendations from police departments … We tried everything,"
10. All Homes On The Show Will Get 3 Quibs
Murder House Flip airs on Quibi which is mobile only video platform that features short form shows. Each episode, or Quib, will only last about 8 to 10 minutes. Each house featured on Murder House Flip will air in 3 separate quibs.