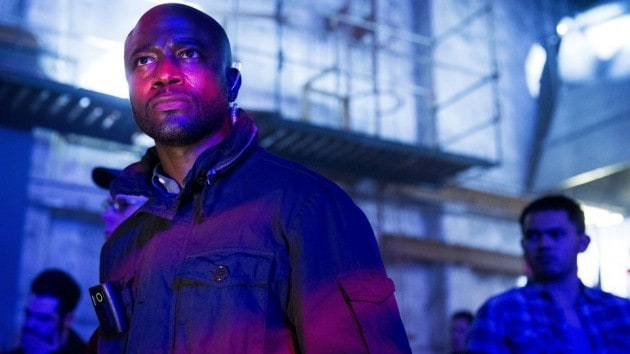 It's summer, folks, and that means the return of all our favorite summer programs. Last year, one of the programs I liked WAY more than I expected to was TNT's Murder in the First. I was drawn in by last season's antagonist (played by Tom Felton of Harry Potter fame), but I stayed because there were two compelling leads in an uncommon but intriguing serialized cop show. You don't see that too often, and it really makes for an interesting premise.
This week, on Murder in the First: Terry and Hildy are just around the corner when two students begin shooting up a school bus from the inside. As Hildy deals with the case, she must also handle some personal struggles that come with being a single mom. Terry and the rest of the police are able to apprehend one suspect, but the other escapes and remains at large.
I find Murder in the First compelling for several reasons, but the main one is the premise. You really don't see many serialized cop shows on television nowadays. Sure, there's True Detective, but even that is coming into Season 2 with an entirely new story and cast. Murder in the First kept the same cast, and just put them on a new case. For this premise to work, the cases have to be big. In the first season, the series followed the case of a billionaire genius arrested for murder; this time, it's a mass shooting involving school age kids. I would say if "big" is the goal, it's accomplished. The first minutes of the episode were extremely intense, and it didn't drop far for the duration of the episode. I was taken aback, but extremely excited by where the show is headed. As the shooting took place, I was punched in the gut. This show has an incredible ability to impact your emotions, and it will do so if you let it.
To keep viewers interested in a show like this, it must have compelling leads. Lucky for them, Taye Diggs and Kathleen Robertson excel as the main cops, who are partners. Terry English (Diggs) spent all of last season with a sick wife who eventually passed, and Hildy Mulligan (Robertson) is a police officer raising a child by herself, as her ex-husband is irresponsible. Layers to these characters make them relatable and real. The acting on this show in general isn't groundbreaking (the only thing that put me off in the first season was Tom Felton's terrible American accent), but the two leads excel and they are perfect for their roles. It's hard for me to see them as anything but cops, and that's what you should go for in a role like this: total embodiment. I had never even heard of Robertson before this, but I quickly became a fan. She and Diggs have great chemistry, and they alone make the show worth watching.
Murder in the First, while certainly not perfect, does a lot of things right. It has compelling leads, a strong case that will lead them through another 10-episode season, and impeccably strong storytelling. The visuals are good, and the action is thrilling and intense. This first episode of Season 2 kept me on the edge of my seat for the entire hour. Hopefully, the series can continue to accomplish that. The storytelling format is different enough from other cop shows on TV to keep me interested, and I'm confident this series has the tools to hold my interest.
What did you guys think? Are you glad this show is back? Let us know in the comments!
Murder in the First airs Mondays at 10/9c on TNT.
[Photo via TNT]