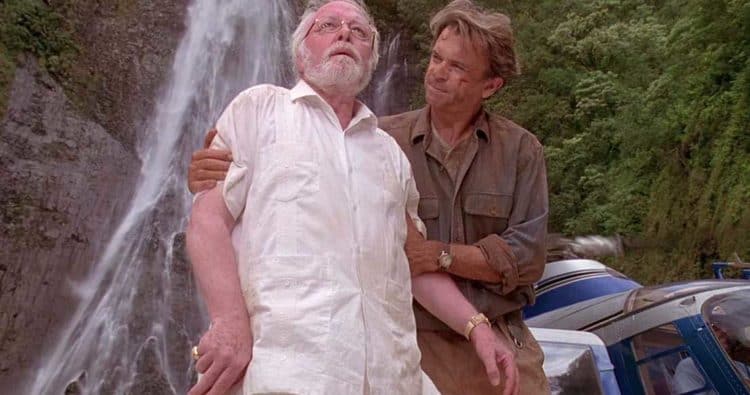 "The book was better." If you're a movie buff, you've likely heard the phrase. You might have said it. You were probably right. Most times, the book is better. I could list plenty of books that were ruined in the movies that were made. But every once in a while, we all have to admit that a movie comes along that's better than the book. It cuts out boring stuff. A brilliant actor gives life to a character that just wasn't that interesting on the page. Maybe it just allows the director and crew to show off some really cool effects that impress the heck out of us. There were probably hundreds of movies in the 90s based on books. Here are ten that were actually better than their source material.
1. Jurassic Park (1993)
Michael's Crichton's "Jurassic Park" is a good book, and well worth reading. But watching on the big screen as the dinosaurs first appear, and the iconic music by John Williams swells, and the characters look on in awe – well, even your imagination can't come up with that kind of scope. If you were lucky enough (and old enough!) to see it on the big screen when it first came out, the effects were jaw-dropping. Even decades later, they're still impressive. The wonder and the terror that the movie provides just can't quite be matched by the book.
In the book, Jenny simply goes on to marry another man and live her life rather than dying like in the movie (spoiler alert…but if you don't know the plot by now I don't feel bad). Jenny's tragic death in the movie was a tearjerker, and I think a much better (though sadder!) way to end hers and Forrest's story. Tom Hanks is, of course, wonderful and Bubba Gump and Lt. Dan were great characters on the big screen. The soundtrack of great songs from across the decades is one of the best.
Even author Chuck Palahniuk admitted, "I was sort of embarrassed of the book, because the movie had streamlined the plot and made it so much more effective and made connections that I had never thought to make." However, creating the characters and setting up the bones of the story is nothing to sneeze at. The movie is one of those that has stuck around and still has a following, and – perhaps the ultimate test – still has people quoting lines from it.
4. Little Women (1994)
The book is good but, let's face it, the book is looooong. The movie does an excellent job of condensing the plot, Winona Ryder is wonderful as Jo, and a young Christian Bale makes a great Laurie. The 2019 Greta Gerwig-directed Little Women movie is wonderful, too, but we're talking about 90s movies here and so we must ignore it for now. Along with Winona Ryder and Christian Bale, Susan Sarandon, Kirsten Dunst, Eric Stoltz, and Claire Danes all bring their characters to life and make this a great movie.
5. The Shawshank Redemption (1994)
Mostly, the movie in this case is better because it's much more fleshed out. The "book" is actually a short story, so the movie gives a lot more depth and tells a lot more story. Tim Robbins and Morgan Freeman are excellent and the ending is very, very satisfying.
6. Pride & Prejudice (1995)
Technically, this is a mini-series…but let's think of it as a really long movie. It's hands-down the best adaptation of the book, and it brings characters to life that are a little hard to imagine from the book. How can Mr. Darcy be off-putting, but likable? How can Mr. Collins be as ridiculous as he is and still be a real person? And how can Charlotte put up with him? The actors manage to bring all those characters to life, with their quirks and foibles, and still make them seem like real people.
Usually, the horrors we conjure up in our minds are far worse than anyone can show on a screen, but Anthony Hopkins is simply terrifying. The calm creepiness, the "Well, Clarice" with a long "s," the way he stares…it's all unnerving. The book is excellent, too, but the movie is far scarier.
8. Apollo 13 (1995)
Apollo 13 was an actual historic event, but it relied heavily on Jim Lovell and Jeffrey Kluger's account in "Lost Moon: The Perilous Voyage of Apollo 13." It's a non-fiction book that's a little dry. The movie brings characters to life with Tom Hanks, Kevin Bacon, Gary Sinise, and other stellar actors.
9. Fried Green Tomatoes (1991)
Neither the book nor the movie is award-winning art, but the book is a fun read, especially for a light-hearted beach novel. However, Kathy Bates drawling, "Face it, girls, I'm older and I have more insurance" while slamming into a cherry-red convertible can't be rivaled.
10. Mrs. Doubtfire (1993)
The movie is based on the book "Alias Madame Doubtfire," which is a sweet novel for tweens and teens. It was actually an acclaimed book, and is a fun one to read but it doesn't stand up to Robin Williams at his zany but endearing best. Few things do.
Tell us what's wrong with this post? How could we improve it? :)
Let us improve this post!