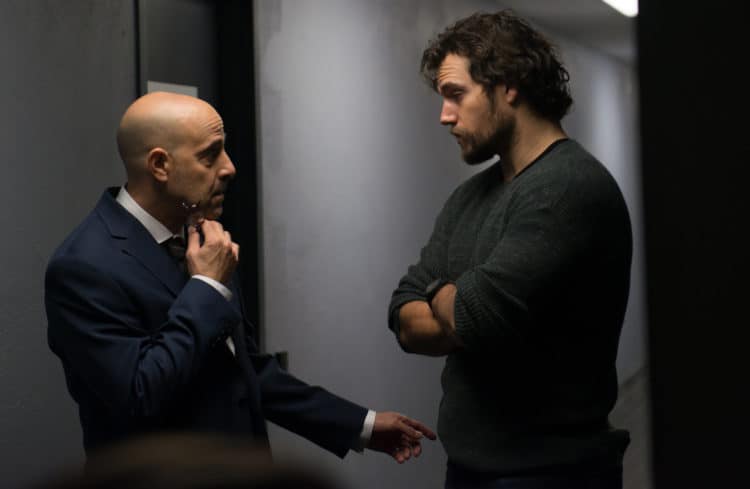 People tend to expect a lot out of a star-studded cast like this, and the fact is that taking Henry Cavill, Ben Kingsley, Stanley Tucci, Alexandra Daddario, Nathan Fillion, and several other well-known individuals and placing them in a movie that feels like an action movie that should, by all means, rock the house. But while Night Hunter is kind of a generic title, the movie is a bit generic as well, though it does lean into the 'interesting' column just enough that it's no surprise why folks would end up watching it. These days it does feel as though some movies tend to bank on star power versus the ability to tell a good story. To be fair, this isn't a bad story since it doesn't fall so heavily into used-up tropes that would have been capable of sinking the movie entirely, but trying to find it with a simple search does feel like it would be a little daunting for those that are bound to want something that's up and coming. The movie doesn't really stand out among action movies, despite the cast.
It could be that the story is more or less a kidnapping tale that does use ideas that have been seen before, but in a dark and foreboding sort of way that is can be beneficial with some movies, but heavy-handed with others. To make a long explanation short, this movie feels like something that could have been tweaked a bit to make it even more impressive. The impressive cast is great enough to tell a story that could have hit a lot of people in the feels and get them pumped to see the conclusion, but it does feel as though the antagonist was a bit, well, ineffective. To put it plainly, the bad guy wasn't the type that felt up to the task of stumping the protagonists, no matter that this was how the story went. 
If anything it felt as though the story might have been crafted to stymie the attempts of the protagonists to give the antagonist a chance to gain a leg up on the good guys, since otherwise, it feels as though the story might have ended a little too quickly. Plus, the flip-flopping of the antagonist before it's revealed that there are two of them, twins, is a nice touch, but once again it feels as though the villains aren't really of the same caliber as the heroes, meaning that something had to be manipulated for the villains to have even a hint of a chance when it came to outmaneuvering their opposition. Also, the role that Ben Kingsley played, the self-made vigilante that was out to take down as many bad guys as possible while using a young woman as bait, might come off as smart and even useful to some folks, but this too feels a little forced, as though a writer might have believed that this would be something that people might respond to in a positive or at least understanding manner when the truth is that it comes off as kind of creepy and a little ineffective. 
Maybe it comes from the thought that this movie could have been something better and even bigger, but the fact is that it is an interesting movie to watch, but it's not quite the same as some of the blockbusters that several of the actors have starred in over the years. If anything, Night Hunter is a movie that might have been great had it been given over to another writer that could have found the gaps in the script and allowed to change a few things here and there. As it stands the movie isn't that bad really and does offer up enough of a thrill for those that are ready to enjoy the combined acting abilities of the cast, but the villain, despite being unhinged and a little diabolical, just doesn't fit the bill when pitted against some of the biggest actors in the industry. The idea is sound since the fact remains that kidnapping stories and tales of those that suffer from mental disabilities are those that people still tend to watch quite often, but again, the writing could have used a bit more of a punch to it. 
It's kind of tough for action movies of any type to stand out since the fact is that there are so many of them that the movie almost needs to have a stellar hook or be part of a franchise these days to stand out in that much-needed way. But for those that love searching the lists for a movie they haven't seen before, Night Hunter is one of those that might catch their eye and interest them just enough to get into it. When all is said and done it's an interesting story that could have used some additional work, but it's worth watching.