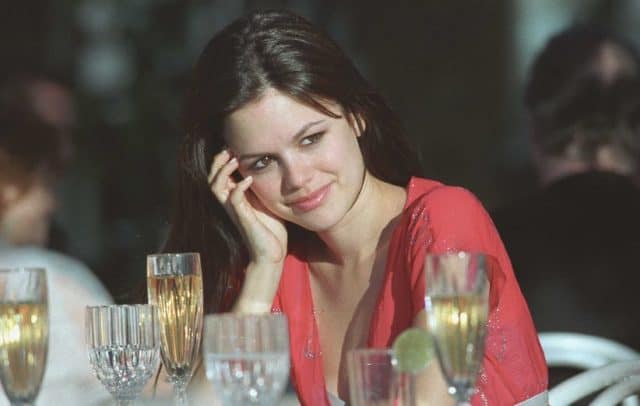 I just had a conversation with my wife that was about marital affairs. We were talking about how we'd never ever approve of one of us going out with someone we knew of the opposite sex alone. It would just be too weird. Like if I had some girl I knew in college who all of a sudden wanted to meet up for a drink, there's just no way my wife would let me go. And frankly I think it would be pretty weird to go. I bring this up because if there's one character from a movie that I find to be more dangerous than any villain in any movie, it's the character Rachel Bilson played in The Last Kiss.
If you haven't seen The Last Kiss it stars Zach Braff is a happily married man, or so he thinks, who winds up at a wedding and meets this young vixen, Rachel Bilson. He's in his late 20s and having an existential crisis. He allows himself to get drawn in by this girl who happens to be pretty innocent and nice overall. One thing leads to another and the rest of the movie is Braff trying to get his wife to forgive him for cheating on her.
But let me just say this. Bilson is always known for being the cute but when she wants to be hot, hot girl. No more is this ever more apparent than in The Last Kiss. Plus you'll never see Bilson do sex scene in any movie but this one. Like I said, as a married man, these women are dangerous and not be trifled with. It's fine to watch in a movie but I'm pretty sure every wife in the world needs to avoid seeing this movie. Husbands probably should too.
But here's the trailer just in case.