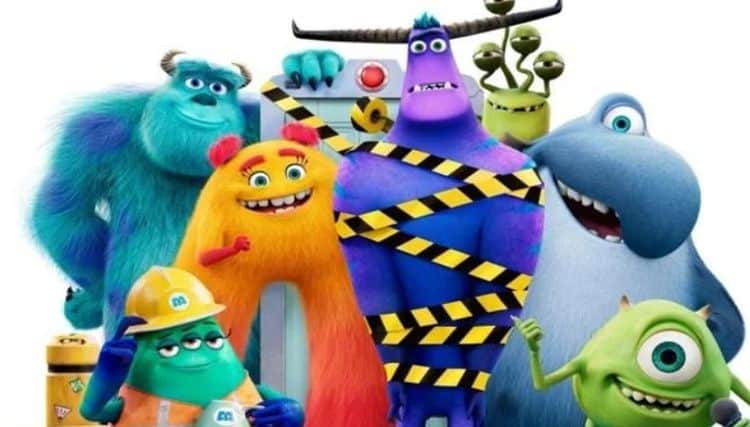 Normally it would be time to ask if this was a good idea, but to be fair, this show actually looks like it could have some promise since it's following up from the events of the first movie, meaning that instead of scaring kids the monsters are now making them laugh. That doesn't bode well for would-be scarer Tylor Tuskmon, a new recruit to Monsters Inc., who was under the impression that he would be getting hired to scare the living daylights out of kids. To be fair that actually sounds horrible when it's said out loud or written down, but the fact that Tylor apparently doesn't know about the switch makes it perfect since it could be that the show is picking up almost right after the events of the first movie. Even better is that John Goodman and Billy Crystal are coming back as Sully and Mike and will be joined by Ben Feldman as Tylor and will even be working with such famous names as Mindy Kaling, Henry Winkler, Kellie Marie Tran, and many others. And yes, don't worry, Jennifer Tilly and John Ratzenberger will be headed back to their respective roles as well.
Bringing some of the most noted cast members back could be one reason why it feels as though this show could work since without the original voices of several characters it does sound like something would have been off, especially if Goodman and Crystal had been left out. They won't be the main focus of the show, but the fact that they'll be there is still uplifting and definitely does a lot to bolster the idea that it could work since without them, or with replacements in their roles, it's hard to give a vote of confidence to this show even with the other stars taking on prominent parts. Like it or not, Sully and Mike made the movies and it's only fair to have them in the show. The day might come when they could possibly be done with Monsters Inc., but it's not happening right now, which could make a lot of fans quite happy and more willing to give this show a chance.
It's amazing to think of how popular Monsters Inc. became in such a short time, and how much it's changed over the years since the first movie was great with the story, the characters, and the animation, but Monsters University only got better as the movie showed Mike and Sully as younger versions of themselves that hated each other at first but learned how to work together to accomplish their goals. The whole idea that both of them were kicked out of the university and then started at Monsters Inc. in the mailroom was pretty cool since it showed them as working-class stiffs that had to earn their way up to the top, which happened at the end of the first movie. In other words, the movies weren't just there to have fun with, even though they were definitely hilarious, but they showed a very valuable lesson as well, particularly in Sully's case since he's the son of a renowned Scarer that expected to breeze through college and then get a cushy job.
Mike on the other hand was a kid that no one thought much about and didn't believe would ever do anything, but he had so much heart that he didn't know how to quit. The life lessons that these movies displayed aren't bound to be experienced by everyone but they're still valuable since they teach people of all ages to not give up and don't expect to get by on a free ride. Obviously, this isn't the way life goes all the time, but the lessons are still great enough that they should be given a great deal of attention. It does feel that the show could possibly delve into that realm as well, perhaps dishing out one life lesson after another in a joking, hilarious way that will show kids more than just the humor of the show, but also the message that is trying to be conveyed in a passive and very entertaining way.
Usually it might be that rushing into something like this would be met with a lot of trepidation mostly because it might not be quite as good as the movies that made it possible, but so far this show looks like something that could follow up the movies nicely and become a fine addition to the story. We'll have to wait and see how it goes but for now, it does appear that the show is going to be a worthy successor to the Monster's fame. Should the most popular characters leave it might be different, but again, that's something to consider in the days to come. For now, it looks enjoyable enough.