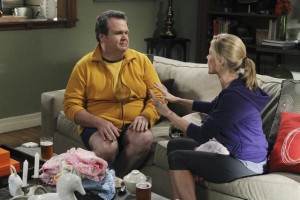 Did you miss last week's earthquake of an episode? Read my review here.
This week's Modern Family, "Strangers on a Treadmill," was about the lengths people will go to teach the ones they love potentially painful lessons. Phil, who, according to Claire, is "fun, but not funny," is to give a speech in front of a real estate association, and he's loaded it with rather unfunny jokes. Cameron has decided to start working out again, but his insistence on wearing spandex bike shorts horrifies Mitchell. Jay doesn't take the time to learn the names of the people that work for him, so Gloria forces him to attend the quinciñera of an employee's daughter, and doesn't correct him when he pretends to know all of the people at an engagement party they accidentally walk into. Alex decides she wants to be popular, so Haley tries to guide her through the machinations necessary to move from the "smart" group to the "popular" group, even though Alex is, at heart, a bookworm.
What I found interesting is that with the exception of Phil (who ends up slaying the crowd after Claire stole the cards for Phil's speech), the other three actually did end up getting embarrassed. On a more run of the mill sitcom, everyone would have learned a lesson of some sort: the embarrassees learning that their previous attitude was flawed in some way, or the embarrassor learning that he or she actually has the problem. To be honest, I was waiting for such a resolution with one of the now famous Modern Family music-set voiceovers, but it never came. This is what sets this show apart from the other comedies on television. Just when it seems predictable, it throws a curveball at the audience.
Yes, there was closure to Phil's story, as Claire learned that Phil actually is funny, and Phil learned that he doesn't need to write out jokes to impress. None of the other stories, however, were completed. As far as we see, Jay doesn't get chastised by Gloria, or even learn that he's at the wrong party. Cameron and Mitchell are left with Cameron walking out after the (very funny) misunderstanding regarding Cameron's (possibly hairy) shoulders. Poor Alex is found on the floor by her parents, sitting in the dark, because she realizes she doesn't have any friends. As I alluded to before, most sitcoms (and even Modern Family usually) tie their stories up with a neat bow at the end of each half hour. Not that we're likely to again see Gloria criticize Jay for not being more familiar with his employees in the near future, but I find it interesting that the Powers That Be are willing to these stories open. It says to me that these characters, as broad as they may be at times, are, like all of us, works in progress.
Now, perhaps I'm overthinking the whole thing, and really, the comedy that exists in these situations just finished where it did, so the writers stopped writing. If that's the case, it's no matter, because in my estimation, Modern Family strives to be a bit more than a standard multi-camera, laugh track sitcom. It really is trying to comment on what life is like for the average American family today. I know in my life, little ends quick and neat, so to see that reflected in the show is a welcome treat.
As far as the structure and specifics of the episode, I have to say, I wasn't laughing a whole bunch. I was smiling consistently throughout, but I only audibly laughed a couple times (namely when Cameron tipped over the bowl of fruit, and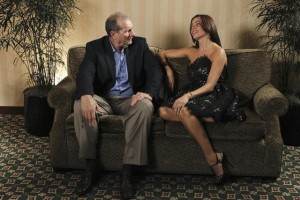 when Alex and Haley screamed after Alex's disastrous phone call), which is fine. I don't need to be rolling on the floor each week, and as I was practically doing that last week, an episode that is just sublime is fine with me. One thing I really did enjoy was the until now unseen pairings of Claire/Cameron and Phil/Mitchell. With such a large cast, the comedic combinations are relatively limitless, but for the most part (Jay interacting with his son and daughter being the exception), the families have only existed within their own orbits, or all together as one big family. These new partnerships worked well, if not briefly, so I'd like to see more of them. What about Mitchell with his nieces and nephew? Or Phil and Manny (one a child trapped in a man's body and one the opposite)? Or Gloria and Claire on a Ladies' Night Out? More mixing please!
Oh, I did find the blircle (blurred circle, see here for an explanation) covering Cameron to be pretty hysterical. I'd be willing to bet that the blurring was in the script already, and not something that came down from ABC's Standards & Practices. Or at least I hope so, because it was pretty funny.
Now, just because I wasn't uproariously laughing, that doesn't mean there weren't some great lines. Here are some of my favorites:
Phil: I'm trying not to think about my act right now. I'm kinda fighting the old butterflies.
Luke: Oh, that's normal. I hear the Jonas Brothers get scared before every concert.
Phil (very concerned): Not Kevin! That guy's a rock!
Luke: Especially Kevin.
Gloria (entering the Latino engagement party): You don't know anyone here.
Jay (to the room): Hey, Carlos!
Gloria (when a random man turns and waves): You got lucky.
Jay (alone, to the camera): I was lucky only one person turned around!
Alex tells popular girl McKenzie that she didn't get McKenzie's texts and that she was too busy to call back, thereby earning popularity points.
Haley (choking up): I have a sister!
Phil (grabbing Claire's face with both hands and kissing her): I knew it was you, Claire. You stole my index cards. (You have to have seen The Godfather, Part II to really find this funny)
Alright, those are my thoughts on "Strangers on a Treadmill." What did you think about the episode? Did you find it funnier than I did? How did you feel the new pairing worked? What was the funniest of the four plots for you (personally, I thought the Alex/Haley was stuff was pretty darn funny)? Please leave your comments below. I'll be back next week with another recap. Until then, I'm off to laugh with my mouth, and not my eyes.
Follow: twitter.com/tvovermind
Follow: twitter.com/MikeNJD
Tell us what's wrong with this post? How could we improve it? :)
Let us improve this post!