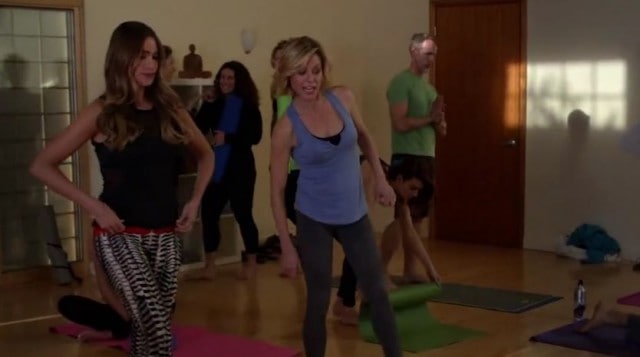 I'm trying to remember where the plot from tonight's Modern Family has been done before. It sounds awfully familiar and I'm 99% sure I've seen it on another show. It's the classic narrative of husband and wife wanting to hide beautiful people in their lives from each other. Phil has a new client whom he tries to hide from his wife because she's attractive, while Claire would rather keep her hot yoga instructor a secret. Even though the subject matter isn't new it'll be fun to see how Phil and Claire pull off their secrets. You know Phil's going to be bumbling like crazy and Claire will be doing the same. The hope, and my prediction is that it brings their marriage closer. Clearly there's going to be some kind of admission in the end and they'll say something along the lines of "of course it's OK to look at other people." Their lives are so busy that it's evident they need some fantasy in their lives. I wouldn't even be surprised if there was some role playing going on.
Any yoga has the potential to turn into hot yoga!

Posted by Modern Family on Sunday, March 13, 2016
Elsewhere, Jay becomes preoccupied making a Web show, but is tormented by an Internet troll. I can't even imagine how funny this is going to be. First of all, Jay loathes modern technology so the idea of an Internet troll is going to be foreign from him. Not to mention I'm sure the show will make use of the term "Internet troll" in some kind of ridiculous fashion. I also hope that Jay enlists the help of Phil and not Manny on this one. But I'm sure they'll be involving Manny.
Lily is dead excited to learn to ride a bike tomorrow.

Posted by Modern Family on Tuesday, March 15, 2016
Finally, Lily is nervous about learning to ride a bicycle, and her parents aren't exactly the best teachers. Again, I'm skeptical of this family. Sure it'll be funny when Cam and Mitchell try to teach little to ride a bike, but I have a feeling it'll be very slap stick and I won't be laughing.
Be sure to tune in to Modern Family Wednesdays at 9pm on ABC