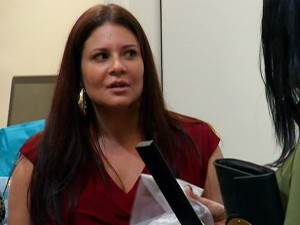 The thought of Drita and Karen reconciling was something that, admittedly, had me a little concerned heading into the second season finale of Mob Wives. I don't wish any ill will or fractured personal relationships on anybody, but leaving the two former friends in a room by themselves was just asking for trouble. Even though it had been 15 (!!!) episodes since they had been in a room together, the past couple of meetings, coupled with the constant tension during the season, made me hope that all the talk about moving on and setting a good example wasn't just talk. If Drita and Karen ended up scrapping at their set-up sitdown, it might have made for excellent television, but it would set a precedent going forward that, frankly, is beneath the core of what Mob Wives is about.
Color me surprised, then, that nothing that bad went down. Both Drita and Karen can be very temperamental and you can easily read their mood through their body language, but through some divine miracle, they held it in check. Voices may have been raised and Karen came prepared with documentation of minor hospital visits from 16 years ago, but the talk of calling a truce ended up being put into action, squashing a beef that stretched back to season one. It provided a nice book-end to the first two seasons, as well, since Karen was only really on good terms with Drita at the beginning of the series. But most importantly, it showed that these two ladies are self-aware enough to understand the impact their feud had on others (and frankly, themselves). A lot of reality TV doesn't have that type of self-awareness, that little voice inside their head telling them to pull it back or that it's not worth it to get bent out of shape. The fact that Drita and Karen, the sworn enemies of Mob Wives, can civilly squash their beef without the need of security guards, bouncers, or other girls makes me feel like the show isn't afraid to grow right along with these women.
It'd be quite easy to have this feud continue on for season after season, dividing up the Mob Wives fan base and providing each episode with a jolt of tension and dramatics. But that's not what Mob Wives is here for; rather than get everyone frothing at the mouth and capturing it on camera, the show is capturing the exploits of women that have undergone serious personal tragedy that are trying to cope with their loss. There are some that tend to get emotional, others that get angry, and still more that let everything slide off, but what matters is that this isn't coming out of nowhere. There's a root to every insult and hurtful action, a reason for the feuds and the drama, which makes Drita and Karen's reconciliation that much more impressive. They had to do some actual soul searching, rooting through actual life problems in order to put their feud in perspective, and that type of work, televised or not, is impressive.
That's not to say that everyone on a reality show together needs to be exchange friendship bracelets and braid each other's hair. There's a difference in being cordial to someone, not jumping them every time they walk into a room, and being friends/best friends; Drita and Karen may never get to the point of calling each other a friend again, but the thing is, they made that important first step in calling a truce. Even Drita and Ramona managed to hang out at the (very fun) family dinner at Delmonico's without impaling each other with their forks, but I wouldn't expect them to follow the same route that Karen and Drita did. And that's totally okay.
Through all the screaming, the cursing, the fighting, and the dramatics, Mob Wives never stopped being about the importance of family. They might not love each other, they might not like each other, and they might want to hit each other with crowbars, but there's a bond between the six women on the show that only they can truly understand. It comes from shared experience and understanding the pain that people in the life can go through, the loneliness that can be healed through a solid support system of other women going through the same thing. The Mob Wives have their moments of being messy and obnoxious, but the thing that separates them from other reality TV wives is the fact that they're able to evolve and forgive. They're able to let the other girl have it with all they've got, but once something bad happens in their personal/family life, all is forgiven and the time to rally around one another begins. It's that type of resilience, humanity, and strength that keeps me coming back to Mob Wives and will keep me for the duration of the show's run.
Thoughts, Quotes, & Observations:
-"I'll let you go first, but you suck."
-"We're Indians now?"
-"Nice home with a little bit of the devil stuck in it."
-"I'm an empress."
-I love that Renee ended up getting a shaman to send out the last of the evil vibes that had been polluting her household. I think that we'll see more of this Renee in season three and I'm more than ready for that.
-Drita's making a mixtape, if you're interested.
-A little information about Junior and his testimony.
-Wendy Williams on Mob Wives. How youse doin'?
-Which movie industry big wig is scared of Big Ang?
-Despite the fact that the finale felt like a series finale, Mob Wives will be back for another season in early 2013.
-Next week on Mob Wives: Part one of the reunion is about as ridiculous as you'd expect, with Ramona coming out fighting and another physical altercation.