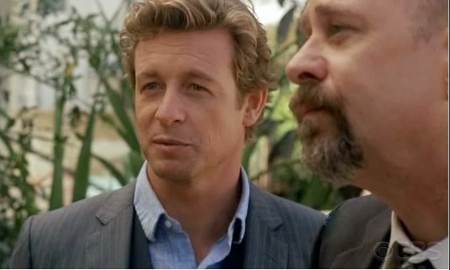 The big news tonight on The Mentalist episode "Red Bulls" is that Patrick Jane (Simon Baker) and Agent Sam Bosco (Terry Kinney) work together on a case. The episode begins with a tense scene involving Bosco's team, busting into an abandoned house they believe houses a kidnap victim and her captors. Guns drawn, they rush into a crowded room–populated by Agent Teresa Lisbon's (Robin Tunney) CBI team, including Jane. After a tense moment of adrenaline and demanding to know what the other is doing there, Jane finally gets them all to lower their guns.
Turns out Lisbon and her team were asked to investigate a report of a dead body in the abandoned house. The body turns out to be a young man who had been kidnapped years earlier. CBI boss Minelli (Gregory Itzin) agrees with Jane that the coincidences are too great between the two kidnap cases, and orders the two teams to work together. Bosco is, of course, furious at having to work with Jane and the hostility extends through both divisions.
Bosco, Jane, and Lisbon visit the family of the kidnap victim, Mia Westlake (Marissa Skell). The only relative is Mia's sister Verona (Meredith Monroe) and her husband. The Westlake sisters have a considerable fortune they inherited from a wealthy grandfather. Verona is the self-professed screw-up, and isn't sure how to handle the kidnapping. While Lisbon and Bosco ask the usual questions, and try to find a connection between Mia and the first kidnap victim, Jane observes the couple and their lawyer. He also finds their baby crawling behind the furniture, and the nanny is hastily called in to retrieve her.
Jane is his typical blunt and straightforward self, and warns Mia against drugging herself into oblivion during the crisis–because she'll regret being absent later. While Bosco is ordering Lisbon to get Jane out of his sight, Mia's husband Duncan orders Bosco to throw Jane off the case. Bosco apparently hates being told what to do more than he hates Jane, and tells Duncan the CBI will do whatever they need to, with Jane. Mia then calls Duncan off, saying Jane was right about what he had said. With a smile, Lisbon leaves Jane and Bosco together to work on another lead.
Since the proof of life video showed a man's hand with a recognizable Mexican gang tattoo, Bosco takes Jane over to meet with some of the gang members and interview them. Jane is nervous at first, until he realizes one of the gang members is an undercover agent that Bosco knows. Jane is not surprised when they find no link between the gang and the kidnapping, and gives Bosco a hard time for pursuing an empty lead just to show Jane what "real" cops do.
Meanwhile, Rigsby (Owain Yeoman), Van Pelt (Amanda Righetti), and Bosco's man Hicks (Dominic Hoffman) follow up on a gang of drug dealers who've taken up kidnapping to make faster cash. Van Pelt warns Rigsby to wear a Kevlar vest, but he refuses because Hicks isn't wearing one. Van Pelt is frustrated with all the macho posturing, which continues as they move through an apartment building, questioning the inhabitants. While Hicks and Rigsby are bickering, Van Pelt reopens an apartment door to give a potential witness her business card, and ends up with several rounds pumped into her chest.
Saved by the vest, Van Pelt urges Rigsby to go after the shooter. He and Hicks hunt the girl down through a maze of buildings, and Rigsby eventually shoots and kills her just as she's about to shoot down Hicks. There's new respect between the two officers, but Lisbon argues with Bosco about taking responsibility for the animosity that nearly got Van Pelt killed.
While the team is distracted, Rigsby sneaks into the ambulance to check on Van Pelt, and he tells her he loves her. Van Pelt thanks him sweetly, then smacks him for not wearing a vest. Her way of saying she loves him is apparently letting him know she doesn't want his ego getting him killed.
The specific amount of the ransom for Mia Westlake makes Lisbon and Jane think there might be someone on the inside who knows the status of their bank account. Their suspicion gains credibility when they discover that the woman who shot Van Pelt was the first kidnap victim's girlfriend.
As the time for the ransom payoff looms, Lisbon and Jane try to convince Bosco to use one of Jane's unorthodox ideas. It's clear from the previous kidnapping that Mia will be killed the moment they get their money. When Bosco refuses, Jane appeals to Verona, telling her that someone close to her is in on the kidnapping. He points out Verona's lawyer, and Verona immediately attacks her, creating a commotion.
Jane retreats to another room with Lisbon and Bosco, who actually was in on the plan. They watch the hidden video of the room containing the ransom money, waiting to see who turns up to check it out. The nanny suddenly appears, taking the transmitter out of the suitcase and then disappearing upstairs. The agents follow her, and overhear her making a phone call to her partners, letting them know the money's on its way. The agents arrest her, and use her phone to trace the call back to its source. Mia is rescued, and reunited with her sister Verona.
Afterwards, Lisbon and Bosco share a drink and mend fences over their earlier arguments. Bosco tells Lisbon he's enjoyed working with her again, and they share a few meaningful glances. Later on, Bosco approaches Jane and concedes that he was wrong–that though Jane isn't an officer and never will be, he offers a valuable perspective. He then gives Jane the file on Red John, and asks for that perspective. He expects grateful thanks, but instead he gets a pointed request from Jane for the whole file. It's clear these two don't fully trust each other just yet.
Read all of the TVOvermind The Mentalist recaps.
Watch The Mentalist on CBS Thursday nights at 10/9c.
PHOTO: Simon Baker as Patrick Jane, with Terry Kinney as Agent Sam Bosco, The Mentalist "Red Bulls" screencaps, c2009 Primrose Hill Productions, Warner Bros. Television, CBS.