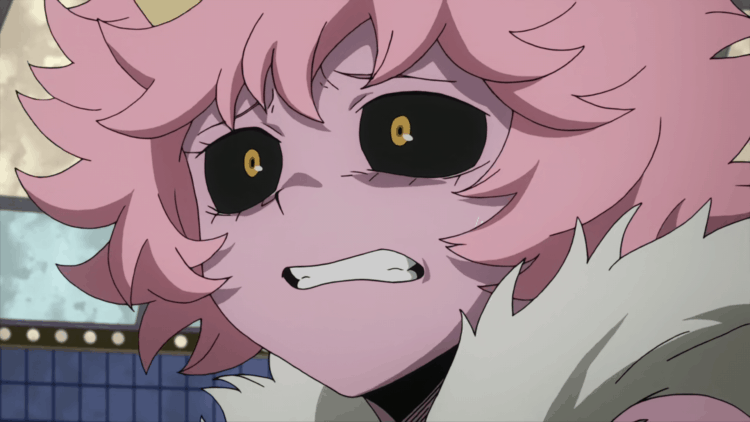 If you're into anime and heroes then you might know something about Mina Ashido or you might not since it seems that she's not the most popular of the bunch but she's still up there when it comes to getting noticed. One thing about anime is that the creators of these shows tend to know how to get people to pay attention one way or another and upon looking at most of the characters you get the feeling that sex appeal becomes a big thing early on when thinking about introducing a new character. Mina is kind of an oddball character but she's gained some traction in the series she belongs to at some point. Like a lot of anime characters she's a little over the top sometimes and has a lot of character quirks that might make her a bit hard to get used to for some people but puts her right on par for where she's at.
Here are a few things about Mina that some folks might not have known.
10. Her design has changed over time.
This is pretty common since just about every character that's been created has undergone a change or two now and again in order to make them more appealing, easier to draw, or perhaps just more dynamic in how they interact with the series and those in it. Sometimes a new look gives a character a little more personality.
9. She has specialized boots she wears.
Thanks to her major quirk she has specialized footwear that allows the quirk to proceed as it will while allowing her to keep the boots from being destroyed. This is a functional design more than anything since training to be a hero tends to force one to think about just what kind of clothing will be satisfactory.
8. She's been seen as one of the least popular characters.
It seems that it's been kind of hard for her to gain traction as a character and as a favorite of viewers, but people have eventually come around and she's considered to be someone interesting to look at by now.
7. Mina is a skilled dancer.
This is one of the talents she has and it's one of them that is a little more fun to watch since it's a part of her character that's bound up in anything but her need to be a hero and to prove herself so often.
6. She can secrete corrosive acid from her body.
This sounds like something a few other characters throughout history have shared but her quirk is still pretty unique since she has such a high degree of control over it and the acid doesn't seem to hurt her at all.
5. Her hero name is Pinky, but it was almost something else.
She was going to go with Alien Queen since the whole acid angle does kind of seem like it would work in her favor, but instead her name became Pinky and it obviously stuck since that's the name she's had for a while.
4. Mina is not the most intelligent character.
Her various scores are pretty high when you look at them but her intelligence isn't exactly the brightest spot of her character. This is okay really since she gets by on more than just intelligence as a character and is considered to still be one of the more powerful of the bunch.
3. She's very comfortable being naked.
Let's be honest, a lot of anime seems to be geared towards hormonal adolescent teens that want to see comics and cartoons but are still insanely turned on by seeing as much 'skin' as is humanly possible. This is evident by how many female anime characters wear next to nothing, skin-tight clothing, or nothing at all in some frames. It's easy enough to be clever about covering them up and still make it enticing but it's simply a common staple of anime that many upon many female characters are going to wear revealing clothing or go just about nude.
2. Mina can execute a few different tricks with her acid quirk.
It is pretty cool how many different ways she can use her quirk since she can fire it off as projectiles, create a barrier with it that stops solid objects, and is able to control just how sticky it can be. The downfall of this is that if she were to lose control of the quirk it could become insanely damaging even to her and she could melt the clothes right off of her body before being harmed by her own effect.
1. She's a very emotional character.
It seems like you could say this about a lot of anime characters since the facial expressions and the overall tone of each one of them seems to be anything from dour to extremely animated in terms of how they shout, yell, and carry on. But calling just one of them emotional is like saying the ocean is wet.
You definitely need to like anime for this.