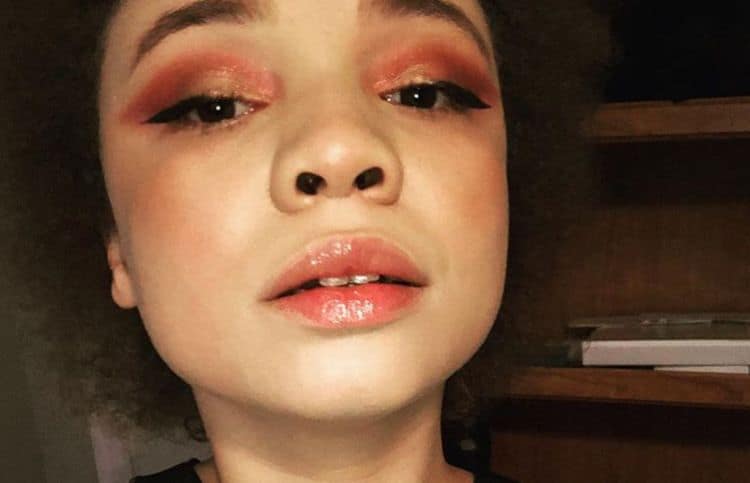 This February, Mikaela George made headlines around the world when she revealed she was making the move into the adult entertainment industry. Considering the world of erotica is already full of young women, you might be wondering why her revelation drew so many raised eyebrows. Well, wonder no more. Mikaela George is none other than the 23-year-old daughter of Steven Spielberg, one of the world's most famous directors and, according to Mikaela at least, a man who's "intrigued but not upset" by his daughter's choice of career. Keep reading to find out more.
1. Joining the Clan
Mikaela was adopted at birth by the Spielberg's in 1996. At that time, Spielberg and his wife were already parents to 5 kids (Jessica Capshaw, Max Samuel Spielberg, Theo Spielberg, Sasha Rebecca Spielberg, and Sawyer Avery Spielberg). Their 7th and final child, Destry Allyn Spielberg, was born a year after the Hollywood power couple welcomed Mikaela into the family. Speaking to The Guardian in 1999, the director explained the reason the family had chosen to adopt a child after they'd already had biological children of their own was because they "wanted Theo (their first adopted child) not to be the only black child in the family."
2. Daddy's Girl
Spielberg may have enough kids to form a small army, but the devoted dad always had plenty of time to spare for each of his 7 children as they grew up. Mikaela clearly has a lot of love for her father, as was evidenced during her recent interview with the Sun. "He always loved that I was super unique and he's literally like an angel. He's always loved that I know exactly what I want," she said. "I have amazing parents that had their struggles with me, I've had my fights and struggles with them, but it's only out of fear that people sometimes care incorrectly because they want you to be alive and safe," she added. "They are some of the least spiteful people I know. I love them so deeply."
3. Her Body, Her Choice
Let's be honest, Mikaela's not the first young woman to choose a career in the adult entertainment industry, and she won't be the last. So, what makes her decision so newsworthy? To put it bluntly, her name. If she wasn't the daughter of one of the most famous directors in the world, none of us would give a hoot how she makes her money. But being a Spielberg doesn't mean her decisions aren't her own, or that her body isn't hers to do with as she wants… and it's that very reason that underpins her move. As she told The Sun, "My body, my life, my income, my choice. I owe not a single person my autonomy or virtue just because of a name."
4. Making Her Own Way
When your father ranks as one of the richest men in the world, it'd be easy enough to sit back and enjoy the easy life. If Mikaela was ever struggling to make rent, it would take just one little call to Daddy and all her problems would be over. Which makes her decision to strike out on her own and achieve financial independence kinda admirable. "I can't stay dependent on my parents or even the state for that matter – not that there's anything wrong with that – it just doesn't feel comfortable for me," she's explained.
5. Bad Memories
In recent interviews, Mikaela's revealed that growing up, she was groomed and abused by "predators" (although she's been quick to highlight that none of her abusers were part of her family or their circle of acquaintances). The experience, she says, contributed to severe mental health problems, and as a teen, she suffered through anorexia, borderline personality disorder, and alcoholism.
6. A Troubled Teen
By the time she hit puberty, Mikaela's mental health and behavioral problems had escalated exponentially. Unsure of how best to help their daughter, her parents made the decision to send her to a school for troubled teens. Although the decision was made with the best of intentions, it backfired; by the time she left, Mikaela was suffering from severe depression, body dysmorphia, anorexia, and attachment issues.
7. Back From The Brink
Mikaela's issues with mental health continued until she was 21, by which time her alcoholism was so out of control, she was drinking heavily every day and had several near-fatal experiences. Thanks to a combination of therapy and support from her finance Chuck, she managed to pull herself back from the brink, and says that she's now in a "positive place".
8. A Source of Inspiration
Mikaela clearly has a very special relationship with her dad, and can even claim to be the inspiration behind one of his most famous movies, the 2011 epic, War Horse. "[Mikaela] travels the country in competition, jumping her horses. We have stables for as many as 12 horses … When I found War Horse, I was more than ready to tell this story," the director's said.
9. Intrigued but Not Upset
According to Mikaela, her parents are "intrigued but not upset" by her recent decision to enter the adult entertainment industry. According to other sources, she might not be telling the whole story. "Outwardly, Steven and Kate – who are the most evolved parents in the world and love their kids beyond all measure – have always been supportive of Mikaela and try to understand her. Obviously, though, they're embarrassed by her sudden public admission of entry into the sex worker world," a source has revealed to PinkVilla.
10. Supportive Partner
Mikaela is currently engaged to her partner, 47-year-old professional darts player, Chuck Pankow. Despite being initially apprehensive about his fiancée's new career, Pankow has come to accept and support her decision. Mikaela herself has been keen to clarify that, owning to her relationship, all of her work will center around "solo" activities only. "I don't want to do anything outside of solo stuff because I feel like it would be a violation of my boundaries and my relationship with my significant other," she's confirmed.