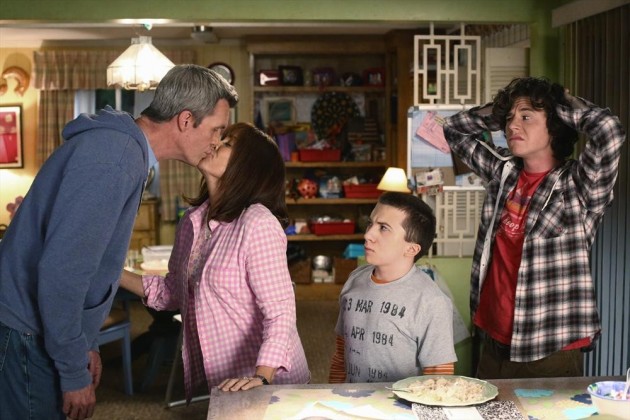 The Middle is known for its mediocrity in every sense of the word. Imagine my surprise then when someone proposed in this Valentine's Day episode! For the first time, we were left with a cliffhanger as I imagine next week will be dedicated to that very answer.
All Sue really wanted for Valentine's Day from her sweetie was a sweater. She dropped many hints around Darrin, and even more explicit instructions with her family in case he happened to ask them for advice on what to get her. Let's just say Darrin certainly had a surprise up his sleeve! I have some issues with him popping the big question though. For starters, Sue is still in high school. She is a senior, but she has big dreams for college and beyond. That doesn't necessarily mean she doesn't envision a future with Darrin, just that marriage shouldn't be her priority for another few years. I also wonder though why Darrin didn't think to ask Mike for his blessing in proposing. If he wanted Mike and Frankie's help with a simple scavenger hunt for Sue, shouldn't he have taken the gentlemanly approach to run this by them too?
Even Brick had a Valentine this year. His girlfriend Cindy expected him to kiss her, which freaked him out. Technically this wouldn't be his first kiss since he was the recipient of his online girlfriend's kiss on their road trip to Florida last May. It was so awkward for Frankie and Mike to literally demonstrate how to kiss someone, but it was hilarious to see Brick take their advice. They didn't realize they'd have to tell him when to stop so Brick and Cindy stayed frozen in the same kissing position the whole time Frankie and Mike went to Walgreens. Poor Brick will hopefully get the hang of it all sooner or later!
Axl would have been no help to his little brother if he asked him for advice on the subject. Axl has problems of his own, dealing with Devin Levin's insistence to ignore Valentine's Day. Hutch pops in to knock some sense into Axl by saying that all girls want for the holiday to be recognized, even if they swear they hate it. I was actually hoping Devin would prove me wrong here and be upset that Axl tried to celebrate Valentine's Day regardless of her attitude towards it. I will admit that Axl's spin on World Radio Day was a pretty smooth move, though.
Perhaps my favorite part of the episode was seeing a newly invigorated Doris. She was Aunt Edie's emphysemic Basset Hound who appeared to be nearly as old as her owner. While the Hecks were away on their train ride out to lay Edie to rest, Doris stayed with the Donahues and looks and acts like a brand new dog all of a sudden. Her lifestyle with Edie (and now the Hecks) must have been pretty depressing compared to her days spent with their neighbors. She doesn't need her oxygen tank or diapers anymore! Even better, she's spoiled with chicken and rice dinners. At least she was, until Frankie served up Doris' dinner for the rest of the family. A part of me wishes Mrs. Donahue would ask to keep Doris instead!
What did you enjoy the most about "Valentine's Day VI"?
[Photo via ABC]
Tell us what's wrong with this post? How could we improve it? :)
Let us improve this post!