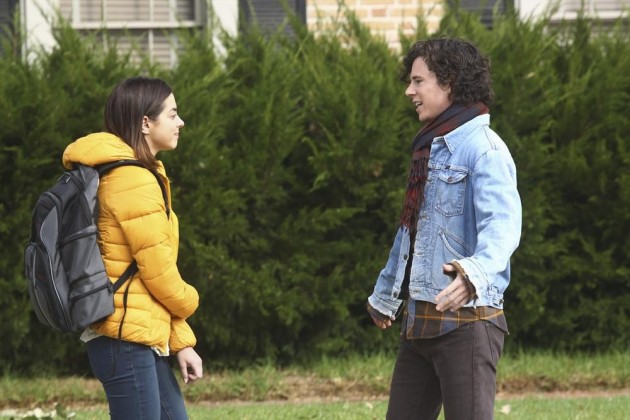 Everything felt a little off in last night's The Middle. Axl actually contributed real effort and hard work into a project with his grandfather. Sue was responsible for an impromptu party that got out of control. Frankie was even back at Ehlert Motors. Crazy, right? It wasn't a rerun, continuity problem, or even an alternate universe. Just another week with the Hecks.
The potential for serious danger aside, I'm actually proud that Sue can look back on this incident years down the line as her version of a wild house party. Technically, she didn't even invite anyone to the quarry. It all spun out of control from one Instagram post on Brad's page, which also makes me wonder how many followers Brad actually has if dozens of cars came rolling up within minutes! Maybe Brad, Carly, and Sue aren't as unpopular as they think. Sue was definitely surprised when a football player at the party actually knew her name.
That said, Sue is far from a party girl now. She only had the keys to the quarry in the first place because Mike trusted that she could go in on the weekend to work on treating the stained rugs in the break room. He's partially at fault here, too. I know he works two jobs and barely has any down time, but he could have found some time to go in with her. After all, he did begrudgingly hire her as a glorified part-time janitor.
Frankie ended up working one day at Ehlert Motors so that she could cash an old paycheck she lost a while ago. That part of the storyline is questionable, because the Hecks are always strapped for money. How could she ever forget about an entire check?! The only person that could have made this episode better is Bob. It seemed like such a wasted opportunity to send Frankie back to her old job without her old work friend there. Chris Kattan must have been unavailable, if he was asked at all. Hopefully the writers find another way to write him back in soon.
Perhaps the biggest shock of the night came in the form of Big Mike's influence on Axl. Mike and Frankie turned to his father for help with installing a new sink when they couldn't handle washing their dishes in the shower any longer. This was a nice callback to an earlier episode when we saw Big Mike's collection of appliances in his yard. Anyway, he really whipped Axl into shape. Axl tried his usual tactic that works on his parents, where he makes a "mistake" on purpose so that they let him off the hook and finish the task at hand without him. When that didn't work on his grandfather, Axl really had no other option but to sincerely help.
This is the second episode in a row where Brick didn't have a prominent storyline. Yet the few minutes of screentime he did get had me cracking up. His latest obsession is with old television game shows. He decided to make his family his unwilling contestants in various games all week. I hope this leads to an entire game night episode with Brick as the host.
What did you think about this episode?
[Photo via ABC]