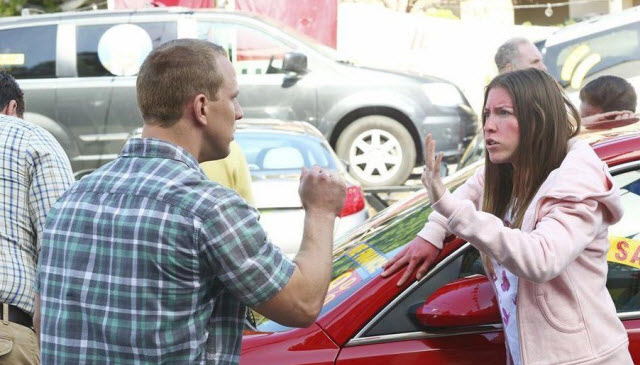 Ever since word got out that The Middle would be going to Disney World, I've been wondering how the Hecks could afford a trip like that. Next week is the hour long season finale that was shot on location in Florida, and last night we got the answer as to how this came about.
Sue was determined in her efforts to win a car through an endurance competition sponsored by Ehlert Motors. As she told her parents, she's had plenty of experience standing on the sides at school dances or standing back in gym class waiting to be picked for teams. If anyone deserves to win something, it's Sue. She put up with a bee sting and all the inflammation and pain that goes along with it, and in the end she was indeed the last one standing!
Mr. Ehlert balks at the idea that he'd actually give away a $15,000 car and instead reads the super small fine print on the poster that said the actual prize is a 2 day, 1 night car trip to Disney World. I'm guessing this means that Ehlert Motors will be providing a rental car for the family to drive, or they'll probably just give money for gas to use in your own car. Either way, I can't wait to see what the Hecks do with only 2 days in Orlando. That's barely enough time to enjoy a single theme park, let alone 4!
Mike's brother Rusty (Norm MacDonald) lost his house in his recent divorce and has since been living out of his car. He made an appearance on Mike's front lawn where he was caught brushing his teeth using his garden hose. From the sounds of it, he's probably been creeping around their house for a while now since he said he even showers after he's sure all their neighbors have gone to work. Speaking of showers, his newest money-making scheme involves selling purposely misspelled NFL shower curtains. After all, he's heard about that scientific study we've all seen on our Facebook walls before about how brains only read the first and last letter in a word. It's really a win-win situation in Rusty's mind.
Not wanting to spend any more time with her brother-in-law than she has to, Frankie makes sure Mike takes him along for his trip out to Brick's latest spelling bee. In the car, Brick gets to hear stories of his dad and uncle growing up. When they talk about a time they threw rocks at a cop car, Brick is surprised their dad never found out. I cracked up when Mike admitted that "parents were a lot meaner back then."
I'm not sure why Brick decided to throw the spelling bee for his uncle's sake, but he did intentionally mess up on his last word which placed him second overall. By sacrificing his win, Brick took one for his family since Uncle Rusty won a bet on who would place first and was able to use that money to move into an apartment of his own and out of their living room.
Frankie and Axl were busy solving the case of the missing dorm desk in order to get their security deposit back. They finally found it down the hall in a room of a guy who needed to borrow it for his last party of the year. They've combined 3 desks to form a perfect table for beer pong, which Frankie actually starts playing and impresses everyone with her skills. Axl's especially surprised at how very "un-Mom-like" Frankie acted but he just as quickly goes back to being easily embarrassed by her.
I'm sure many of us can relate to hearing stories of our parents when they were younger and wilder, or if you're like Axl, maybe you get to witness the "cool" side of them once in a while. Between Brick and Axl seeing their parents through different eyes and Sue's glorious triumph, this was another great episode.
What'd you think? Are you excited to see the Hecks take on Disney World next week?
[Photo via ABC]