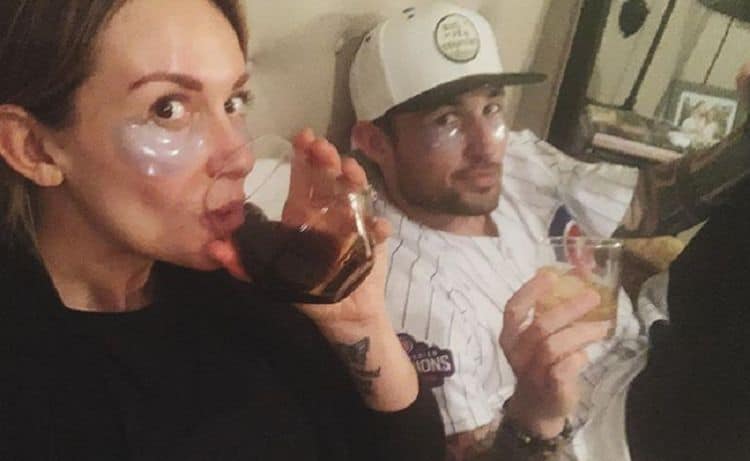 Kevin Durant once said that if talent fails to work hard, then hard work will beat it. Michael Ray is one talented country musician who has been surrounded by music all his life. However, besides having the talent, he had to work hard to make his mark even going as far as competing in talent shows to win a record contract. Today, he is an acclaimed performer so let's get into the details of his music and personal life to learn more about him.
1. He proposed to his wife in Maria Del Mar Tulum
Some people take years before knowing if they want to settle down with the person they are dating. For Carly Pearce, she knew the very minute she hung out with Michael that she would have gotten married to him, had he asked. Well, it did not take to long for him to get down on one knee because after announcing in June 2018 they were dating, Michael proposed to Carly in December 19, 2018. The two had gone to Maria Del Mar Tulum, Mexico for a romantic getaway and they broke the good news to the world through their respective Instagram accounts.
2. His family had a band
Most families have businesses that are passed down from one generation to another. Michael's family was no different. To them, music was their livelihood, and it had been passed from Michael's grandfather on to his father and him. By the time Michael was nine, he had begun learning all there is to music after spending most of his time on stage with the band. Since he is from Central Florida, the trio would travel all over the state. Michael told AXS the experience enabled him to learn the craft of traditional country music.
3. His album "Amos" pays tribute to his grandfather
It is disheartening that just when you are about to become a hit, the person you would like to share the success with you passes on. Unfortunately, that is what happened to Michael; when he was getting national attention, his grandfather, Amos, died. He, therefore, decided to pay tribute to the musical influence by naming his album after him. Moreover, he arranged the album according to how his grandfather used to organize the country covers; mixing slower ballads with up-tempo numbers.
4. He struggled with anxiety
Michael revealed to Rolling Stone that he battled with anxiety all his life so much that as a kid, he developed ulcers. At the time, Michael was too young to understand why he kept feeling the pressure in his chest even after resting the entire night. Michael hid the anxiety from everyone and tried faking happiness yet was scared deep inside. Fortunately for him, he had fans who were ready to listen and share their problems. It thus made Michael realize that he was not the only one suffering. He began opening up hoping to inspire someone else going through similar low points in their lives.
5. He uses social media to connect with fans
Celebrities have this notion that they have to live a certain way for them to have a broad fan base. They forget that they too are ordinary people and fans love connecting with them even at personal levels. Well, Michael did not think it was possible for fans to like him even when he was at his worst. He, therefore, kept his struggles a secret until he decided to open up and share the details of his arrest and his anxiety. His fans were so supportive of him, and Michael got the wake-up call. It dawned on him that he too is a person who can have his ups and downs and still be lovable.
6. He went through a breakup when recording "Amos."
Sometimes, even when you can barely speak about your emotions, the lyrics to a song can help relate to what you are going through. That is what happened to Michael's "Her World or Mine." The writer of the song, Travis Denning, captured whatever Michael was feeling at the time so well that Michael had to ask Travis if he had been stalking him. Since Michael went through the breakup in the middle of recording the album, the song is placed precisely at its center.
7. How he achieved fame
The start of most careers is by television appearances either on reality or scripted shows, and that was the case for Michael. He was a contestant in "The Next: Fame is at Your Doorstep" competition which was unlike other talent shows because it did not hold auditions. Instead, it drew participants from those who had a significant social media presence on Twitter and Facebook and were already stars in their local towns. Michael emerged as the winner and was awarded an Atlantic Record contract.
8. How Garth Brooks influenced him
No matter how much of a success you think you are, there is always someone who inspires you in a certain way. Michael's inspiration when performing is Garth Brooks because, at 12, Michael went to a concert in Orlando to see Garth Brooks perform. Michael recalls that at one point, the crowd was so excited about the performance that they were shouting. However, immediately Garth started singing "The Dance" they went quiet, and Michael knew that is something he would love to do once he became a singer. For that reason, he incorporated a much quieter song in "Amos" to have that effect.
9. He went to Blue Lake Academy
Michael attended Blue Lake Academy and graduated in 2006. The institution was a prestigious middle and high school boarding academy. However, it shut down citing the harsh economic times that had resulted in poor enrollment. It had been in operation for 15 years by the time the announcement of its closure came in 2010. Still, not everyone shared the news with a sad face because one parent claimed the teachers were unprofessional and did not prioritize the safety of the children.
10. He was once arrested for DUI and drug possession
Celebrities and drugs always seem to go hand in hand, and it is no exception with Michael. On December 20, 2017, he was arrested and charged with DUI as well as marijuana oil possession. The charges, however, did not stick because the arresting officers based their arrest on probable cause. They had to reduce the charge to reckless driving after the prosecutor noted that the Eustis police failed to conduct field sobriety tests well. All the same, Michael was apologetic for his behavior.Carly Pearce
Tell us what's wrong with this post? How could we improve it? :)
Let us improve this post!