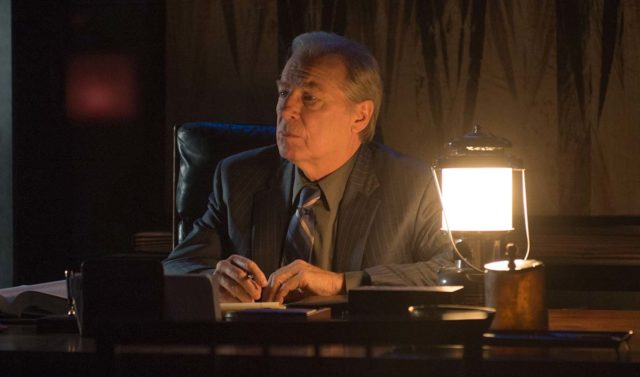 Fans of "Better Call Saul" were happy to hear that Michael McKean finally received an Emmy nomination this year for his portrayal of Chuck McGill in the "Breaking Bad" prequel. "Better Call Saul" explores the life and character development of Jimmy McGill, the shady lawyer who helps anti-hero Walter White in "Breaking Bad" where Jimmy is better known as his alter ego Saul Goodman. It turns out Saul's complex life before "Breaking Bad" has something to do with how Jimmy became Saul. Jimmy's brother Chuck has a lot to do with the transformation and Michael McKean's portrayal of the complex character of Chuck McGill somehow creates a both unlikable and empathetic character.
Here is why Michael McKean deserves an Emmy for his role as Chuck McGill in "Better Call Saul".
Michael McKean is a brilliant actor
Michael McKean is an established actor, comedian and musician. Since his career began in the 1970's McKean has proven his talents as a television, film and stage actor as well as a writer and musician. Best known for his comedic talents as characters like "Lavern and Shirley's" Lenny Kosnowski and as David St. Hubbins in "This Is Spinal Tap", McKean can play dramatic roles just as well. McKean is the perfect actor to portray the complex character of Chuck McGill.
Chuck McGill is a complex character
The older brother of Jimmy McGill is complex. In flashbacks he appears to be the good son who was always loyal to the family and went on to have a successful career as a law partner in a respectable Albuquerque firm. We do see some reasons for Chuck's peculiarity in his youth knowing that something is bothering him. Chuck also carries a grudge against his younger brother because Jimmy embezzled from the family business causing his parents to file bankruptcy. Chuck's acts of revenge and disdain against his little brother make him an unlikable character. However, Chuck is not that simple. He is tormented by electromagnetic hypersensitivity that often leaves him confined to home. Is this a real condition or does Chuck have a mental disorder? McKean has helped create Chuck McGill as a character whose subtleties make him both contemptible and empathetic.
Early seasons of "Better Call Saul"
Is Chuck McGill insane or does he really have a physical condition? This is the enigma that makes the character so complex, and Michael McKean's portrayal of Chuck is excellent. In earlier seasons of "Better Call Saul" we see Chuck both despising his younger brother and trying to help him. The show takes a look at the complicated relationship between brothers. The relationship is based on unconditional love and uncompromising rivalry. Jimmy McGill would not be the character he is and the character he becomes, Saul Goodman, without the intricate familial relationship. Both Bob Odenkirk and Michael McKean capture this enigmatic relationship perfectly.
The Courtroom scene in Season 3
Michael McKean's brilliant portrayal of Chuck in Season 3's courtroom scene obviously clinched him the Emmy nomination. In his well rehearsed testimony attempting to disbar his little brother, Chuck tries to prove to the Court and to himself that he is the superior brother when it comes to morality. However, fans of the show know that both brothers have difficulty being entirely truthful. Chuck's resentment of Jimmy make him a frustrating and unsympathetic character. Jimmy uses Chuck's alleged electromagnetic sensitivity against him. We see a different more sympathetic side to Chuck in the scene. When Jimmy confronts his brother with the truth that his condition is more mental than physical, Chuck decides to kill himself. Throughout the series Michael McKean has played Chuck with such subtleties that create a complex character whom we should despise but somehow end up feeling empathetic for. Michael McKean's brilliant portrayal of Chuck McGill deserves an Emmy Award.
Tell us what's wrong with this post? How could we improve it? :)
Let us improve this post!