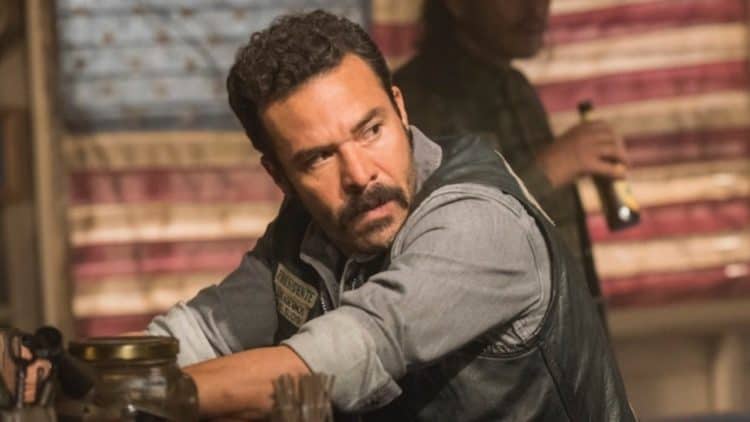 Michael Irby is an American actor who is best known for his role as Charles Grey in the television series "The Unit." The series aired on CBS from 2006 through 2009. Irby has had a long string of film and television appearances, but many of them have been minor. Still, he has a huge fan base and his admirers want to learn as much about their favorite celebrity as possible. Here are 10 things you probably didn't know about Michael Irby to help you become better acquainted with him.
1. Michael has a diverse cultural heritage
Michael was born in California to his parents Ernie and Cindy Irby were living in the Palm Springs area at the time. He was raised in Cabazon. He has a wonderfully diverse cultural background. He's mixed-race including African American and Mexican-American. He was also raised with his two brothers Ernest III and Jason.
2. Irby used to play soccer
Michael Irby is a former soccer player for Team USA. He played in Europe and he's had a lifetime love of the sport. He was injured and he could no longer participate in the sport. He continued with his studies where his professor suggested he consider a career in the theater. This was what helped to point him in the direction of professional acting. Some of our greatest inspirations in life are the people who serve as our educational instructors.
3. He attended college
Michael enrolled in classes at the College of the Desert in Palm Desert, California. He decided that since his soccer career was officially over it was time to move on with his life and find a new passion and career direction. He also attended the Orange Coast College in Costa Mesa California. Michael took the advice of his professor and began a career in theater after attending the American Academy of Dramatic Arts in New York City.
4. He's married and has a son
While Michael was attending the American Academy of Dramatic Arts in the Big Apple, he met the love of his life. He met Susan Matus and the two realized that they had a very special relationship. After dating, the couple became engaged, and then they married in June of 2005. They started their own little family. They welcomed their son Addison James Bear Irby into the world.
5. He's an actor on "Mayans MC"
For those of you who lost track of Michael throughout the years, he's been in a lot of film and television roles since "The Unit" ended in 2009. Since that time he's appeared in HBO's 2018 "Barry" as well as "Seal Team" in 2017, "True Detective," "Almost Human," "Law Abiding Citizen" with Gerard Butler, and many others. Most recently he's appeared in "Mayans MC," which is a spinoff from the popular series "Sons of Anarchy."
6. Michael is creative and artistic
What many fans are not aware of s that Michael shares a common passion with his cast member Clayton Cardenas on "Mayans." He is a very creative poetry writer. He's talented with the spoken word, which is something that Cardenas is also into the big time. What's even more impressive is that the producers who became aware of his poetic talents actually incorporated some of his original poetry into his storylines.
7. He was in a car accident
In case you were wondering what kind of injury ended Michael's soccer career, it was an automobile accident. The injuries that he sustained from the wreck were so bad that it put an end to his ability to play the game competitively. This was a shame because he was good at it.
8. He's one of the most versatile actors of the era
One of Michael Irby's most valuable traits is his ability to play a variety of different roles. This opens up a lot of different roles in film and in television series. Michael has played the part of a man of Middle Eastern heritage in the film "Flightplan" in 2005. He even had to learn some phrases in the Portuguese language for his appearance in the film "Fast Five" in 2011. Being of a mixed-race makes him an ideal candidate for a lot of different roles both on the big screen and on television.
9. Michael Irby has some interesting hobbies
Although Hollywood is keeping Michael Irby busy, he still makes time for some of his favorite hobbies. Many fans do not know that he loves to play the guitar and he does so in his spare time. He is also a poet and he spends time writing his own original works of poetry, some of which have been featured on a show that he co-starred in. Irby is also a cook as cooking is one of his other hobbies. He lives a full and interesting life and he's wise for taking time out of his busy schedule to keep up on is favorite hobbies.
10. He supports AIDS charities
Michael Irby also cares about the well-being of others. He is a big supporter of AIDS charities. He has participated in the AIDS Walk as well as the Product Red Campaign. From everything that we've learned about Michael, he is a kind and caring person who gives of himself to make sure that others are taken care of. He's a sensitive and creative, and although this might seem to be the furthest thing from the truth judging by some of the super-tough characters he's portrayed, this just shows what a versatile and convincing actor he is. Michael Irby is a well-rounded and balanced human being. It's not difficult to understand why he has such a large base of fans. He's an all-around great guy as well as being a very talented actor. We're looking forward to watching him on this season's episodes of "Mayans."