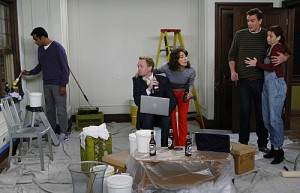 'Sweet mother of god!'
Was the information about Janet Wagner (guest star Amber Stevens) in tonight's How I Met Your Mother really spit take worthy? That would be "no."
For all her awesomeness, I wouldn't imagine the gang would think Ted NEEDS to know that she graduated Princeton at 15 and did 85 other fabulous things. Granted what her character did can be deemed amazing but with the gang knowing how this information will change his perspective and actions, this recurring joke and spit take just didn't make sense. I guess I can understand Robin and Barney pressing this but I just don't buy it for Lily and Marshall.
It's interesting though how the Internet affects people's relationships and it was nice to see this addressed in the episode. Nowadays, you can in fact have relationships that take place just over the internet. It's so weird but so normal. I think you'd be hard pressed to find a person in their 20s or even their 30s who hasn't googled, facebooked, or twittered a potential date or friend (myself included). Not sure what that says about us as a generation on the whole but I guess this is just the age we live in.
That's besides the point though. The other big plot tonight was Kevin's (Kal Penn) psychoanalysis of the group and the reveal of the sex of Baby Erickson. After promising not to analyze them in order to win boyfriend points, Kevin flips when Barney and Robin want to go break up Ted's date.
'You're all the most codependent incestuous controlling group people I've ever met!'he exclaims.
Well ain't that the truth. Most of what this gang of friends does to each other is far from healthy relationship-wise. They're a little dysfunctional family but the truth is most groups of friends are probably like this to some extent. Separation anxiety, inappropriate social behavior, Survivor (the TV show) guilt…they've got it all. Even the physical violence, though Kevin doesn't get to see that. With Victoria mentioning something similar about Ted, Robin and Barney's relationship in the third episode of the season, I'll continue to be intrigued on how the group dynamics will be put on display and changed throughout the course of this season. At least for now.
Here's hoping for some big changes and good episodes along the way.
Some additional thoughts:
LOVED the slap montage!
The pun snuggle may have just been the cutest thing ever.
Baby Erickson is a boy…..yay! Congrats Marshall and Lily!
The flash into Robin's tomboy upbringing thought slightly funny didn't really work for me.
Quips of the night:
'I gots to know!'— Everyone ALL episode
'They're 6 minutes into the date; Ted's probably already told her that he loves her.'— Barney
'I can actually hear the sound of her vagina being boarded up.'— Ted talking about fonts on his date
'This is in no way emotional extortion. You guys are great.'— Kevin
So "I gots to know"…what did everyone else think? (Bad joke, I know.) How did Kevin fit into the group? Did you agree with his analysis? Do you use the internet like Ted? Let us know in the comments below!