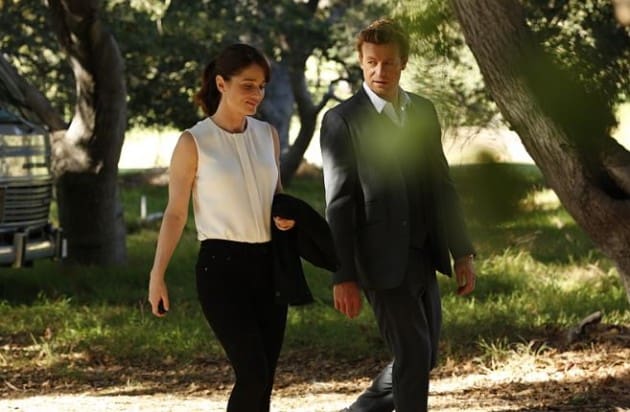 This week's episode of The Mentalist starts with a group of armed men from the DEA storming into a steakhouse with a search warrant. A few of the men went into the kitchen, startling the staff in the process, and handed the warrant to the owner, Steven Korbell (Ross Partridge). The search was rendered botched when nothing was found and a complaint was filed by Korbell to the DEA.
We then see Agent Abbott go to the DEA office to see Bill Peterson (Dylan Baker), his former boss at the DEA and the two catch up on old times. Abbott tells his former boss that Lena is doing well in DC and asked to speak with Peterson's staff, starting with Darrell Gonzalez. When Peterson asked Abbott if he could see the report after the investigation is over, Abbott refused. Peterson then went on to remind Abbott that he had his back during the Rio Bravo mission and Abbott said that he will reconsider. Talk about being blackmailed.
Abbott had this terrible secret that he's been keeping and Peterson was more than willing to use it to make sure that he will be the one to take all the credit for solving the case. Yet, if Peterson was actually doing his job, then he would have realized that there was a mole in the DEA but given that his ego is about the size of the entire United States of America, he chose to look the other way. We then see Abbott driving up to Darrell Gonzalez's house, only to find the door was broken into and has a strange symbol spray-painted onto it. We then see Gonzalez's dead body tied and gagged to a chair. What started as a simple investigation, suddenly turned into a murder-homicide.
It was also surprising to see Abbott confide in Patrick Jane about what happened during the Rio Bravo mission. Then again, the latter did kill the serial killer Red John to bring justice to his wife and daughter so I guess it's only fitting that Jane is the one who will take Abbott's secret to the grave, after observing that there was tension between Abbott and Peterson, of course. Abbott is also aware that once Patrick Jane knows about something, he won't stop till he knows everything. So he decided to take a leap of faith and trust in Patrick Jane's skills with the knowledge that the man who he once looked at as a fugitive will not share the secret and that he would help him. Greatest. Boss. Ever.
I was intrigued to see Jane encouraging Vega to speak her mind after finding out the obstacles that prevented her from doing so (e.g. her father) and making her a key member in pulling off the plan to unmask the person who murdered Gonzalez. Vega may not understand why Jane does what he does but at least she is starting to accept him.
I also felt bad for Wiley. It was obvious to see that he's smitten with Vega when he was rehearsing his "lines" for when he works up the courage to ask her out; but chickens out at the last minute when another man texted Vega to ask her out. I hope he acts soon before she starts dating someone else and lose his chances of dating Vega because I think that him and Vega will make a cute couple, don't you agree?
The plan to flush out the killer at the end where Cho, Lisbon and Abbott turned their backs on their respective suspects was extremely risky. I mean, what if the killer (or killers) has more than one gun and Orosco could've easily pulled another one out from his locker that didn't contain blank shots. My heart was pounding in my ear as I watched the scene unfold. Wish I could be more like Cho who did not even flinch when the gun that Roscoe pointed at him shot out blanks.
Last but certainly not least, it was Patrick Jane's birthday. Although Lisbon said during the episode that there'd be no song, cake or presents, she had a small cupcake with a candle on it and a present that kept our favourite mentalist guessing until the big reveal. Lisbon's present for Jane was his shattered blue teacup, the one his daughter gave him for his birthday and it was the only thing he had to remember his little girl, with all the pieces put back together. He was genuinely touched by the gift and pulled Lisbon in for a kiss, telling her "Bravo". Lisbon then asked if Jane knew all along that she was going to give him the teacup, even though Jane's prediction said that he had no idea. Jane then told his semi-paranoid girlfriend to take the compliment and pulled her in for another kiss, a perfect ending to a perfect day.
What do you think, Mentalist fans? Did Patrick Jane know all along what his Teresa was going to give him for a birthday present? Was he truly surprised at the fact that she kept all the pieces of the teacup and put it back together for him? Or was it to give Lisbon her moment in the spotlight? I suppose it doesn't really matter. All that matters is that these two are MFEO (Made For Each Other) and that is what really matters.
[Photo via CBS]