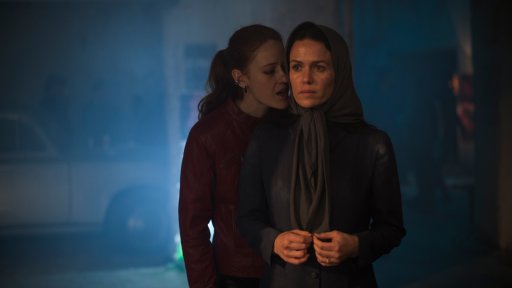 Melika Foroutan's name may not be very familiar to American audiences at the moment, but that may not be the case for much longer. As one of the stars of the new Netflix series Tribes of Europa, Melika has found her talents on display on the international level. Although the series is originally in German, it has been released in countries all over the world. In addition to Tribes of Europa, Melia has some other projects in the works that are sure to keep her fans excited. Although times are uncertain for a lot of people right now, 2021 seems to be off to a great start for Melika. Keep reading for 10 things you didn't know about Melika Foroutan.
1. She Was Born In Iran
Melika has lived in Berlin for many years, and lots of people think of her as a German actress. While Germany has played a very important role in her life, Melika was born in Tehran, Iran. We weren't able to locate any information on her parents or why they moved to the family to Germany.
2. You Won't Find Her On Social Media
With more than 20 years of TV experience to her name, Melika has built a strong fan base along the way. While many of those fans would probably love to follow Melika on social media, they won't be able to. She doesn't have a verified account on any platform.
3. She's Done Some Voice Acting
Voice acting and live action work seem to be two different arenas and there are many actors who only do one or the other. Some actors, however, have managed to dibble and dabble in both worlds and Melika is one of them. She gave voice acting a try in 2014 with the animated film Pettson and Findus: A Little Nuisance, a Great Friendship.
4. She Is Married
Melika seems to have found everything she's looking for in ever facet of life. On top of having an outstanding career, things have also gone well for her in her personal life. She is happily married. Her husband, Jon Handschin, also works in the entertainment industry.
5. She Has a Diverse Education
Melika is a professionally trained actress, but acting isn't the only thing she's studied. Before going to drama school at the University of Arts, she studied history, philosophy, and English for three years. While those subjects aren't directly relating to acting, the knowledge they've given her has probably come in handy.
6. She Has Theater Experience
Melika's on screen work is what she has become most widely known for, but she spent the early days of her career acting on stage. While TV and film tend to offer more money making opportunities, there is something about theater that many actors tend to love.
7. She Has Over 60 On Screen Credits
Finding consistency in the arts is a difficult thing for anyone to achieve. Fortunately for Melika, she is one of the lucky few who has been able to find steady work throughout her career. To date, she has more than 60 acting credits and that number will probably grow in the years to come.
8. She Worked With A Coach For Her Role In Pari
Every actor has a different process for getting into character, and that process can vary depending on the role. When Melika was preparing for the 2020 film Pari, she worked with an Iranian acting coach. She told Exberliner, "We lived together for seven weeks during the pre-production of the movie. We would get up in the morning, have Iranian breakfast, listen to Iranian music, dance, and talk strictly in Farsi. She also gave me lessons how to properly wear the chador, like somebody who has been wearing it for her entire life."
9. She Is A Private Person
As you may have been able to guess by the fact that she doesn't really have social media, Melika isn't the type of actress who likes to share all of the details of her life with the world. In fact, she's almost the polar opposite. Even after more than 20 years in the industry, there still isn't that much information out there about her.
10. She Doesn't Have A Preference Between TV And Film
Melika has spent her career switching between TV and film, and surprisingly she doesn't prefer one over the other. Instead, Melika is simply thankful any time she has the opportunity to work. She knows how hard it can be to come across roles, and she's always excited to get the chance to do something she really loves.