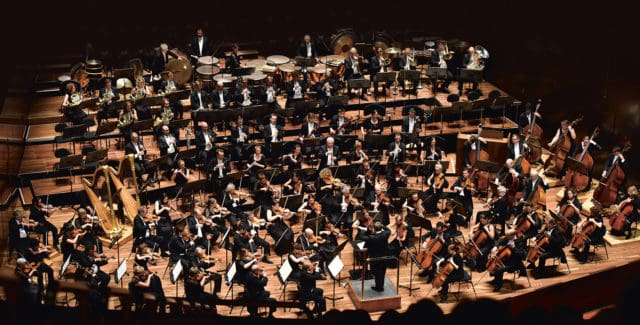 The Melbourne Symphony Orchestra has created an international following of young concert audiences due to its work with Sting, Ben Folds, Nick Cave, Kiss, Meat Loaf, and Elton John. The MSO has played with, or backed live albums for these stars and performed with Flight Facilities for dance concerts. The MSO, conducted by Benjamin Northey, has been carving a new musical niche, and the results have been spectacular.
Kiss with the MSO:
Elton John with the MSO in Sydney:
Meat Loaf live in a stunningly emotional performance with the MSO:
The orchestra's recent show with DJ Armand Van Helden gave his fans the chance to get out of their seats and dance. Van Helden hadn't performed in Australia for seven years, and the crowd was there to enjoy his amazing DJ skills. Pairing with the MSO was fabulous. With 70 world class, top tier musicians backing Van Helden, the night moved from mere concert to brilliant event.
Armand Van Helden has already become a house music legend:
Here's how one fan documented Van Helden at the January 27, 2018 concert:
The pairing of the MSO with Van Helden adds another distinctive performance within the concert world. With Benjamin Northey leading the orchestra as Associate Conductor, interesting possibilities have become realities in the often insular world of classic music. Add in the extraordinary remixing talents of chart-topper Van Helden, and something distinctly new happens.
It would seem unlikely to create a concert with two musicians of disparate backgrounds. The two men have stellar professional backgrounds, though each has emerged within musical genres which rarely overlapped until recently.
Benjamin Northey is a native to Australia; born in Ballarat, the third largest city located inland in the state of Victoria. He's been in the Associate Conductor position with the MSO since 2011. In 2015, he also became Christchurch Symphony's Chief Conductor. His musical education included playing piano, violin, saxophone, clarinet, flute and trumpet. He's completed studies at the Royal College of Music in Stockholm and the University of Melbourne Conservatorium of Music, and more. It's not surprising that he would maintain a life-long interest in diverse musical genres. He's performed all over the world in places as diverse as London, Finland, Moscow and Tokyo, to mention just a few.
Armand Van Helden is a native of Boston, Massachusetts. He's best know for his work as an American DJ, songwriter and record producer. He became famous for pioneering the speed garage genre of dance music. The genre includes fast tempos, breakbeats, heavy syncopation, sampled and synthesized sounds; drawing many influences from reggae and jungle music. Van Helden has literally dominated the dance club music scene for more than twenty years.
When Frontier Touring announced the one-day-only concert at the Sidney Myer Music Bowl, the promise was made that it would be the inaugural concert for a series of annual and ongoing collaborations between influential contemporary musicians and the orchestra. The title given to the event series is Symphonica.
This year's collaboration featured the curated arrangements of Australians Joe Twist and Jamie Messenger. Harvey Sutherland & Bermuda, the futurist trio from Melbourne were also featured with an MSO ensemble of 15 musicians, and arrangements created for violinist Tamil Rogeon. The addition of disco added extra flair to the event.
Collaborative music-making is stamping the MSO with a new identity. While the orchestra continues to perform inspiring classical repertoire throughout the concert season, there's do doubt that its schedule will continue to include unexpected musical alignments. Rock on MSO… and Bravo!