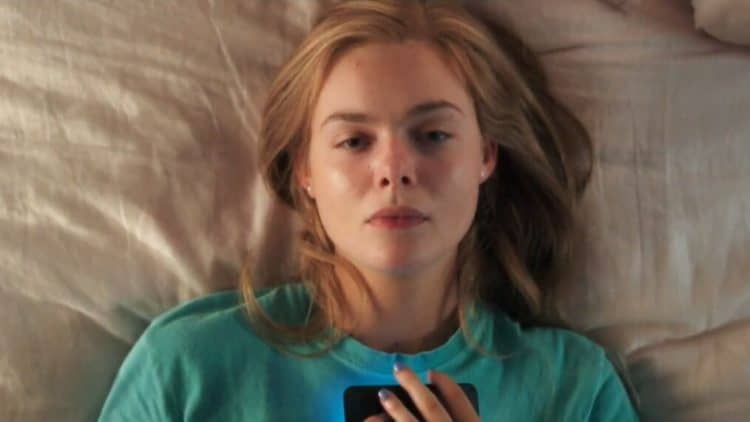 The Girl from Plainville is an upcoming American drama television limited series on Hulu that depicts the tragic real-life case of Conrad Roy III, whose death by suicide was allegedly encouraged by his girlfriend, Michelle Carter. The series is created by Liz Hannah, who had previously worked in Steven Spielberg's The Post, for which she was nominated a Golden Globe for Best Screenplay. An early review by IndieWire wrote about the show: "The Girl from Plainville" is another standard Hulu true-crime series. When it has the opportunity to weave a narrative, away from the confines of a courtroom, it's impossible to look away." Everyone's excited for the premiere of The Girl from Plainville. If you're interested to know more about the show and the cast members that will be portraying characters in the limited series, look no further. We've listed the performers who are expected to make an appearance in Hulu's upcoming series The Girl from Plainville.
Elle Fanning
Elle Fanning stars in The Girl from Plainville as Michelle Carter, who was convicted for involuntary manslaughter for the death of his boyfriend Conrad Roy. Fans can't believe Elle is starring in the show, considering that the actress is most popularly known for roles she played as a child. As a child actress, Elle Fanning played a starring role in I Am Sam, her film debut, alongside Oscar-winning actor Sean Penn. Fanning also played roles in Daddy Day Care, Babel, and The Curious Case of Benjamin Button. On TV, she's worked in The Great, starring in the show as the last reigning Empress Regnant of Russia, Catherine the Great. She also lent her voice in the adult animated comedy series Robot Chicken. Aside from starring in The Girl from Plainville, Elle Fanning also serves as an executive producer for the show. In an interview documented by Showbiz Junkies, Fanning talked about what drew her towards the role. "I think for me what attracted me to the project in the first place was I'm a young person living today and that relationship that I have with technology, and with my phone, and with kind of that false sense of intimacy, and false sense of reality that that creates. I grew up in high school with kind of that obsession and I'd look at my phone every morning. We all do. And, for me, it was diving deeper into how technology affected these two people. Especially with Michelle, she was very much alone. And meeting Conrad, that relationship sparked that kind of instant gratification that you feel. That can be a dark place to live in."
Colton Ryan
Actor and singer Colton Ryan will be portraying Conrad Roy III in the limited series The Girl from Plainville. The relative newcomer doesn't have a lot under his filmography belt, but he's appeared in popular projects over the past few years. On the big screen, he's worked on Adam, Uncle Frank, and most recently, Dear Evan Hansen. On TV, he's appeared in Law & Order: Special Victims Unit, Homeland, and The Americans. He snagged his first lead role job for the series Little Voices, a romantic comedy-drama series currently airing on Apple TV+. In an interview also documented by Showbiz Junkies, Colton Ryan talked about how appearing in the series changed his perspective on social media. "I think my own personal relationship with social media, and I think anyone's, deserves a certain level of eyebrow-raising. And I think that's what this story and the way we're telling it kind of asks us to do. This whole thing upon watching it feels like a morality play, in terms of how it approaches the way we value our lives online versus in the real world, how we find ourselves, and the consequences that come with trying to find it online versus authentically."
Chloe Sevigny
Actress Chloe Sevigny portrays Lynn Roy in The Girl from Plainville. The actress and model has appeared in several prominent projects over the past few decades, including Zodiac, Beautiful Darling, Mr. Nice, Electric Side, The Dead Don't Die, and Slow Machine. She is set to appear in an upcoming film titled Bones & All, starring Taylor Russell and Timothy Chalamet. On TV, she's worked on Russian Doll, The Act, and We Are Who We Are. In an interview with The Guardian, Sevigny described the five-month shoot that occurred for The Girl from Plainville. "The five-month shoot, she says, "was a real exploration of grief and pain. Also, how [Lynn] kind of healed from that and eventually found some peace. It just felt like a very full arc, to really examine how this woman navigated her way through that."
Norbert Leo Butz
Norbert Leo Butz plays Conrad Roy II in The Girl from Plainville. A veteran of theater, Butz is a two-time winner of the Tony Award for Best Actor in a Musical. Some of the projects he's been involved in include Flag Day, Good Posture, Winder Park, Luce, Better Living Through Chemistry, The English Teacher, and Disconnect. He's also played lead roles in Mercy Street and Bloodline. Prior to The Girl from Plainville, Butz was a main cast member in the canceled-too-soon sci-fi series Debris.
Cara Buono
Cara Buono appears in The Girl from Plainville as Gail Carter. To fans of Stranger Things, Buono would be recognizable for playing the role of Karen Wheeler. Other film and TV projects she's worked in are God Friended Me, Supergirl, The Romanoffs, Monster and Men, All Saints, and Paper Towns. In an Instagram post, she expressed her excitement over the project, writing: "I'm excited to be part of this project. And the conversations it will spark. Elle Fanning will blow you away! Inspired by the true crime story of Michelle Carter The Girl from Plainville starts streaming on @hulu March 29th"
Kai Lennox
Kai Lennox plays David Carter in The Girl from Plainville. He's previously acted in Beginners, Green Room, and Unbelievable.
Recurring cast
Actors expected to make recurring appearances in The Girl from Plainville are Peter Gerety, Michael Mosley, Ella Kennedy Davis, Pearl Amanda Dickson, Sharik Khan, Kylie Liya Page, and Jeff Wahlberg.