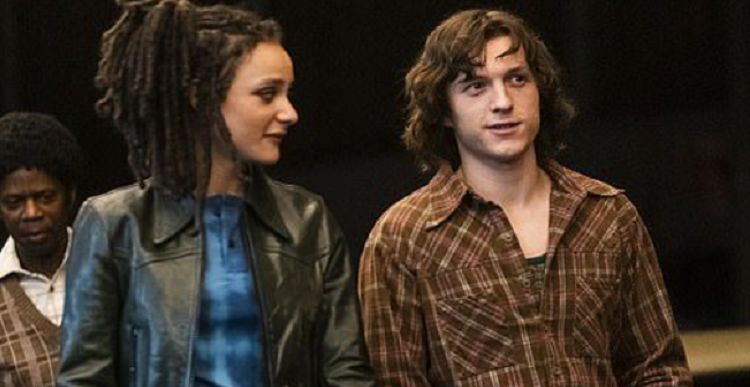 The Crowded Room is scheduled to drop on Apple TV+ later this year, featuring compelling storylines and a list of A-list cast members to boot. The upcoming drama anthology TV series is created by Akiva Goldsman, who previously worked on Star Trek: Strange Worlds, The Da Vinci Code, and A Beautiful Mind, for which he won an Academy Award for Best Adapted Screenplay. The first season of the upcoming series is inspired by the novel The Minds of Billy Milligan, written by Daniel Keyes. Here's a description of the plot of the story, according to Deadline: "The Crowded Room is an anthology series that will explore inspirational stories of those who have struggled with mental illness and learned to live successfully with it." The Crowded Room features an impressive list of cast members, some of whom just got off widely successful TV and movie projects. If you want to learn more about the actors set to appear in this series, read ahead. Here are the cast members of the upcoming drama anthology TV series The Crowded Room.
Tom Holland
Tom Holland will be starring in The Crowded Room as Danny Sullivan. Holland is best known for his role as Spider-Man in the Marvel Cinematic Universe. Holland was born in Kingston upon Thames, England, in 1996. He began his acting career when he was just a child, appearing in several stage productions. In 2011, he made his feature film debut with a leading role in the disaster movie The Impossible. The film was based on the true story of a family who survived the 2004 Indian Ocean tsunami. Holland's performance earned him critical acclaim, and he went on to star in other movies such as In the Heart of the Sea and Captain America: Civil War. In 2018, he reprised his role as Spider-Man in the highly successful sequel Spider-Man: Far From Home. Holland is set to return as the superhero in future Marvel films.
Amanda Seyfried
Amanda Seyfried will be portraying Rya in the upcoming TV series The Crowded Room. She began her career as a child model before making her film debut in the 2004 comedy Mean Girls. Over the next few years, she appeared in a number of films, including the musical Mamma Mia! and the horror film Jennifer's Body. In 2010, Seyfried starred in the thriller Letters to Juliet. She has also appeared in the Hulu series The Dropout, portraying disgraced Theranos founder Elizabeth Holmes. In addition to her work in film and television, Seyfried has also released songs over the years.
Emmy Rossum
Actress Emmy Rossum will be playing the character of Candy Sullivan in The Crowded Room. Emmy Rossum is an American actress, singer, and songwriter. She is best known for her roles in the film Mystic River and the shows Shameless and Angelyne. Rossum was born in New York City. Her film debut came in 2000 with the film Songcatcher. Rossum has since appeared in a number of films and television shows. In 2004, she starred in the film The Day After Tomorrow. In 2006, Rossum starred in the film Poseidon. In 2010, she began starring in the television series Shameless. Rossum has also released two albums, Inside Out and Sentimental Journey.
Sasha Lane
Sasha Lane will be playing the role of Ariana in The Crowded Room. Lane is an actor on the rise. She made her feature film debut in Andrea Arnold's American Honey, and has since gone on to appear in a number of high-profile projects, including Loki. Lane has a unique background – she was discovered while on a beach during spring break – and her naturalistic approach to acting has won her critical acclaim. In American Honey, Lane portrays a young woman who falls in with a group of traveling salespeople, and her performance was praised for its authentic portrayal of teenage angst. In Loki, Lane appeared as Hunter C-20. With her diverse range of roles, Lane is quickly making a name for herself as one to watch.
Christopher Abbott
Christopher Abbott will play Stan in the upcoming series The Crowded Room. Abbott is an American actor who has appeared in a number of films and television series. He is perhaps best known for his role as Charlie Dattolo in the HBO comedy-drama series Girls and as Mason Tannetti in The Sinner. Abbott began his career appearing in independent films such as Martha Marcy May Marlene and Hello I Must Be Going. He has also starred in a number of mainstream films, including The Sleepwalker and James White. In addition to his work on film and television, Abbott has also appeared onstage, starring in a production of The Rose Tattoo in 2016. Christopher Abbott is a versatile and talented actor who has demonstrated his ability to tackle a wide range of roles.
Emma Laird
Emma Laird will be playing Isabel in The Crowded Room. Emma Laird is an actor known for her work in television. She snagged her first major role in the 2021 series Mayor of Kingstown as Iris. The show was a streaming hit and garnered critical acclaim. In addition to Mayor of Kingstown, Emma has also appeared in the short movies In Conversation With A Goddess and From Life. She is a talented young actress with a bright future ahead of her. Laird recently announced her inclusion in The Crowded Room on her Instagram account, which has about 40,000 followers.
Jason Isaacs
Jason Isaacs has also been tapped to star in The Crowded Room as Jack Lamb. Jason Isaacs is a British actor who is best known for his role as Lucius Malfoy in the Harry Potter films. He was born in Liverpool, England, in 1963. After studying at the Central School of Speech and Drama, he began his acting career on the stage. He has appeared in numerous theatre productions. In addition to his work in theatre, Isaacs has also had a successful film and television career. He has appeared in films such as The Patriot, Black Hawk Down, and Fury, and he has had recurring roles on television shows such as The OA and Awake. Isaacs is married to the actress Emma Hewitt, with whom he has two children.
Other cast members
Other actors expected to appear in The Crowded Room include Lior Raz as Yitzhak, Henry Eikenberry as Doug, Henry Zaga as Philip, Thomas Sadoski as Matty Dunne, Will Chase as Marlin Chalmers, Laila Robins as Susie, Sam Vartholomeos as Mike, and Levon Hawke as Jonny.
Tell us what's wrong with this post? How could we improve it? :)
Let us improve this post!