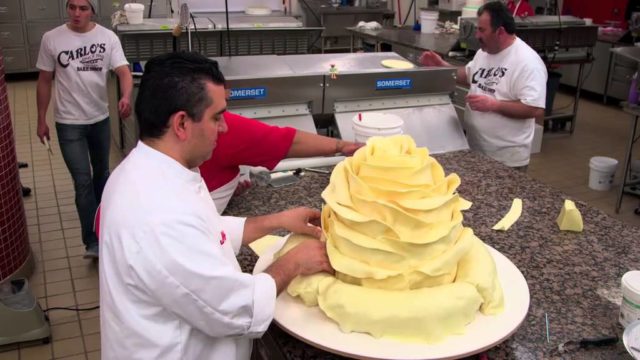 Reality shows are in fact scripted, they are fake in many ways, but one thing is certain, the Cake Boss, for all the scripts and jazzed-up action, is very, VERY real. It's been a favorite show of many for years and a lot of people have been waiting for it to return now for a good long while and for good reason. Buddy Valastro and his family-run bakery is just flat out impressive with what he can do when it comes to cakes. There hasn't been a challenge yet that he's shied away from and the result has always been nothing short of stupendous.
Most shops you could go to for a specialty cake for a certain occasion might be able to grant you something that's fairly impressive and worth the money spent, but Carlo's Bakery produces true marvels. They are able to make cakes that move, that have functional parts, and that are true works of art come to life. Since the inception of the show they've been expanding again and again, opening new bakeries and pulling in more and more clients as their popularity continues to grow.
Even those who aren't or never used to be tuned in to cooking shows of any sort, present company included, have found that Cake Boss is something uniquely different that can appease most anyone if they take the time to watch just a few minutes of the show. Even watching the bakers preparing common items such as cookies and crullers and canoli's is nothing short of impressive. They work quickly, efficiently, and it at least looks like they enjoy what they're doing. Behind the scenes it could be a different matter but at least on camera the crew looks fairly happy to be where they're at.
There's bickering and arguing of course, it's a family-owned and run business so expecting there to be absolutely none would be ridiculous. But for the most part they tend to keep things professional and don't cater to people that just want see drama on the set. What's more they tend to have fun with what they're doing and in the process make something truly magical. If you've ever seen some of the cakes they roll out you'd be extremely impressed.
Coming into the new season it's worth it to take time to reflect back on all that's happened to date. Buddy's family continues to expand, his mother passed away fairly recently, and his business has been expanding to such a degree that they now have bakeries outside of the US. Things have been going pretty good for the Cake Boss despite the fact that his mother will be sorely missed on the show. She was a most welcome addition and was also a big part of the bakery. The fact is that Buddy is where he's at today thanks to the efforts of his mother and father, and he never forgets that fact. He is a very dedicated family man and a certifiable genius when it comes to making the wonderful and impressive creations that come out of his kitchen.
Save