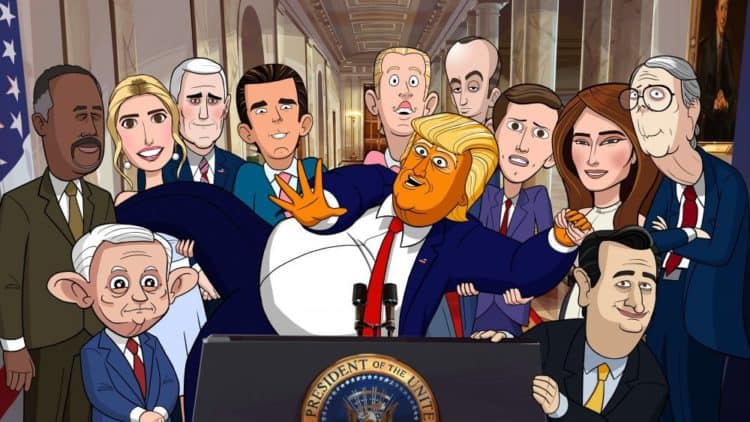 In February 2018, Showtime premiered its new satirical animation, Our Cartoon President. Developed by Stephen Colbert, R. Fried, Tim Luecke, Chris Licht, and Matt Lapin, the animation began life as a bit-piece on Stephen Colbert's The Late Show before being commissioned for its own series in July 2017. Set in various Washington D.C. locations, the series puts the life of Donald Trump, Melania, and the various cohorts and confidants surrounding them under the microscope. Its second season premiered on May 12, 2019, and has proved just as popular a send-up of Trump's administration as the first. Read on to find out more about the animation's ensemble cast.
Jeff Bergman as Donald Trump
Tackling the pivotal role of Donald Trump is Jeff Bergman, a voice actor, comedian, and impressionist. Bergman's introduction to entertainment came in the mid-1980s when he provided the voices of various Warner Bros characters, including Bugs Bunny (becoming the first actor to voice the character after the death of original Bugs Bunny, Mel Blanc), Daffy Duck, Porky, Tweety Bird, and Elmer Fudd. Since then, Bergman has continued to work for The Looney Tunes franchise, but has added to his repertoire with voice-roles as Fred Flintstone in The Flintstones: On The Rocks, George Jetson in Jetsons: The Movie, and various characters on The Cleveland Show and American Dad!
Cody Lindquist as Melania Trump
Giving voice to Melania Trump is actress and comedian, Cody Lindquist. Known for her acting roles and appearances on Late Night with Jimmy Fallon, Law and Order, and Broad City, the talented actress is also recognizable from her work on such commercials as Comcast Xfinity, Dunkin Donuts, and Kraft Macaroni and Cheese. A regular performer at Upright Citizens Brigade Theatre in NYC, Lindquist is a parent of one with her husband Charlie Todd.
William Sadler as Mitch McConnell, John F. Kelly, and Jeff Sessions
Providing the voices of Jeff Sessions, John F. Kelly, and Mitch McConnell is William Sadler, a film and television actor best known for his roles in Hawaii Five-O, Iron Man 3, Marvel's Agents of S.H.I.E.L.D., The Shawshank Redemption, and the Bill & Ted series of films. Sadler has won numerous accolades throughout his prolific career, including a Saturn Award for Best Supporting Actor for his role as Grim Reaper in Bill & Ted.
Emily Lynne as Karen Pence, Ivanka Trump, Nancy Pelosi, and Eric Trump
Tackling Ivanka Trump, Karen Pence, Eric Trump, and Nancy Pelosi is actress and writer, Emily Lynne. Prior to landing the hit Showtime series, Lynne was best known for her appearances in Friends from College (2017) and popular video game, Red Dead Redemption II (2018).
John Viener as Mike Pence
Politician Mike Pence is bought to life by esteemed actor, writer, comedian and voice actor, John Viener. In addition to being one of the team of writers, producers, and voices on hit series, Family Guy, Viener is also known for his voice work on Phineas and Ferb, and appearances in Entourage (2006), Law & Order (2006), Modern Family (2012) Bordertown (2016) and Milo Murphey's Law (2016).
Gabriel Gundacker as Stephen Miller Donald Trump Jr., and Brian Kilmeade
Voicing Stephen Miller, Donald Trump Jr., and Brian Kilmeade is Gabriel Gundacker, an actor and writer best known for his work on Beyond The Wall with Grace Parra (2017) and Sylvio (2017). You may also recognize Gundacker from his many social media sketches, which include such eminently popular hits as "Terry Was Born In A Papa John's" and "Guy Who Likes Music."
Griffin Newman as Jared Kushner
The investor, real estate developer, senior presidential advisor, and husband of Ivanka Trump, Jared Kushner, is voiced by Griffin Newman. The actor and comedian is best known as Arthur Everest in Amazon's reboot of TV series, The Tick, and as co-host of popular podcast, Blank Check with Griffin and David. He's also appeared in The HBO series, Vinyl, and alongside Kevin Costner in Draft Day (2014). In 2017, he accepted a minor role in Woody Allen's A Rainy Day in New York — something he later came to regret after allegations of sexual misconduct emerged against Allen. In a tweet in October 2017, he confirmed he would be unloading some of his guilt by donating all of his salary from A Rainy Day to RAINN.
Jennifer Jackson as Sarah Huckabee Sanders, Susan Collins, and Kellyanne Conway
Taking on Kellyanne Conway, Sarah Huckabee Sanders, and Susan Collins is Jennifer Jackson. In addition to her voice over work on Our Cartoon President, Jackson is credited with co-writing 18 of its episodes in 2018 and acting as story editor on a further 9 episodes in 2019.
Jim Santangeli as Fred Trump and H. R. McMaste
Both Fred Trump and H. R. McMaster are voiced by Jim Santangeli, an actor and director best known for crime bio Paterno (2018), Netflix series, Friends from College (2017-) and video game, Red Dead Redemption (2018). He's also an active member of Curfew and can regularly be seen entertaining the audience at UCB Theatre in New York.
James Adomian as Ted Cruz, Sean Hannity, Benjamin Franklin, Bernie Sanders, Rudy Giuliani, Sebastian Gorka, Bill Clinton, and Alex Jones
Taking on a whole host of voices (Ted Cruz, Bill Clinton, Bernie Sanders, Sean Hannity, Sebastian Gorka, Alex Jones, Rudy Giuliani, and Benjamin Franklin) is James Adomia. The stand-up comedian and actor first came to fame as President George W. Bush on Craig Ferguson's The Late Late Show and has subsequently enjoyed success with appearances on Comedy Bang! Bang!, Adult Swim's Children's Hospital, MADtv, Mind of Mencia, and Jimmy Kimmel Live!
Zach Cherry as Ben Carson and Colin Kaepernick
Zach Cherry tackles the dual roles of Ben Carson and Colin Kaepernick. Prior to landing Our Cartoon President, Cherry was best known for his appearances in Spider-Man: Homecoming (2017), Crashing (2017), Search Party (2016), You (2018), and I Feel Bad (2018).