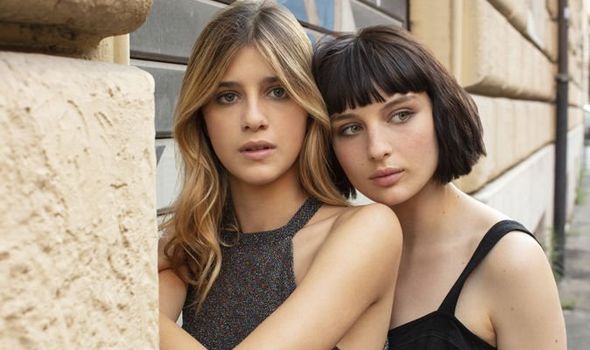 October saw the premiere of season 2 of Baby, Netflix's cult series following the exploits of a group of teenagers in one of Rome's wealthiest districts. Baby takes us into a world where schools are anything but safe playgrounds, and schoolkids are anything but innocent. Fed up with the humdrum of high school dramas and feuding families, two teen girls decide to shake things up by falling headfirst into the seedy underbelly of Rome's sex trade. The results make for gripping viewing… as do its ensemble of sensational young actors. Find out more about them with our guide to the cast.
Chiara (Benedetta Porcaroli)
Sixteen-year-old Chiara has a troublesome relationship with her parents but is hoping to escape the family drama by traveling to the States on an exchange program. For now, she contends herself with the fun her new friend Ludovica (Alice Pagani) brings into her life… until the lighthearted fun turns into something altogether more serious when Ludo convinces her to become an escort. Prior to landing Baby, the 21-year-old actress, Benedetta Porcaroli, was best known for Tutto può succedere, (2015-2018), Tutte le mie notti, (2018), Una vita spericolata, (2018), and Quanto basta (2018).
Ludovica (Alice Pagani)
Ludovica's life is unraveling. She's falling behind in her studies (while her father's falling behind in paying for them), her ex has just released their sex tape, and her single mom is getting more erratic by the second. When a nightclub owner she befriends tells her the answer to her problems lies in prostitution, she's desperate enough to try. Alice Pagani, who plays Ludo, is best known for The Poison Rose (2019), Il permesso – 48 ore fuori (2017) and Ricordi? (2018)
Camilla (Chabeli Sastre Gonzalez)
Before Chiara has her life turned upside down by Ludocica, she and Camilla, a high school student with a firm reputation as a "Good Girl", are best friends. As Chiara becomes ever deeper immersed into a world Camilla can't understand, the nature of their friendship can't help but change. The actress who takes the role, Chabeli Sastre Gonzalez, got her first acting break on Baby. Despite being born in Havana, Cuba, Gonzalez moved to Italy when she was a child and has lived there ever since. According to Cosmopolitan, she was inspired to act by a range of divas from Penelope Cruz to Marilyn Monroe.
Damiano (Riccardo Mandolini)
"Bad Boy" Damiano is the illegitimate child of the Lebanese ambassador to Italy. After the sudden death of his mother, the drug-taking object of Chiara and Camilia's teenage crushes moves in with his dad. In addition to Baby, Riccardo Mandolini is a recognizable face for his work on Pupone (2019) and Al posto tuo (2016).
Niccolò (Lorenzo Zurzolo)
Niccolò, Camilla's brother, is something of a lady's man; despite dating one of the girls from the high school's "in crowd', he's also having a super-secret affair on the side with Chiara… until the attractions of his teacher prove too much to resist. "When I read [the season two script] at the beginning, I was a bit embarrassed and not very comfortable with the idea, but I met the actress [Claudia Pandolfi, 44] and she was really good to me. She's perfect because she's not very old; she's really young at heart," 19-year-old Lorenzo Zurzolo, who takes the role of Niccolò, told The Face about the controversial relationship his character enjoys with a much older woman. Prior to Baby, the actor was best known for Un passo dal cielo (2011), Don Matteo (2000) and Outing – Fidanzati per sbaglio (2013).
Fabio (Brando Pacitto)
As the son of the school principal, Fabio seems the height of respectability, but buried beneath the decent exterior are some pretty big secrets. Brando Pacitto started his career at the age of 4 at the Clesis in Rome. He's since appeared in numerous productions, with some of his most notable roles including Lorenzo in the television film Al di là del lago (2009) and in its sequel Al di là del lago (2010), and Simone Annichiarico in the two-episode film Walter Chiari — Fino all'ultima risata (2012) by Enzo Monteleone.
Monica (Claudia Pandolfi)
Like most of the characters of Baby, Monica (the school track coach and Damiano's step-mother) is waist-high in drama. Claudia Pandolfi, the actress who plays her, began her career as a model. After reaching the semi-finals of the Miss Italia beauty contest in 1991, she drew the attention of director Michele Placido, who subsequently cast her in a leading role in his film, Le amiche del cuore. She's since enjoyed success in the television series Amico mio, Un medico in famiglia, Distretto di Polizia and I liceali.
Saverio (Paolo Calabresi)
Saverio is the ultimate Mr. Bad Guy, serving as the head of the prostitution ring and the man responsible for putting Chiara and Ludo in touch with the johns. Paolo Calabresi, who takes on the role, is best known for The Talented Mr. Ripley (1999), Boris (2007) and Correspondence (2016)
Fiore (Giuseppe Maggio)
Fiore may have the face of an angel, but it's hiding a seriously shady character. As the nightclub owner who lured Ludo into prostitution, he now works closely with Saverio to keep them in work. Giuseppe Maggio's previous credits include Un amore così grande (2018), Solo per amore (2015) and Love 14 (2009).
Simonetta (Isabella Ferrari)
Simonetta is Ludo's mother, a slightly ditzy character who has no idea what her daughter is up to, preferring instead to focus on her relationship with her older boyfriend. Actress and producer Isabella Ferrari is best known for her performances in Quiet Chaos (2008), A Perfect Day (2008) and The Goodbye Kiss (2006).
Brando (Mirko Trovato)
Brando is a schoolmate of Ludo's and Chiara's and one of Niccolò's inner circle. Mirko Trovato, who takes the role, is best known for The Red Band Society (2014), Non c'è campo (2017) and Restiamo amici (2018).
Tell us what's wrong with this post? How could we improve it? :)
Let us improve this post!