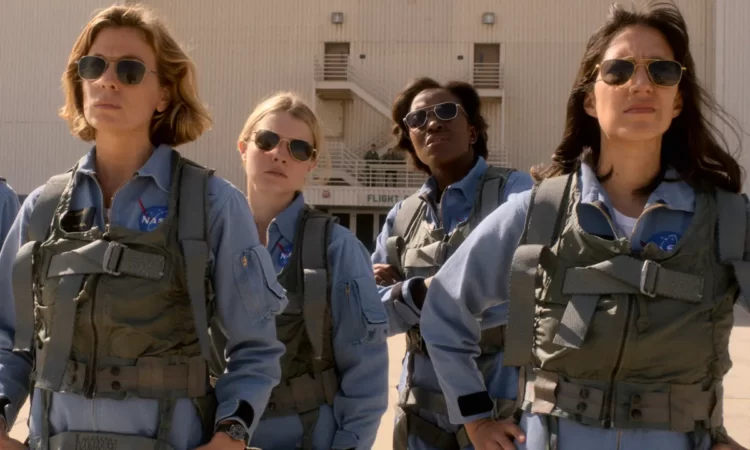 One of the most critically acclaimed streaming shows today is For All Mankind, which recently saw a renewal for a third season, set to premiere on June 10, 2022. For All Mankind is a science fiction drama series that depicts an alternate history where the space race never ended. The show is created by Ronald D. Moore, Matt Wolpert, and Ben Nedivi. Moore is best known for his work on Star Trek as well as Battlestar Galactica, while Matt Wolpert and Ben Nedivi worked on Fargo and American Crime Story. For All Mankind is also notably known for featuring numerous historical figures in archive footage. They've shown Frank Borman, Jim Lovell, Alan Shepard, Gus Grissom, Scott Carpenter, and even John Paul II and Tom Brokaw in archive footage for the show. Aside from a compelling storyline, For All Mankind also has an impressive cast of performers. If you want to learn more about the actors appearing in For All Mankind, look no further. Here are the main cast members of the critically acclaimed Apple TV+ science fiction drama streaming series For All Mankind.
Joel Kinnaman
Joel Kinnaman plays Edward Baldwin in the Apple TV+ series For All Mankind. The Swedish-American actor is best known for his role in Easy Money, a Swedish film that would catapult his name to worldwide fame. Kinnaman has made an impact in television across the world for his parts as Detective Stephen Holder in AMC's The Killing, Takeshi Kovacs in Altered Carbon, and Governor Will Conway in House of Cards. Additionally, he portrayed Alex Murphy in the 2014 RoboCop remake and Rick Flag in Suicide Squad (2016). Kinnaman has a confusing accent as a result of his frequent journeying. He believes he speaks with an American accent, but he believes the melody is incorrect, and he has been working to correct it. He was married to Swedish tattoo artist Cleo Wattenström from 2015 to 2018.
Michael Dorman
Michael Dorman portrays Gordo Stevens in For All Mankind. Prior to his work on the science-fiction drama series, Dorman portrayed John Tavner in the comedy-drama series Patriot. Dorman's more recent works include The Invisible Man, The Secrets She Keeps, and Hard Luck Love Song.
Sarah Jones
Sarah Jones stars in For All Mankind as astronaut Tracy Stevens. She had previously worked on shows like Alcatraz, Kendra, and Vegas. Her more recent starring roles on the small screen include Damnation, The Path, and L.A. Confidential. Many people would recognize her for her recurring role as Polly Zobelle in Sons of Anarchy. In 2007, Jones was dating indie rock singer Cary Brothers. From 2010 until 2013, Jones dated fellow Sons of Anarchy actor Theo Rossi.
Shantel VanSanten
Shantel VanSanten portrays Karen Baldwin in For All Mankind. VanSanten appeared in the CW teen drama One Tree Hill, playing the role of Quinn James. She is also in another hit CW show The Flash, portraying Detective Patty Spivot. On the big screen, she's worked on major productions including Final Destination, You and I, and Something Wicked. During her modeling days, she graced the pages of Teen Vogue and Seventeen.
Jodi Balfour
Jodi Balfour plays Ellen Wilson in For All Mankind. The South Africa-born actress first gained recognition for her role in Bomb Girls. She's then starred on shows like Quarry and Rellik. Balfour guest-starred on hit TV shows including The Crown, where she portrayed Jackie Kennedy, and True Detective.
Wrenn Schmidt
Wrenn Schmidt plays Margo Madison in For All Mankind. Prior to working on the sci-fi hit, Schmidt appeared in shows like Boardwalk Empire, The Americans, Person of Interest, and Outcast. On the big screen, she played characters in I Saw the Light, 13 Hours: The Secret Soldiers of Benghazi, The Good Catholic, and Mary and Louise. She is set to appear in Jordan Peele's upcoming horror flick Nope.
Sonya Walger
Sonya Walger portrays Molly Cobb in For All Mankind. She had previously appeared in sitcoms The Mind of the Married Man and Coupling, but her most prominent role was as Penny Widmore in the hit ABC drama series Lost. She would later on star in Tell Me You Love Me, FlashForward, Common Law, and The Catch. On the big screen, Walger has appeared in The Escort, Summer of 8, Anon, Then Came You, Clementine, Bad Impulse, and Darkness Falls.
Krys Marshall
Krys Marshall plays Danielle Poole in For All Mankind. The sci-fi drama is one of her first major projects. According to her IMDb profile: "When not working, Krys loves to travel, and has visited over 50 countries, across 5 continents. She is an advocate for underprivileged children, and is a mentor with the Young Storytellers Foundation, whose mission is to "inspire young people to discover the power of their own voice." Krys currently resides in Los Angeles with her partner, and their two dogs, Duke and Murphy."
Cynthy Wu
Cynthy Wu plays Kelly Baldwin in For All Mankind. Her previous work includes Before I Fall and American Vandal.
Casey W. Johnson
Casey W. Johnson plays the character of Danny Stevens in For All Mankind. He previously appeared in shows like Rise and GLOW.
Coral Pena
Coral Pena portrays Aleida Rosales in For All Mankind. She had appeared in projects including The Post and Chemical Hearts.
Edi Gathegi
Edi Gathegi is set to star in Season 3 of For All Mankind as Dev Ayesa. The veteran Kenyan-American actor has appeared in movies like Gone Baby Gone, Twilight, and X-Men: First Class. On TV, he's worked on Briarpatch, The Blacklist: Redemption, StartUp, and The Blacklist. In an interview with Holr Magazine, he talked about what fans can expect from his character in For All Mankind, saying: "I play a very mysterious character that to describe him in any meaningful way is to spoil the season. I can say that I've never played a part like this and that was one of the draws for me to take him on. I'm also a fan of the show and how the creators give artists the stage to do their thing. The show doesn't rush, performances breathe, and I dig that."
Recurring cast members
Actors who have recurring roles in For All Mankind include Chris Bauer, Colm Feore, Eric Ladin, Michael Harney, Arturo Del Puerto, Rebecca Wisocky, and many others.
Tell us what's wrong with this post? How could we improve it? :)
Let us improve this post!