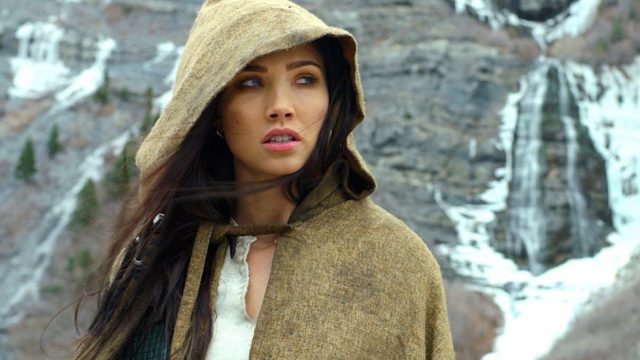 Fantasy-adventure drama series, The Outpost, first premiered in July 2018. Its action-packed plot quickly grabbed our attention, and a second series was swiftly commissioned, premiering on CW on July 11, 2019. The show revolves around the central character of Talon (played by Jessica Green), the sole survivor of the "Blackbloods", an ancient race who were wiped out years previously by a brutal gang of cold-blooded mercenaries. As the series progresses, we follow Jessica as she seeks vengeance on the killers of her family, a journey of discovery that sees her battle her own internal demons as much as her external ones. To learn more about the show and its ensemble cast, keep reading.
Jessica Green as Talon
Playing the central character of Talon is actress Jessica Green. The Australian actress began her career as a model (something she still pursues to this day, although to a lesser extent), but was persuaded into acting by her agent. After landing small parts in Peter Pan and Aquamarine, Green got her big break as Kiki in the TV show, Alien Surfer Girls. She subsequently went on to enjoy roles in features such as Red Billabong, Rise and Pirates of the Caribbean: Dead Men Tell No Tales. In 2017, she secured her first major roles outside of her native Australia as Cleopatra in the Netflix series, Roman Empire, and as Lexx in the Starz's series, Ash Vs Evil Dead. The Outpost sees Green capitalize on her talents for horse riding, martial arts, and athletics, an impressive skill set that has allowed her to perform the majority of her own stunts.
Jake Stormoen as Captain Garret Spears
Tackling the role of Captain Garret Spears is actor Jake Stormoen. Prior to landing the role, Stormoen was best known for his performances as Dagen in the Mythica film franchise and as Duncan in the action-adventure TV drama series, Extinct. The Outpost's combination of action and adventure is familiar ground to Stormoen, with both Mythica and Extinct occupying much the same territory… whether he can replicate, or even outstrip, his success in Mythica (which saw him claim a Best Supporting Actor in a Feature Film award at the Utah Film Awards) in The Outpost, we'll have to wait and see.
Imogen Waterhouse as Lady Gwynn Calkussar/Princess Rosmund
Starring in the dual role of Lady Gwynn Calkussar/Princess Rosmund is British actress Imogen Waterhouse. The young actress has already made a name for herself in Hollywood thanks to her performances in Nocturnal Animals (2016), Stan Lee's Lucky Man (2016) and Braid (2018). In her native UK, she's perhaps best known as the sister of model Suki Waterhouse (ex-flame of the actor Bradley Cooper). During a stressful day filming, there's one quintessentially British habit that Waterhouse relies on to get her through: "I live for tea," she told Teen Vogue. "I think it helps fix problems."
Anand Desai-Barochia as Janzo
Starring as master brewer Janzo is Anand Desai-Barochia The British-Indian actor honed his craft at Middlesbrough's Spotlight Performing Arts School and the Italia Conti in London, before studying at the renowned Lee Strasberg Institute in LA. Desai-Barochia got his start in the industry in the British soap opera, Emmerdale, appearing between November 2017 and January 2018 as the solicitor Sunil Batth. He's subsequently made appearances in several British and US TV shows, including Skins, The Fresh Beat Band, Days of Our Lives and Tyrant. Desai-Barochia originally auditioned for the part of Garret, but after reading the script, he decided he'd be a better fit for Janzo. "I immediately fell in love with him, and I asked the casting director and my manager if I could read for Janzo instead," Desai-Barochia told Tell-Tale TV. "They said, 'Yes, of course. We'll love to see you for Garrett, but if Janzo is who you'd like to audition for, sure!'"
Andrew Howard as Gate Marshal Cedric Wythers
Featuring as Gate Marshal Cedric Wythers is Welsh actor Andrew Howard. Howard began his career on stage, having trained at the Cygnet Training Theatre in Exeter during the late 1980s. In addition to his notable stage performances as Alex DeLarge in A Clockwork Orange, Peer Gynt in Peer Gynt, and Orestes in Electra, Howard has appeared in such major TV and film features as Band of Brothers, Revolver, and Hatfield & McCoys. His performance in the film Blood River earned him a Best Actor Award at the Honolulu Film Festival and the Jack Nance Breakthrough Performance Award at the New York Film Festival Downtown, while his screen-writing credit on 2002's Shooters shows he's just as much a talent behind the camera as he is in front of it.
Robyn Malcolm as Elinor
Taking on the part of Elinor is Robyn Malcolm, a New Zealand actress who first came to prominence playing nurse Ellen Crozier in the soap opera Shortland Street. Since those early days, Malcolm has built a significant portfolio of work that spans both the US and her native New Zealand. Highlights include playing Cheryl West in six seasons of the TV series, Outrageous Fortune, Kirsty Corella in Rake, Julie Wheeler in Upper Middle Bogan and Marina Baxter in The Code. Malcolm has received numerous honors and accolades for her acting over the years, including several nominations at the TV Guide Television Awards, Qantas TV Awards for Best Actress in 2005 and 2008, TV Guide Best Actress in 2006, 2007, 2008, 2009, 2010 and 2011, and Air NZ Screen Awards Best Actress in 2007. She's also been named Favorite New Zealand Female Personality by the New Zealand publication, Women's Day and, to top it all, received a Member of the New Zealand Order of Merit in the 2019 Queen's Birthday Honors.
Philip Brodie as Everit Dred
Playing the role of Everit Dred is English actor Philip Brodie. In addition to his performances in World of the Dead: The Zombie Diaries (2011), Unlocked (2017) and the 2019 television adaption of the beloved 1990s comedy film, Four Weddings and a Funeral, the actor is also known for his one-man show, Tailor Made Love, and his stand-up routines at the Edinburgh Festival.
Tell us what's wrong with this post? How could we improve it? :)
Let us improve this post!