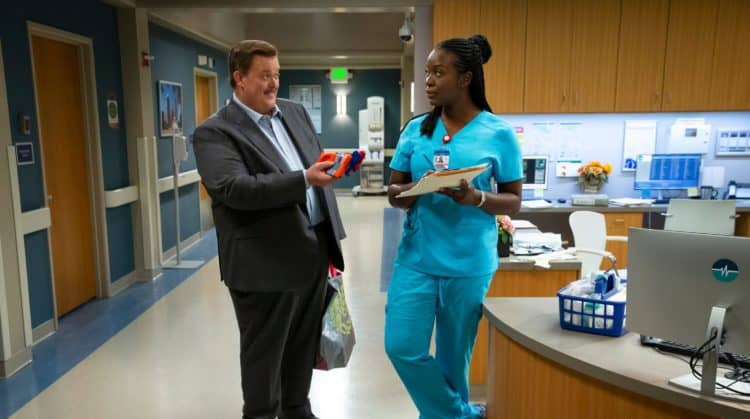 Bob Hearts Abishola is a new romantic drama series on CBS that has been created by award-winning writer Chuck Lorre. It is a love story about a middle-aged man from Detroit who falls in love with his cardiac nurse unexpectedly. He is a compression sock salesman who has suffered a heart attack. While he is recovering, he falls for his nurse, who is a Nigerian immigrant. Despite the difference in their backgrounds and her lack of initial interest, he is determined to win her heart. CBS describes this series as a comedic examination of immigrant life in America. Here is your chance to meet the cast of Bob Hearts Abishola.
Billy Gardell
The lead role of Bob is played by Billy Gardell, who is an actor, stand-up comedian, voice artist, and game show host. He played the role of Mike Biggs in 'Mike & Molly' and has a recurring role in 'Yes, Dear'. Gardell has also appeared in many episodes of 'My Name is Earl' and provided the voice of Santa in 'Ice Age: A Mammoth Christmas'. He has been married to Patty Knight since 2001 and they have one son, William, together.
Folake Olowofoyeku
Abishola, the lead female role, is played by Folake Olowofoyeku. She grew up in Nigeria as the youngest of 20 children, and she originally pursued a career in law and politics at the wish of her parents. In addition to law qualifications, she also studied for degrees in acting and engineering. This award-winning actress has had roles in many films, including 'When They Could Fly', 'Central & Broadway', 'The Bride', 'Hellbenders-3D', Female Fight Club, and 'The Child Within'. In television, she has had a recurring role in 'Transparent', and smaller roles in 'Modern Family', 'Gifted', 'Criminal Intent', and Law & Order', amongst others.
Christine Ebersole
Christine Ebersole plays the role of Dottie, who is Bob, Douglas, and Christina's mother. Ebersole is an actress and singer who has enjoyed a career in stage, television, and film work. She began her career in 1972, and she has won a Tony Award for her performance in a Broadway production of 42nd Street. She has appeared in 'Sullivan & Son' and 'One Life to Live'. She was married to her first husband, actor Peter Bergman, from 1976 to 1981. She married second husband, Bill Moloney, in 1988. Together, the couple has adopted three children; Elijah, Mae Mae, and Aron.
Matt Jones
Matt Jones is playing Douglas, who is Bob's brother and Dottie's son. Jones is best known for playing Brandon 'Badger' Mayhew in 'Breaking Bad', an AMC crime drama series. He also played the role of Baxter in 'Mom'. Jones is married to Kelly Daly and they have a son, Jasper, together.
Maribeth Monroe
Christine, Bob and Douglas' sister and Dottie's daughter, is played by Maribeth Monroe. She has had roles in multiple television series, including 'Crazy Ex-Girlfriend', 'The Good Place', 'Workaholics', 'The Brink', 'Cowgirl Up', 'According to Jim', and 'Thank God You're Here'.
Vernee Watson-Johnson
In 'Bob Hearts Abishola', Vernee Watson-Johnson plays the role of Gloria, the receptionist at the hospital where Abishola works. Watson-Johnson is an actress, voice artist, acting coach, and author. She is probably best known for playing the role of Vernajean Williams on 'Welcome Back, Kotter' between 1975 and 1979. She also played the mother of Will Smith's character in 'The Fresh Prince of Bel-Air'. As a voice artist, she provided the voice of Dee Dee in the animated series 'Captain Caveman and the Teen Angels'.
Shola Adewusi
The character Olu is Abishola's Aunt, and she is married to Tunde. This character is played by Shola Adewusi. A British actress, Adewusi has worked in both television and radio. She is best known for co-starring alongside Jocelyn Jee Esien in the BBC comedy sketch show 'Little Miss Jocelyn'. Other British television series in which this actress has appeared include 'My Hero', 'Family Affairs', 'Emmerdale', 'Casualty', 'Bad Girls', and 'The Bill'. In addition to her acting work, Adewui is a member of staff at the Intermission Youth Theater.
Barry Shabaka Henley
Barry Shabaka Henley is an American actor who is portraying Tunde, Abishola's uncle and Olu's husband. Henley has appeared in multiple films, including five that have been directed by Michael Mann, which means he is now often associated with this director. He has been a series regular in many television series, including 'The Royal Family', 'Roc', 'Robbery Homicide Division', 'Close to Home', 'Flash Forward', and 'Bosch'. In 2019, Henley joined the cast of Agents of S.H.I.E.L.D., which is part of the Marvel Cinematic Universe. His real name is Barry Joseph Henley, but he chose the stage name Shabaka. This was a Pharaoh from the 25th Dynasty of Egypt that ruled the country between 721 and 707 BC.
Travis Wolfe Jr.
Abishola's son Dele is played by Travis Wolfe Jr. Prior to working on 'Bob Hearts Abishola', this young actor had already worked in many television series as he began his acting career in 2015. He has had roles in series such as 'Raven's Home' and 'Grown-ish'.
Gina Yashere
Kemi is a recurring character in this series rather than one of the main characters. She is played by actress Gina Yashere. Born as Gina Obedapo Iyashere in London, this actress, and stand-up comedian is of Nigerian descent. Prior to working in entertainment, Yashere worked as both an engineer and an elevator technician. She took the 'I' from the front of her surname and began using the name 'Yashere' because people often mispronounced her original surname. As a stand-up comedian, Yashere has performed at both live venues and for television series. In 2007, she was one of the finalists in 'Last Comic Standing'. Yashere has dated men in the past, but she now identifies as lesbian and lives with her partner in North Hollywood, California.
Tell us what's wrong with this post? How could we improve it? :)
Let us improve this post!