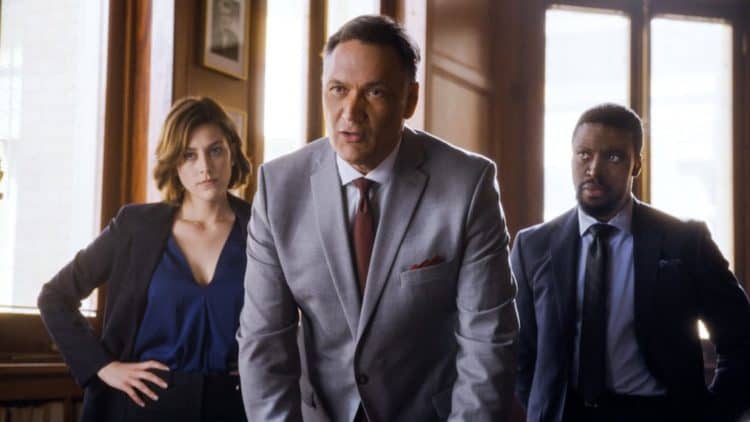 'Bluff City Law' is a legal drama series that premiered on NBC on September 23, 2019. This series was created by Dean Georgaris and Michael Aguilar, both of whom are also executive producers along with David Janolian. It is set in Memphis, Tennessee, and it follows that lives of the lawyers working for a law firm that specializes in controversial landmark civil rights cases. Elijah Strait is at the helm of Strait & Associates. His daughter, Sydney, also returns to work with her father after not talking to him for several years. Following her mother's death, Sydney wants to try to rebuild their tumultuous relationship. Here is your chance to meet the actors who play Elijah and Sydney along with the rest of the cast of 'Bluff City Law.'
Jimmy Smits
In 'Bluff City Law', Jimmy Smits plays the lead role of Elijah Strait. This character is the head of the law firm in the series, and he is considered one of the most accomplished litigators in his field. This is the third time that this actor has portrayed a lawyer in a television series aired on NBC Network as he has previously played lawyers in 'Outlaw' and 'L.A. Law'. He is also known for his roles in 'NYPD Blue', the 'Star Wars' prequel trilogy, and 'Sons of Anarchy'. Smits was married to Barbara Smits from 1981 to 1987, and they had two children together; Taina and Joaquin. He has been in a relationship with actress Wanda De Jesus since 1986.
Caitlin McGee
Caitlin McGee portrays Sydney Strait, the daughter of Elijah Strait, and a lawyer. In addition to 'Bluff City Law'. McGee has recently been working on 'Modern Love', which is an upcoming anthology series on Amazon. The television series in which she has appeared include 'The Marvelous Mrs. Maisel', 'Grey's Anatomy', 'Chicago Med', and 'You're the Worst'. She has had several roles in films, including 'Stan', 'Plus One', and 'Standing Up, Falling Down'. McGee is originally from Boston but currently resides in Los Angeles.
Barry Sloane
Sloane plays the role of Jake Reilly, who is one of the senior partners at Strait & Associates. This English actor is best known for his work in British television series, including 'Hollyoaks', 'Holby City', and 'DCI Banks'. He has also appeared in several television films, including 'Pleasureland' and 'The Mark of Cain'. In 2006, Barry Sloane made his West End debut in the musical 'Blood Brothers'. Since breaking into American television, he has had a role in the ABC sci-fi drama series 'The Whispers'. He is married to Katy O'Grady and he has two children.
Michael Luwoye
Anthony Little, a partner at Strait & Associates and a friend of Sydney's from law school, is played by Michael Luwoye. This actor was born in Nigeria and he is of Nigerian descent. He is best known for playing the title role in 'Hamilton', the hit Broadway musical. In television, his credits include 'The Gifted', 'She's Gotta Have It', 'Curb Your Enthusiasm', and 'The Magicians'.
Stony Blyden
The role of the introverted paralegal Emerson is played by Stony Blyden. It transpires that Emerson is also Sydney's half-brother as it is revealed that Elijah had an affair. Stony Blyden is an Icelandic actor, singer, rapper, record producer, and drummer. Born in Reykjavik, this actor's real name is Thorsteinn Sindri Baldvinsson Blyden. Part of his name Thorsteinn means stone, which is why he chose Stony as his stage name. Prior to 'Bluff City Law', Blyden appeared in 'Casual' and 'hunter Street'. He has also had several small roles in films.
Jayne Atkinson
Atkinson plays Della Bedford, who is a gay senior partner at Strait & Associates. She is also Elijah's oldest friend. This British-American actress was nominated for Tony Awards for her roles in 'The Rainmaker' and 'Enchanted April'. However, she is probably best known for playing Karen Hayes in '24′. Other television series in which she has appeared include 'Madam Secretary', 'House of Cards', and 'Criminal Minds'. She is married to Michael Gill and they have one son together.
Maame Yaa Boafo
Briana Logan is an experienced paralegal who is acting as a mentor to Emerson. This character is played by Maame Yaa Boafo. This actress entered the profession in 2012 when she made her acting debut in the award-winning film 'Asa'. Her television credits include 'Chicago Med', 'Madam Secretary', 'An African City', and 'The Blacklist'. Although Boafo's family are from Ghana, she was born in Pakistan. She moved to the United States to attend Hood College, where she studied for degrees in French and journalism.
Mo Gallini
When Sydney rejoins Strait & Associates, her first client is a man called Edgar Soriano, who is a man suffering from advanced cancer due to chemical exposure. This character is played by actor Mo Gallini. His first professional acting role was in the 1993 film 'Rudy', in which he played a Notre Dame football player. He has since gone on to portray more than 50 characters in film and television. Gallini is possibly best known for playing firefighter Jose Vargas in the NBC series 'Chicago Fire'. He also won an award for the Best Supporting Actor at the 2008 BendFilm Festival for portraying Wesley Stone in 'Selfless'.
Deja Dee
Deja Dee portrays Judge Dorothy Collins in 'Bluff City Law'. This actress has had multiple television and films roles throughout her career. She is best known for her roles in 'Queen Sugar', 'Star', 'Hap and Leonard', 'The Detour', 'Banshee', and 'Army Wives'. Her next television project is 'Sistas', 'Paradise Lost', and 'Amazing stories', all of which are yet to be released. She has also filmed two movies, both of which are in post-production. These are 'The Ballad of Richard Jewell' and 'Hillbily Elegy'. Dee has also worked as a producer and a writer.
Tell us what's wrong with this post? How could we improve it? :)
Let us improve this post!