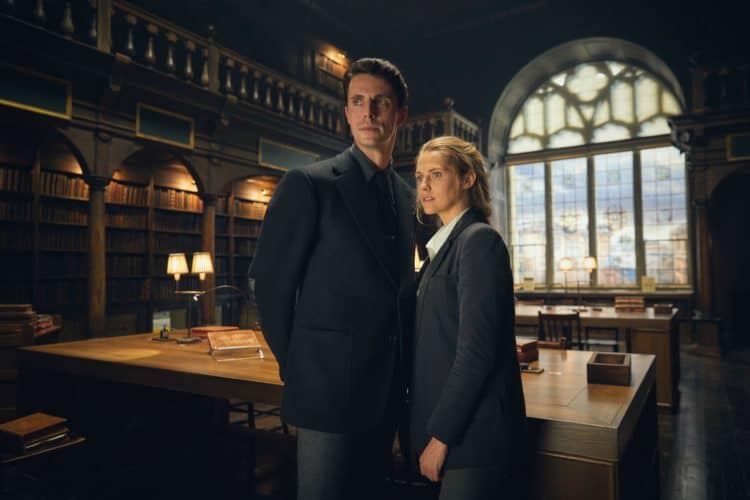 Matthew Goode's resume is stacked. With four dozen acting credits to his name, Matthew has appeared in successful projects in the UK and in the United States. He has shown the ability to take on a wide range of characters, and his fans love him for it. At this point in his career, Matthew her legitimately done a little bit of everything. One of his most recent roles in the show A Discovery of Witches has introduced Matthew and his talents to an even wider audience. Despite having been in the business for almost 20 years, Matthew is still doing what he loves and putting out high-quality work in the process. Keep reading for 10 things you didn't know about Matthew Goode.
1. His Mother Introduced Him To Acting
Matthew fell in love with acting when he was a kid. His mother, who was a nurse, also loved acting and ran a local theater club. She helped Matthew get involved when he was young and he quickly realized how much he not only enjoyed acting, but being around other actors.
2. He Loves Golf
Matthew is an avid golfer and he enjoys playing whenever he gets the chance. During an interview he said, "My dream is to get to a four handicap like I had when I was sixteen. Now it's seven. But as Jamie [Dornan] says, 'I've never actually seen you play to that handicap.'" (For anyone who doesn't know about golf, this is a pretty damn good handicap. If you get to zero you're a pro.)"
3. He's A Husband And Father
If there's one thing Matthew enjoys more than acting, it's being a family man. He began dating Sophie Dymoke in 2005 and the couple married in 2014. Sophie doesn't work in entertainment, but she has had a successful career in sales in the fashion industry. The couple has three children together: two daughters and a son.
4. He's A Coldplay Fan
Matthew loves listening to music. He's an especially big fan of the band Coldplay. In fact, he actually knew Chris Martin before they were both famous. Martin is an old friend of Matthew's brother. Coldplay has been making music together since 1996 and the band has given us hits like "Fix You" and "Viva la Vida".
5. He's Not Active On Social Media
When people have a favorite actor, one of the first things they do is look them up on social media. However, if Matthew Goode is one of your favorites, you won't have much luck. Goode doesn't seem to have any official social media profiles on any of the major platforms.
6. He's Happy With His Career So Far
Matthew has found a sweet spot in his career. He is well-known enough to have a reputation that gives him access to more opportunities, but he's also not so famous that he can't live a somewhat normal life. He's more focused on having a long lasting career and being able to support his family than anything else.
7. He Doesn't Want To Live In L.A.
Actors from all over the world move to Los Angeles to better their careers. However, L.A. is also known for being a very overwhelming place to live. For that reason, Matthew says he has no interest in living there. He once said, "If I lived in L.A., I'd be schizophrenic after a week."
8. He Was Nominated For An Emmy
No matter how good an actor things they are, it's always nice to get recognition from others for all of the hard work they put in. In 2018, Matthew received an Emmy nomination for Outstanding Guest Actor In A Drama Series for his role on in The Crown. The award ultimately went to Ron Cephas Jones from This is Us.
9. He Never Planned On Doing Fantasy/Sci-Fi
Getting the chance to be part of the cast of A Discovery of Witches has been incredibly fun for Matthew. However, he never imagined himself working on a project about witches. He told Good House Keeping, "It's very much something I'd never done, I had a lot of friends who were involved with Harry Potter and I think I felt sort of maligned about that, so I was quite interested in the genre. This is very different."
10. He's Friends With Colin Firth
There are some people who are hesitant to form friendships with people they've met through work. However, some of Matthew's closest friends are people he met in the industry. He is good friends with Colin Firth who he worked with on the 2009 film, A Single Man.
Tell us what's wrong with this post? How could we improve it? :)
Let us improve this post!