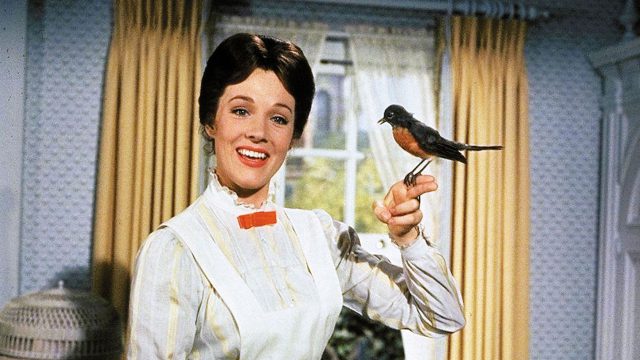 For those of you who loved the classic Mary Poppins get ready for a sequel to the 1964 Disney Classic. Production on Mary Poppins Returns, the all new sequel to Disney's 1964 film Mary Poppins, has commenced at England's Shepperton Studios. The film, which stars Golden Globe winner Emily Blunt (The Girl on the Train, Into the Woods) and Emmy, Grammy and Tony Award winner Lin-Manuel Miranda (Hamilton, Moana) and is directed and produced by Academy Award nominee, Emmy and DGA Award winner Rob Marshall (Into the Woods, Chicago), is scheduled for release December 25, 2018.
The film also stars: Ben Whishaw (Spectre), Emily Mortimer (Hugo) and Julie Walters (Harry Potter films) with Colin Firth (The King's Speech) and Meryl Streep (Florence Foster Jenkins). In addition, Dick Van Dyke plays Mr. Dawes Jr., the chairman of Fidelity Fiduciary Bank, which is now run by William Weatherall Wilkins (Firth).
Mary Poppins Returns introduces three new Banks children, played by Pixie Davies (Miss Peregrine's Home for Peculiar Children), Nathanael Saleh (Game of Thrones) and newcomer Joel Dawson.
Set in 1930s depression-era London (the time period of the original novels), Mary Poppins Returns is drawn from the wealth of material in PL Travers' additional seven books. In the story, Michael (Whishaw) and Jane (Mortimer) are now grown up, with Michael, his three children and their housekeeper, Ellen (Walters), living on Cherry Tree Lane. After Michael suffers a personal loss, the enigmatic nanny Mary Poppins (Blunt) re-enters the lives of the Banks family, and, along with the optimistic street lamplighter Jack (Miranda), uses her unique magical skills to help the family rediscover the joy and wonder missing in their lives. Mary Poppins also introduces the children to a new assortment of colorful and whimsical characters, including her eccentric cousin, Topsy (Streep).
Here's the official release that was tweeted out just hours ago:
EVERYBODY FREAK OUT
Production has begun on "Mary Poppins Returns," a sequel to the 1964 film, starring Emily Blunt and @Lin_Manuel :O pic.twitter.com/bXvCARd1S6

– Jason Imms (@jasonimms) February 10, 2017