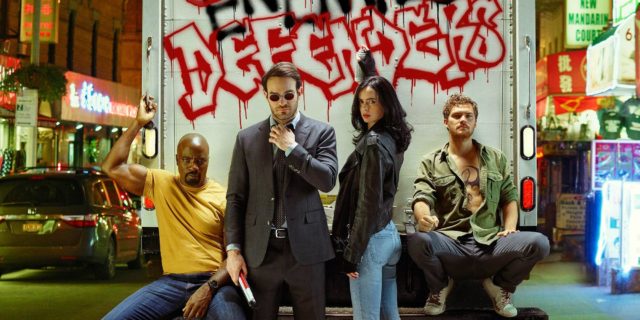 In the Marvel Universe Easter eggs are always abounding and always something that people are looking for. These small hints and cameos and throwbacks to the comics can be a nice nod to what came before or a clever play on something that still exists in the MCU but isn't referenced as often. In any case there isn't a show or movie that goes by without featuring at least a fair number of Easter eggs, and the Defenders on Netflix isn't any different.
Here are just a few that have been noticed thus far.
New Harlem Renaissance
The New Harlem Renaissance is a campaign run by Black Mariah that is supposed to be rebuilding Harlem but is in effect just another front for a criminal organization.
Luke's yellow shirt
Eventually we'll see all of the Defenders sporting their usual garb, but so far Luke Cage has finally started sporting hs customary yellow shirt that is so prevalent in the comics.
The Avengers incident
Despite not hearing about it for a while and having to realize that in New York life goes on, there are nods to the "incidents" that took place in Harlem in The Incredible Hulk and during the alien invasion in The Avengers.
Lawyer up
While Jessica Jones is being questioned about a murder she didn't commit she is suddenly taken by surprise as none other than Matt Murdock enters the room and tells her to stop talking.
Stan Lee's cameo
You can't really go into any MCU production without seeing Stan Lee at least once somewhere. While he doesn't show up in person in the Defenders his likeness is seen on a small billboard in the background.
The theme song cameo
While Matt Murdock is playing the piano in one scene he happens to notice that one of the keys sounds a bit off. But the tune he is playing is actually the Defenders' theme song that comes during the intro to the show.
White privilege
So let's be fair at least. Danny Rand had virtually nothing when he returned except his name and a very misguided sense of what had to happen. But now that he's back it's very true that he has a ton of privilege and has yet to do anything truly positive with it.
Misty's arm
So Misty does lose her arm in the show and in the comics, but in the comics she's given a new arm by Tony Stark. So she's not too bad off at the moment since most people know what's coming.
The night nurse
This is a pleasing nod to Linda Carter, used more as a reference than anything since the role of the night nurse has already been given Claire Temple.
Sister Maggie
Since we don't know a whole lot about Daredevil's mother, at least not in the Defenders, it seems likely that there might be a reunion on the way sometime in the future. One can only hope it will come before the Defenders concludes or something else comes along to move the story in a different direction.
Those are the Easter eggs we've seen thus far. Feel free to comment if you find any more.
Save