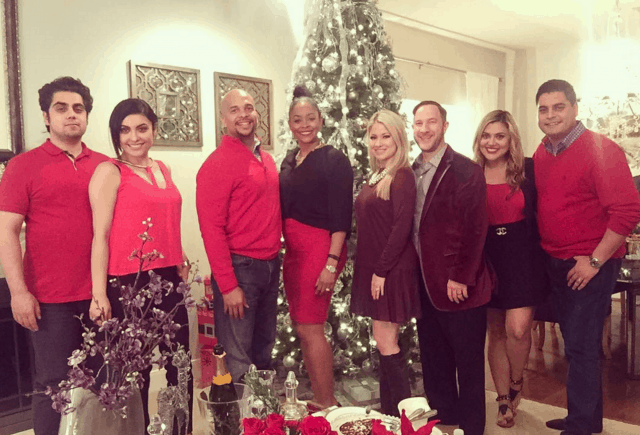 Married to Medicine Houston is set to premiere on November 11, 2016. The plot of the show centers around the lives of five doctors and their wives in this drama that takes a look into the professional and private lives of the men and women who have dedicated their careers to saving the lives of others. What we know about the show thus far is that the wives are women who have everything, but for one reason or another it doesn't seem to be enough. The program is set to be filled with major disruptions in what could otherwise be the perfect situation for these women and their hard working husbands.
Meet the cast of characters for Married to Medicine
You'll see some of these characters in the shows' spinoff Married to Medicine Houston.
Elly Pourasef is a private practice audiologist. She is proud of her profession and loves the excitement of making a difference in the lives of people who need her services on a daily basis. She immigrated to American from Iran and also runs a moonlighting business on the side as an event planner. She serves the elites of the Persian community in Texas. Elly is well aware of the fact that she qualifies under the category of workaholic and she wouldn't want it any other way. Her husband Ryan works in the automotive industry.
Ashandra (Shan) Batsiste is a dental surgeon. This character is high on fashion and wears her six inch heels proudly into surgical bays. She is the quintessential fireball, divorced and remarried to her new husband Richard who represents a dental device company as salesman. The two have Avery age ten and Logan age three. Shan is a beauty queen who truly enjoys all things glamorous and luxurious. Regardless of how hard she works, her looks are impeccable.
Monica Patel is possibly the most impressively credentialed of the character on this show. She is a quadruple board certified doctor of cardiology. She comes from a traditional family with ancestry in India and is very close to them. Monica sways back and forth between her strong desire to enjoy her much enjoyed social life and the harsh realities of being a doctor. She does a lot of charity work which keeps her in touch with the community.
Erika Sato is a plastic surgeon. Her specialization is in breast reduction surgeries. Her story focuses on the struggles that she has encountered as a female in the field who has had to work extra long and hard to compete with males who dominate the arena of cosmetic surgery. Erika was just recently married to Derek. He is in the process of finishing his surgery residency. This couple is very busy and they struggle to find the time that is needed to nurture their romance and keep the relationship healthy. They are considering whether or not they should start a family.
Rachel Suliburk is the wife of doctor James Suliburk. She is the only female main character who is not a physician of some type. Her husband is a trauma surgeon. Rachel is no slouch. Although she is not a doctor, she is working on achieving her Bachelor's degree in Nursing. Rachel and James try to find the time that their relationship needs to thrive, but it is difficult. The couple is known for throwing large and lavish parties whenever they have the opportunity to do so. Rachel is the perfect doctor's wife. She keeps the home up very well and spends her spare time committed to volunteer work to help the local community.
The cast is set up with an impressive array of professionals and their romantic interests which makes for the perfect combination of romance and drama.
What you can expect
The upcoming season that is set to premiere on November 11th gives us a glimpse into what we will see. You can expect drama in the clinical setting as the physicians deal with a variety of patient cases and become involved in the activities required for saving lives and making improvements for those which are non emergent cases. There will be a good split between professional scenes and those which take place outside of office hours in the luxurious homes of the doctors in their private lives.
We're looking for some romantic scenes as the couples struggle to find the time to grow together and still maintain their professional careers and we're anticipating some cheating this season. It wouldn't be surprising to find that in their busy lives as spouses get ignored by their significant others, temptation will rear its ugly head. Being the spouse of a physician is not an easy life. It takes a special kind of person to understand the rigors of the job and the amount of time that is spent away from the home or being called in for emergency situations.
Luxury and looks
A quick previous shows the female doctors adorned in their finest jewelry and high fashion accessories, even when they're on the job. While this is not something that career doctors are likely to do, it helps to define and shape the characters and give them some unique, yet unrealistic qualities. Get ready for scene changes that take you from the sterile environment of the clinics and operating rooms straight into the posh residences that are owned by these successful young professionals.
Who from the original cast will appear in Married to Medicine Houston
The rumors are flying wildly that the characters we will be seeing in Married to Medicine Houston will be Dre Monica Patel, Cindi Rose, Connie Kwan-Wong, Dr. Sheena Garner, Parissa Mohajer and Dr. Yasmine Haddad. We know for certain that Cindi Rose is going to be there because we were privy to her tweets which confirm that she has been filming for the show. This is just a preview that gives you a general idea of what you can expect to see on the show which premieres on November 11, 2016. we'll have to wait a little while to see if our assumptions were right.