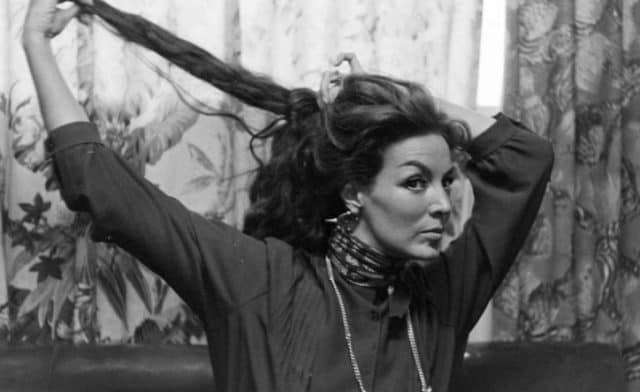 Mexican actress Maria Felix has recently been honored with one of Google's famous Doodles dedicated to her memory. This actress has been considered to have one of the most beautiful faces in Mexican cinema history. The star passed away at the age of 88 in 2002 but would have been celebrating her 104th birthday this week, hence the Google Doodle in her honor.
The actress was also known as Maria Bonita and this was because of a song that was composed for her second husband, the composer Agustin Lara. Her extensive career in the entertainment industry spanned four decades and she starred in 47 films during that time.
The 1940s and 1950s were called the Golden Age of Mexican cinema. It was during this era that Felix was at the height of her career. and became a screen icon. She often played strong and highly sexual women who were tamed by a man by the end of the movie.
Although she enjoyed phenomenal success during her career, she actually came from quite humble beginnings. She was born in the town Alamos in Mexico and was one of 16 children. Felix studied in Guadalajara prior to making the move to Mexico City. Her first job on arriving in the country's capital was as a model for a local plastic surgeon. She was so stunning that he used her beauty to attract new clients to his clinic.
The first movie in which she starred was the 1942 film 'El Penon De Las Animas'. In this film, she starred opposite Jorge Negrete, a famous Mexican actor, and later went on to marry her co-star. Although her first movie helped her to rise to prominence and to get more work as an actress, it wasn't until she appeared in her third film that she became a national star. This movie was 'Dona Berbera' and it told the story of a woman from Venezuela who dressed as a man to run a despotic ranch. It was because of this film that she earned herself the nickname 'La Dona'.
As much as she was known for her on-screen performances, Maria Felix was equally well- known for the events of her personal life. This aspect of her life was something about which the media showed a great interest. Stories relating to her personal life would often become big news events in Mexico. This was predominantly because she had a large number of high-profile love affairs during her life and because she married four times.
Felix is also believed to have greatly influenced the art world. She was painted by many famous artists, including Diego Rivera and Jean Cocteau. It is thought that she was an inspiration to writers and one of these was Carlos Fuentes.
Felix's beauty was not just recognized in Mexico as she became known for her looks across the globe. It is even rumored that the Egyptian King Faruk wanted one night of passion with her and in exchange, he was willing to give her Nefertiti's crown.
During her later years, Felix split her time between Mexico City and Paris. In the latter, she owned a racehorse stable and horse racing was one of her passions. While in Mexico City, Maria Felix passed away peacefully in her sleep on her 88th birthday on April 8. 2002.
Maria Felix Movies
Here are the top 5 Maria Felix films that really show what a talented actress she was.
Doña Bárbara (1943)
The leading role in this film was one of her first roles and in it she certainly caught the attention of the whole industry. She was known by the nickname of La Dona for the rest of her career because of her role in this film. The storyline was based on a novel and was centered around the actions that her character took to get back at the men who had raped her. Her character did not just act rashly in order to get this revenge but ensured that her plan was well thought through and benefited her business interests as well as giving her personal satisfaction.
La Diosa Arrodillada (1947)
This was the first film that she worked on with director Roberto Gavaldón. She went on to star in a number of other films directed by him and this bought her to the attention of directors in Europe where Gavaldon was well known. The film was a crime drama and this was one of the first times that she had acted in a film of this genre. The issue of infidelity and how it pushes to people to act in ways that they would not normally is also explored in this film.
Maclovia (1948)
This was the third and final film that she made with director Emilio Fernández. It is a romance where her character falls in love with someone in a lower class then her. The situation is further complicated by the fact that her father is a powerful community leader and she is expected to marry someone of the same social standing. The film did very well commercially and was featured at the 1949 Venice Film Festival.
Doña Diabla (1950)
This was another film in which she played the title role of a scorned woman who wanted to get back at those who had done her wrong. The title of the film translates as The Devil Is A Woman and highlights just how good she was in the role of a strong female lead. This was the last role that she had in a film which was made in Mexico before she moved to Europe. It was one of the most popular films that she ever made and was entered into the Cannes Film Festival in 1951.
French Cancan (1955)
This was one of the most successful European films that Maria Felix ever made. The film is set in the Moulin Rouge and she plays the character of Lola, a bellydancer who becomes a cancan girl at the famous theater. The film was praised for its portrayal of French Impressionism, as many Impressionist painters have painted the girls of the Moulin Rouge.
Want to Know More?
1. She Did Not Intend to Become an Actress
Maria Felix did not intend to become an actress and entered the entertainment industry by chance. An engineer who later became a director, Fernando Palacios, saw her walking downtown and asked if she would like to become an actress and encouraged her to embark on this career.
2. She Fought to Keep Her Real Name
When she first became an actress, Maria Felix had to fight to keep her own name. The producers wanted her to take either Marcia Maris or Diana del Mar as her stage name. However, she did agree to shorten her name from Maria de Los Angeles Felix to the simpler Maria Felix.
3. She Was a Secretary to a Plastic Surgeon
When Felix divorced her first husband, Enrique Alvarez, she worked as a plastic surgeon's secretary. Despite not having had plastic surgery herself, the surgeon used her as an example to his patients of how good they could look if they had plastic surgery. Felix said that she didn't think she did any harm by telling these white lies.
4. She Had a Lock of Gray Hair
She inherited from her father a lock of gray hair. Another famous person of the time who had a similar gray streak was the showgirl Tongolele. In most movies and photo shoots, she concealed this lock of hair. However, she did show her gray streak in the movie Doña Bárbara.
5. Felix and Her Third Husband Hated Each Other When They First Met
Felix made her debut in 'The Rock of Souls'. In this movie, she starred opposite Jorge Negrete. From the start, she and Negrete hated each other, and Negrete even asked her who she had slept with to get the part. She retaliated by saying he must know who you had to sleep with as he had been in the business for longer. Despite their rocky start, the pair later began a relationship and he became her third husband.
6. She Mistakenly Believed Her Second Husband Was a Drug Addict
Maria Felix's second husband was Augustin Lara, and she once suspected him of taking cocaine. The evidence that she believed supported her suspicions was a piece of paper that she had found in the bathroom containing some white powder. Rather than confront her husband with her suspicions, she decided to try a little of the powder and then to wait and see what would happen. The powder was sulfathiazole powder which is used to clean cuts. Felix's suspicions were unfounded and, unsurprisingly, Felix was unaffected by sampling the powder.
7. She Owned a Huge Home in Tlalpan
When Felix married Jorge Negrete, the couple bought an enormous home in Tlapan. The house was called Catipoato and it was set in grounds that covered nine miles and had approximately 600 fruit trees. In the grounds, she kept 14 mongrels that she had rescued from the street and 80 rattlesnakes that Diego Rivera had sent from Oaxaca.
8. She Was a Beauty Queen
Maria Felix is widely recognized as one of the most beautiful actresses to grace the screens. However, she was recognized as a beauty long before she began her acting career. While attending the University of Guadalajara, she was crowned the beauty queen.
9. Her First Husband was a Max Factor Salesman Who Tried to Kidnap Their Son
Maria Felix's first husband was Enrique Alatorre, a Max Factor salesman. The couple married in 1931 and their son, also called Enrique, was born in 1935. Felix and Alatorre divorced in 1937, and the actress moved from Guadalajara to Mexico City with their son. When her ex-husband came to visit his son, he kidnapped their child and took him to Guadalajara. Felix's son was rescued by Agustin Lara, the man who became her second husband.
10. She Turned Down the Opportunity to Become a Hollywood Actress
While many young actresses aspired to become a success in Hollywood, Felix preferred working in her own country. Cecil B. DeMille was one of the most successful filmmakers at that time, and he offered Maria Felix the opportunity to launch her career in Hollywood. The Mexican actress declined the offer and explained that she wanted to focus on performing in Mexican cinema.
Tell us what's wrong with this post? How could we improve it? :)
Let us improve this post!