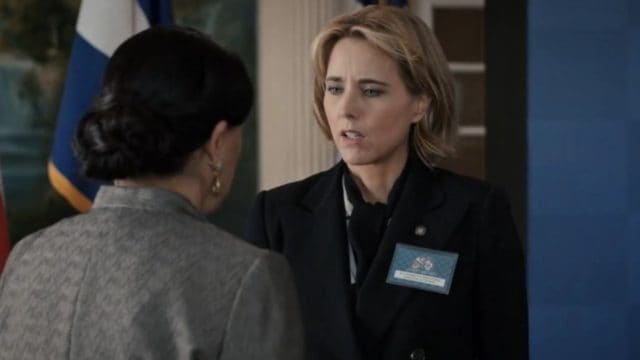 We will do anything for the sake of preserving a close friendship. No matter how outrageous or irrational it is, we will do it no questions asked. In this week's episode of Madam Secretary, the association between the United States and Honduras become strained when a group of aid-workers have been taken hostage by a notorious Honduran gang known as FT-88. On top of that, the central American country is in the middle of a presidential election.
I couldn't believe that the current Honduran president, Daphne Tejeda, staged the entire hostage situation so that she could come out a hero and thus earning her the election. I understand that desperate times call for drastic measures but to take a group of innocent people captive for your political gain makes me shake my head in both shock and disappointment.
It was also shocking to me that President Tejeda used President Dalton's words to her when he ordered her to release the hostages in her speech towards the end of the episode. The nerve of that woman! Three cheers to Elizabeth for holding a press conference telling the world the truth about what happened. It might hurt Tejeda's chances of serving another term as president, but to cover it up would be worse.
Meanwhile, Elizabeth and Henry attempt at making new friends by going out to dinner with Piper's parents. Their dinner date went as well as it could be though I felt that it was filled with awkward tension. There wasn't much to talk about aside from work and children. It's like they have absolutely nothing else in common. I like Piper's parents, they seem like really nice people, but a part of me is glad that the McCords reconnected with their old friends the Rasmussens.
Circling back to the hostage crisis, I felt sorry for Jay. He attempted to console the parents of Olivia, the Honduran-American aid-worker who is among those who are kidnapped. His effort was for naught since Olivia's parents wanted the United States to pay the ransom money rather than explore other options. It is true that money makes the world go 'round, but there's always another way to resolve an issue. I applauded the secretary's Chief of Staff when he got Olivia's parents to the American Embassy in Honduras as quickly as he did. Blake is right, Nadine would be very proud.
Memorable Quotes:
"Democracy is two wolves and a lamb voting on what to have for lunch. Liberty is the lamb contesting the vote." – Elizabeth quoting Benjamin Franklin
"This job is one impossible situation after another. Sometimes we don't fix it. All we can do is take it." – Elizabeth
"When it comes to matters of the heart, it's all about taking risks." – Matt
Closing Thoughts:
I loved the scene where Blake and Daisy ribbed Matt about the latter's mother setting him up with a date/arranged marriage. That and the scene where Matt recounted the events of his date with Aifa with Blake and Jay.
Henry telling Elizabeth to rub his feet. Hilarious! The "they're big" comment he added made my smile that much broader.
Kudos to Matt for taking a risk at a long distance relationship with Captain Baker. I sincerely hope that it works out for the two of them.
Photo via CBS
Tell us what's wrong with this post? How could we improve it? :)
Let us improve this post!